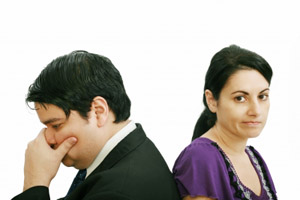 Editor's note: Lovefraud received the following story from a reader whom we'll call "Annalise."
Experts say date 2 years before you can fully know someone, so here's my story:
Despite pouring over these websites and reading blog after blog to educate myself and heal myself, I've let another unsuspected sociopath into my life, or maybe I've know all along.
So the first sociopath was an 8 month roller coaster with red flags everywhere, despite his coming off a 20 year marriage with a 15 year management job. He was on the higher end of the scale. And despite the stability with his first marriage and job: he truly was the Devil's child and it haunts me to this day.
This other guy that I dated 2 years was on the lower end of the scale. He knew early on that I would leave if he lied or ever treated me wrong. And I was going to take our dating slow due to my past experience, and that is what he wanted too, so it was a nice arrangement.
What I eventually realized was this new guy needed a front for his parents, siblings and colleagues who continually questions why he hasn't been married. So he became my perfect date for two years.
He wined and dined me like a perfect gentleman. We slowly introduced each other to our families and friends; however we never lived together because that would of exposed what lay hidden under the mask. He knew how to subtly keep me hooked and engaged in the relationship; knowing he couldn't truly love me nor move the relationship along. He never love bombed me either or asked for money. And like the first guy, he warned me that he was emotionally unavailable.
I should have left then, but he treated me so well. You see the first guy liked to emotionally hurt me, the more recent guy didn't operate that way. He just needed someone as a companion (weekend dates).
So I finally had enough of being courted in a superficial way and I sensed he was tired of faking it, so yesterday I said my good-byes. This is when I saw for the first time the cold and calculating nature of his true being.
Few words were exchanged during this break up. In my mind there was no point in pushing a conversation with him. I certainly new he was vacant inside and any outpouring of emotion on his end would be hog-wash.
Although, he clearly was mad. I believe it was because now he had to explain to his circle why he is single again. And while no big deal, they all adored me and wanted me in the family, so they'll be shocked about the news.
I'm sure I'll never hear from him again. He'll tell them a nice lie, but never the truth of "I can't love". I think his siblings know he's genetically different, but we all agree he is a nice guy on the surface who can't love and won't marry.
Lesson here: They come in all shapes and sizes and many know how to fit into society.
Is he a hard core sociopath? (I don't know, I doubt it.) Had I pushed our relationship further early on and married him, my story could have been much different.
Do I have regrets? I knew what I was getting myself into and I guarded my heart to be safe.
Was it a healthy (absent the love) and a mutual courtship? Will I miss him? Do I care for him? Yes, yes and yes.
But life is short, right? I deserve more, I deserve love. And life is about love!
Best wishes to everyone! I read this site almost daily and wanted to contribute.