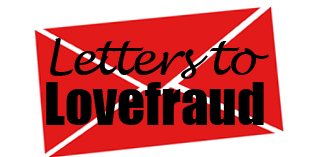 Editor's Note: Lovefraud received the following letter from a reader whom we'll call "Cassandra18."
I've been a longtime reader of your website and wanted to thank you for what a valuable tool it is. I figured, I'd finally write in with a question of my own and I was hoping for some feedback from you.
So, the thing is, I have a propensity to date very selfish, controlling people and two of my past relationships have been with verifiable sociopaths.
Most recently, I have been in and out of a relationship with a man I used to work with. Something keeps telling me that something is off about him but I can't pinpoint it.
Some of the warning signs that have happened while with him:
He love bombed me in the beginning and brought me flowers and Starbucks and constantly texted and called. He also wrote me several love letters and left notes on my car. He told me I was his soul mate and poured the compliments on.
On our first date he "forgot" his wallet and I paid- He also "forgot" his wallet when we went to Target and I paid for his son's birthday presents.
He had a horrible relationship with his ex-wife and he told me how one morning he went to pick up his kids and she threw coffee in his face. I met his wife and she was nice and seemed like a good mom to his kids. I don't know what he did to make her so upset to throw coffee at him. I also saw a text from her to him saying he almost forced her into bankruptcy and that he didn't pay for anything for his kids.
He had a bad tendency to talk down to people and over them. He would literally talk over me several times while I was talking.
He had anger issues.
He had me help serve beer for a fundraiser when he knew I was an alcoholic.
He had an odd relationship with 2 elderly woman, one of whom had severe dementia. The other one's nephew had to block him from calling her and accused him of trying to take advantage of her.
He eventually got fired and my boss told me that he had been embezzling money.
At work he had a hot head and yelled at one of our co-workers.
When we would get in fights he would text my boss who was his friend and he disclosed all of our personal issues.
The list goes on and on…
What are your thoughts? Does he sound like a sociopath?
Donna Andersen replies
OMG – he is a complete sociopath. Dump him immediately and never talk to him again.