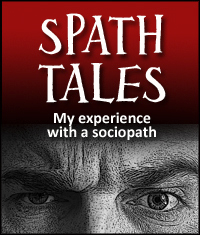 Editor's Note: This SPATH Tale was submitted by the Lovefraud reader who goes by the name "simpleme56."
I came from an abusive childhood, an abusive marriage, and worked hard for over thirty years to heal, to educate myself to be able to understand the dynamics of my abuser and move forward in my life. I'm not 100% healed. But I came to terms with my life and began to move forward with education and professional jobs.
And at 48 I met who I thought was the most incredible man I had ever met. I thought I was smart and was very careful waiting a year to see if the other shoe would drop and it didn't.
I made a huge decision to finally walk away from a loveless, emotionally abusive marriage, telling myself I deserved to be happy. Within two weeks of moving in with this wonderful, loving, protective, considerate human being, I experienced a tyrant who was drunk and when I refused to engage in this manic performance, I was threatened.
Suddenly, I felt holy terror and thought, oh my god what did I get myself into?
Of course he cried and apologized and said, I don't ever want to hurt you.
Well that was far from the truth…it got worse and to the point I demeaned myself, thinking I was so stupid, and what did I miss, that I actually thought I deserved this for being so dumb.
He took me to a Super Bowl game and literally sat me at a table with his ex-girlfriend's grown children as he went off to talk to his friends. Talk about uncomfortable. I told him I was going back to my apartment and I left.
At home as soon as I took the key out of the door to enter my apt my phone rang. He said you have five minutes to get your ass back here. When I got there he got in the vehicle and proceeded to drive 90 miles on the highway as he screamed at me "no one leaves me in a public place." Which was then followed by a few of my things that were in his apt, he threw out on the patio.
A few weeks later I met his sister for the first time we had dinner at her house.
Later in the evening he made this bizarre announcement that we had this fight and he told her how he threw my stuff out on the patio.
I was breathless, embarrassed and stunned. Feeling helpless and a sense of nakedness.
At work, if I had a male customer he would make comments like, "I saw the way you smiled at him." Or if my male coworkers would converse with me, he would tell them I belong to him to stay away from me.
It became a joke. I went to a bowling banquet with him. Again his ex-girlfriend's kids were there. He sat in a back room playing poker with the guys and all the women were in the bar the entire day. I was kept company by his ex's daughters, who let me know that they liked me but could not be friends with me because of the loyalty to their mother.
I got that.
About 4:30 he emerges from this all day poker game, walks into the bar where I am talking to a guy who is there with his wife and he stood across the room just staring at me. So I walked over to him and he told me that as soon as I saw him I should have come running to him. OMG.
I went to our room and started packing and he kicked the drawer shut on my fingers. The following day he went golfing and I was stuck in this room all day by myself and no car and not knowing anyone.
I began running back to the ex husband who was abusive, back to this sociopath who was also abusive, but in a different way. This went on for almost ten years.
I am exhausted, angry, and feel so violated, for he represented everyone in my life that was abusive. He even went as far as telling his family lies about me, that all that happened was my fault.
Then you go through the torment of filtering your mind if this is, in fact, accurate or not.
I am back in this loveless marriage where I harbor so much anger, hurt and confusion. I blame my husband for me getting sucked in by this type of predator. I have given up on myself and have been beating myself up because of it all.
There are so many more things that happened in this wacky relationship that almost killed me. The most bizarre behavior I had ever experienced.
And the best part is I cannot tell anyone, because my family is estranged, my husband is content that I am back to cook and clean.
I sleep in my own room. I am living the Cinderella story and just waiting to die.
I am going through a gamut of emotions of failure, how I have been duped, manipulated and conned. I could never trust another human again and I feel more isolated and alone. This has had a major effect on my health. I am 59 now and I just want to die.