Red Flags of Love Fraud
10 signs you're dating a sociopath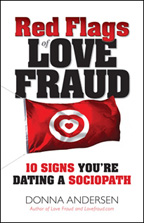 At first, he or she seems to be perfect. But something is nagging at you. Something doesn't seem quite right, but you can't put your finger on what it is. If your new romantic interest exhibits all or most of the following Red Flags of Love Fraud, be careful. You might be dating a sociopath.
Donna Andersen's book, Red Flags of Love Fraud — 10 signs you're dating a sociopath, reveals the tactics of social predators who pursue romantic relationships not for love, but for exploitation. This book explains how sociopaths seduce their targets, why it's hard to escape the relationships, and how you can protect yourself.
Top 10 warning signs of dating a sociopath
1. Charisma and charm. They're smooth talkers, always have an answer, never miss a beat. They seem to be very exciting.
2. Sudden soul mates. They figure out what you want, make themselves into that person, then tell you that your relationship was "meant to be."
3. Sexual magnetism. If you feel intense attraction, if your physical relationship is unbelievable, it may be their excess testosterone.
4. Love bombing. You're showered with attention and adoration. They want to be with you all the time. They call, text and e-mail constantly.
5. Blames others for everything. Nothing is ever their fault. They always have an excuse. Someone else causes their problems.
6. Lies and gaps in the story. You ask questions, and the answers are vague. They tell stupid lies. They tell outrageous lies. They lie when they'd make out better telling the truth.
7. Intense eye contact. Call it the predatory stare. If you get a chill down your spine when they look at you, pay attention.
8. Moves fast to hook up. It's a whirlwind romance. They quickly proclaim their true love. They want to move in together or get married quickly.
9. Pity play. They appeal to your sympathy. They want you to feel sorry for their abusive childhood, psychotic ex, incurable disease or financial setbacks.
10. Jekyll and Hyde personality. One minute they love you; the next minute they hate you. Their personality changes like flipping a switch.
For more information, read the book by Donna Andersen: Red Flags of Lovefraud – 10 signs you're dating a sociopath.
Donna Andersen reveals: 10 red flags of a sociopath that I saw but did not understand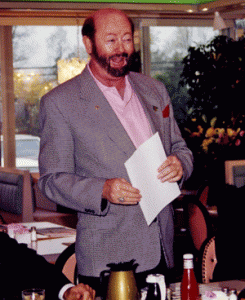 Yes, the red flags were there. Like you, I saw behaviors in the man I married (far too quickly) that were warning signs of his sociopathic personality disorder. Like you, I didn't know what they meant.
Most people who date sociopaths actually see the warning signs, but don't know how to interpret them. Red Flags of Love Fraud explains the patterns of behavior, so you can tell the difference between real love and exploitation.
I, of course, was the original guinea pig for the book. I met my ex-husband, James Montgomery, on the Internet more than 20 years ago. He was a widower, originally from Australia, but at the time living near me in New Jersey. He told me he was a Hollywood screenwriter, successful entrepreneur and military hero. He was none of those, but unfortunately, at the time, I didn't know to be on the lookout for lies.
So here are some of the warning signs of dating a sociopath that I missed with Montgomery.
Charisma and charm
Montgomery had a magnetic energy about him. He was smooth, confident, always knew what to say, never missed a beat. He was prolific in admiration and praise for me — especially in the beginning.
Initially, every time we got together, he had a gift for me. Even then, I suspected that the gifts had belonged to his recently deceased wife, but I let it slide — I was pleased that he was thinking of me. I later learned that he had a habit of stealing from one woman he was involved with to give gifts to another.
Sudden soul mates
Montgomery told me that I was the woman he'd been waiting for all his life. We were both writers. We were both entrepreneurs. We had so much in common, that it must be fate — we were destined to be together!
He also told me that because we were so right for each other, he'd never feel the need to cheat again. That statement should have been a double red flag with sirens blaring. But I accepted it at face value — with me, unlike with my predecessors, Montgomery would be faithful.
In reality, he cheated with multiple women throughout our relationship.
Sexual magnetism
Yes, there was sex. In the beginning, there was lots of sex, and it was rambunctious. I interpreted the sex as an indication of Montgomery's desire for me. In fact, when he sent me an erotic short story, starring James and Donna, I was flattered — no man had ever written a sexy story for me.
Except, he didn't write the story. He stole it from one of his previous women. After that, he sent it out to all his women — just insert the latest target's name. When he forgot to change all the names, he received an angry email from one of his other targets demanding to know, "Who is this Donna chick?"
Love bombing
From the moment I responded to James Montgomery's dating profile, he poured it on. Phone calls, emails, faxes (this was before social media). He proclaimed his love, sent me poetry, flattered me by asking for my opinion on his business issues.
Then he claimed to be going on a clandestine overseas mission, but he was so smitten that he moved heaven and earth to come back and visit me in the middle of it. Afterwards, of course, I learned that he never left the county — he was entertaining another woman in his deceased wife's townhome.
Blames others for everything
Why did his grandiose plans to build a new type of entertainment venue fall through? The government took his land! (He never had the land to begin with.)
Why was his credit card declined? Investors were trying to squeeze him for a better deal! (There were no investors.)
Eventually it became, why didn't we have any money? Because I didn't have faith in him! It was all my fault!
Lies and gaps in the story
I will admit, the lies that I caught early on were so minor that they were easy to overlook. Like, if Montgomery and his wife had just come to New Jersey in the past year, how did she go to a particular shoe store two years earlier?
To cover his big lies — like his fake military service — Montgomery was totally consistent in his story, saying the same thing to everyone. He fabricated documentation to back up his claims. But what was really convincing was the sheer brazenness of his statements. Who would lie about earning Australia's highest military honor during the Vietnam War? I didn't know that a sociopath would.
Intense eye contact

Anyone who believes liars can't look you in the eye — well, they haven't been lied to by a sociopath. I remember all the times Montgomery looked into my eyes and made statements and promises that I now know to be total lies.
Sometimes, the eyes of a sociopath appear to be empty or dead, and that's what I saw more of. At times, Montgomery appeared to be staring blankly, as if nobody was home inside. And that was exactly the case.
Moves fast to hook up 

Within a few days of us meeting in person, Montgomery wanted us to coordinate our schedules, planning in advance when we would spend the night at his house, and when we would stay at my house.
Then he wanted us to marry before the end of the year, supposedly so that I would be eligible to receive benefits from his military pension. Of course, he was never in the military, so the whole story was a ruse to get his hooks into me faster.
Pity play
Montgomery plotted our entire initial meeting around the pity play. First he pulled out his wedding pictures from his previous wife who died, to make me feel bad for the poor, grieving widower.
Then when I expressed hesitation — it might be too soon for him to become involved with a new relationship, his eyes became moist. He talked about all the people he'd lost — his wife, his father, his buddies from Vietnam — and how he needed to move on. (He did lose his father and wife, but there were no buddies from Vietnam.)
Jekyll and Hyde personality
Montgomery wanted me to convert my basement into an office for him, which I agreed to do (and paid for). It wasn't fancy, but he was happy. Then, when he was angry at me, he complained about being forced to work in a cellar. Then he was happy again, and the basement was fine. Then he hated it again.
So did Montgomery like his office? Or did he hate it? I have no idea. But his changing whims served their purpose — they kept me off balance.
Relationships from hell
Red Flags of Love Fraud is about the real relationships from hell. They usually start out as a whirlwind of love and romance, and then, sooner or later, spiral down into lies, cheating, manipulation and abuse. They are the worst relationships you can imagine, but they are totally preventable if you know how to read the warning signs.
My book explains the warning signs — here's more information about it:
Chapter-by-chapter description of Red Flags of Love Fraud 
Buy Red Flags of Love Fraud — 10 signs you're dating a sociopath in the Lovefraud Store.