James Montgomery
Using the Internet to meet and defraud women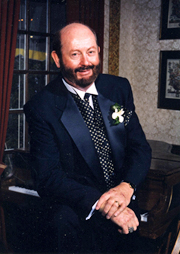 "Finished mourning!" read the Internet personal ad. "Ready to move on! Really!!"
The ad, posted in May, 1996 by someone named James, continued: "Deeply involved in the development of Atlantic City of 2000; late 40's Sean Connery look-alike, 6'2″. From Hollywood Film & TV scene as writer/prod; now into Entert. Biz in the greatest city in USA. Emot. & Fin. Secure, Ex-Green Beret; no drugs, don't even drink! Daughter grown up. Hold several advanced degrees but I babytalk to my dog. No hobbies, just threw myself into work; time to change all that! The grieving is complete."
Donna Andersen of Atlantic City, New Jersey, responded to the ad in June, 1996. Andersen was almost 40 years old and single, never married. She operated a successful copywriting business and owned her own home.
Through e-mail correspondence, James Alwyn Montgomery told Andersen that he was an Australian by birth who was now an American citizen. He was a member of the Australian Special Forces and had won the Victoria Cross, Australia's highest honor, in the Vietnam War. He was an entrepreneur with a net worth of $2 million to $3 million, deeply involved in the development of Atlantic City. After about a month of correspondence, they met. Shortly thereafter, Montgomery proposed. Andersen accepted.

Montgomery lived in a well-furnished townhouse in Mays Landing, New Jersey—about 25 minutes from Atlantic City. It was the home he shared with his wife, Gale Lewis, who had died a few months earlier. "All of this will be yours," he told Andersen.
So began the fraud.
Montgomery moved into Andersen's home—explaining that there was an issue with Lewis' parents and the townhouse—shortly before they married. Andersen converted her basement into an office for him—Montgomery promised to repay the expense. He advised her to invest in his businesses—the first figure he suggested was $3,000, which he promised to repay in a few months.
They married, and all through 1997, Montgomery kept making business trips and Andersen kept paying his bills. Montgomery assured her that he would repay everything once his deals went through. He even signed an agreement with her. Finally, in the spring of 1998, it looked like something was going to work—a Titanic exhibition in Atlantic City.
Sinking of the Titanic
The project was actually started by John Glassey of West Atlantic City, who had entertainment and casino experience. Montgomery latched onto Glassey and his idea. They started working together, and an investment group in Connecticut pledged $500,000 to finance the show. The initial payments were used to purchase artifacts related to the Titanic—lifeboats, relics from the ship and the wreck, post cards and memorabilia. However, the financing fell through, and the show was never launched in Atlantic City.
Montgomery told Andersen that he had a deal to put the show on display in Orlando, Florida. Just before Christmas, 1998, they moved temporarily to Florida. Montgomery went ahead, and Andersen drove from Atlantic City to Orlando in a U-Haul truck, towing a trailer with her car, and transporting their five pets.
By February, 1999, Andersen had used all of her money, savings and credit supporting her husband — his frequent travels, his astronomical cell phone bills and his projects. She had spent $227,000 on him, including taking on $68,500 in debt. She was financially depleted. Montgomery told her he had an opportunity to sell the Titanic artifacts, and had set up a meeting in New York. Andersen spent the last of her available credit on airfare so he could fly back to Atlantic City and then go to New York for the meeting.
As she was driving Montgomery to the airport, Andersen asked him where some of her rings were. Montgomery said they were in the strongbox in his office. When she got back to the Orlando apartment, she found the strongbox, found a key and opened the box. Inside she found a receipt for Montgomery' new computer, which had been purchased by a woman from Pennsylvania. She also found pictures of Montgomery with a baby and a birth certificate. The child had been conceived and born to a woman from Florida and James Montgomery—while Montgomery was married to Andersen.
Andersen packed up her belongings and the pets and drove back to Atlantic City. When she got home, she started going through Montgomery's file boxes full of papers, which she never bothered with before. It was enlightening, to say the least. She found cancelled checks written over several years to the mother of the child. She found correspondence from the parents of Montgomery' deceased wife requesting that he return the wife's possessions. She found documents indicating that Montgomery was involved with multiple women at all times—many of whom were asking for their money back.