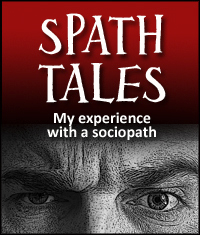 Lovefraud received the following story from a reader whom we'll call "Ingrid."
I met my Sociopath over 10 years ago and just like in all the books and blogs I have read as of late fell hard and fast for what I thought was honesty as he would look me right in the eyes and tell me everything any women wants to hear "¦ you know how beautiful I was, how he wishes he would have met me in his twenties, how we are so much alike, blah, blah, blah.
Unbeknown to me he was gathering all the information he would need later to control my every move and thought and that he did with DIABOLICAL AND METHODICAL precision and I being the honest and open hearted person I am I believed him.
My Sociopath used and manipulated me financially, sexually anyway he could to further his EVIL existence.
I also told this TROLL a month after we met, when we were having what I thought was a heart to heart, that I wanted to have children as I was only 37 when we met and in amazing shape physically and knew I wanted children and also to be married again, to which this TROLL responded he would love to have 'ANOTHER' child.
I write 'another' as he already had two of his own from his first marriage (which he more than used to pull at my heart strings and have me do whatever he needed for them, financially and physically as a Mother figure). We even waited a full year for me to meet the kids (my idea, for I wanted to make sure he and I were going to stay together before I met his children).
Looking back now there were many RED FLAGS, but I believed him when he told me it was his EX that was the SELFISH ONE????? WOW HOW DUMB DO I FEEL NOW!!!
Nonetheless, about six months after meeting the children he had to sell his home, as according to him, his employer gave him the option of moving out of town and taking a management position there or getting packaged out??? (Of course I now know this was a lie, he got fired).
I paid for his moving expenses, as he was already crying wolf as far as money goes, and already had me so well hooked and baited that I was viewing us as a married couple, for he would call me his "wife" when referring to me, when speaking on the phone or to others.
After moving in with me, he proceeded to lie around and not even bother to look for work, as he continued to tell me that a guy his age most companies do not want to hire and it is hard to get a job????
Of course I the dumb dumb at the time believed this, but again the RED FLAGS were everywhere and kept popping up like weeds and why I ignored them "¦ well because he was such a NICE guy, and by that time he knew just what to say to make me feel like I am such a bad person for always "NAGGING" him about not making a more concentrated effort to try to find work????
Keep in mind all the while I am running my own business, paying for EVERYTHING, he is driving my vehicle which I am paying for, using my credit cards, and lastly I and my loving sister are taking care of his children, because he is "depressed," but strangely still went out to "meetings" telling me that this may be the "BUSINESS VENTURE THAT IS GOING TO MAKE IT BIG AND SOLVE ALL OF "OUR" PROBLEMS," yet all that ever came of these meetings was him coming home to me and HIS children waiting for him with beer on his breath and of course no results from the meeting other than more money being put thru on MY CREDIT CARD and DRIVING MY CAR WHILE INTOXICATED and not to mention how many times I asked him not to do so.
The final knife in the heart was when I found out from one of a plethora of women he was hooking up with that not only this TROLL had a VASECTOMY, he is sleeping around NOT USING ANY PROTECTION!!!
10 plus years of my LIFE GONE!!! I WANT JUSTICE FOR MY UNBORN CHILD/CHILDREN never mind the ridiculous amount of MONEY this parasite conned and defrauded from me!!!