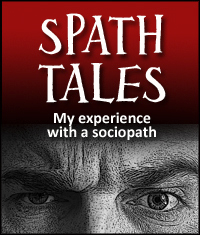 Editor's note: Lovefraud received the following story from a reader whom we'll call "Octavia."
I believe now that I was married to a sociopath. I was married 16 years and lived with him for 4 years. I became pregnant, had the baby and didn't marry until the baby was 9 months old. I had a sick feeling but went ahead with the marriage.
The "put-downs" were subtle in the beginning. I was made to feel like I was a "lesser" person "¦ the mocking, contempt, control were always there. When I challenged him, he immediately denied his actions "¦ he was only kidding.
I never had any decision making authority "¦ it was always "pretend" equality/partnership. It took me years to realize his actions didn't match his words. I was responsible for my child 24/7.
He married me. When we went to pick out the rings he "mocked" the idea of spending 3 months salary on it. So I picked something he claimed he could afford. I paid for the wedding and never got a honeymoon.
As time went on I wanted another child as I didn't want my first to be an "only." In my first trimester I started bleeding and thought I would lose the baby. I was working and went on full disability.
He insisted on coming with me to the OB/GYN appointment as he didn't believe me when I said sex was out of the question. The doctor was livid with him and told him to go take a cold shower. He had no concern for me or the baby.
I carried to term and 9 months later was diagnosed with stage 3 breast cancer. I chose alternative therapies along with lumpectomies. My second child came with me to my appointments.
During all this we rebuilt our house. That lasted 8 years. I was expected to work, care for kids, build, move, clean, cook, shop, all while battling cancer. He never once took me to a doctor's appointment. He wouldn't "baby-sit" his own children. His "business" came first.
I went through chemo, radiation and a mastectomy with 2 toddlers. I had no help. He started to become angry because of the medical bills. I was given an "allowance" to pay for daily living. I was never given equal knowledge of our finances.
Four years later I was diagnosed with breast cancer on the other side. I endured a year and a half of more chemo. Lost my hair a second time. Sex became very painful. He didn't care. He said he had needs.
Both my children at that time were diagnosed with learning disabilities. He didn't participate in homework, discipline, school, or sports with them. I did it all and never missed a day in bed, sick from chemo. I was constantly reminded that he put a roof over my head.
It finally came to a boiling point in the housing crash of 2008. He got involved in a spec house, as he was a builder by trade. He wanted to build himself a brand new house. I warned him about the market crash. I was told I was stupid. I used to own my own small business and did all the books. He paid someone else because he said I was stupid.
Needless to say he lost everything we worked for over 15 years. He came home one day and announced he cancelled "my kids' fancy health insurance."
Once month after I finished chemo he was demanding I go back to work. That was in '09 when everybody was being laid off. I asked him where was I going to find work at 57 y/o in this economy?
I threw the remote at him, which missed, but I was arrested. My son was only 13 y/o. he witnessed the altercation. When the cops asked his if his father put his hands on my he said no "¦ I didn't want to continue the damage. I took the hit.
For one year the ex tortured me with re-arrest when I spoke up to him. Then it happened again "¦ he was telling the kids I spent all the money. He was going to take the kids, my car and throw me on the street.
At that point he had alienated my family and his from me. I was being blamed for our financial mess because I couldn't work.
I intercepted some mail from the IRS in my name. It turned out he hadn't paid taxes in 5 years although he had an accountant and I signed the forms each year, being told "it was all set." We owed over $175,000, not including state taxes.
When I finally got into his office there were 3 plus years of unpaid bills. The spec house had been financed by equity loans from the first house. Credit cards in my name without knowing. We filed bankruptcy in 2010 and to this day I'm still finding out there's more on my credit report I knew nothing about.
Hundreds of thousands of dollars from his customers went missing. Hundreds of thousand of dollars from Income went missing. Suppliers were burned…. Contractors were burned…. I was burned.
I fought the IRS alone for Innocent Spouse. He lied to the Bankruptcy Court, the IRS, his Sub's, Me, his/my family, friends, and now the Divorce court.
He a Slick Willy "¦ as smart as they come. I'm being blamed for the whole debacle by him, the court, families, friends, etc. I haven't been able to rise above because he's so good at manipulation. He uses everyone. Money is his weapon.
His own children have been hurt beyond belief and he's never said he's sorry. He's made it his mission to prove to them I'm worthless and useless and we lost everything because I stayed home with my kids.
I had too… they inherited his genes "¦ a learning disability. I've been through Hell and believe I married the Devil himself. I was so lost in the Stockholm Syndrome/PTSD/Gaslighting. He's a Master! and so very dangerous.
I have not been able to awaken ANYONE to his tactics…… I have lost so much of myself I don't know if I'll ever recover.
I just found out the Court imputed Income to me during the final negotiations that were MORE than what I was earning at the time three years previous.  I received NO acknowledgement for the twice cancer events that left me tired and with memory issues.
Because I had no "work history" I was not able to apply for disability and if I applied for disability the Alimony would end.  Catch 22 for women who raise children.
I am also 10 years older than the ex.  I can't collect on his SS until I'm 75.
I used ALL my Pension money to help my children survive his non-payment of support with no reprieve from the Court.  He writes off ALL his living expenses as a self-employed person and I'm taxed at the max.  There is NO equality.
I am in the process of discussing my story with my state rep as to how to equalize the finances with the self-employed who have the ability to hide money. It will be interesting "¦