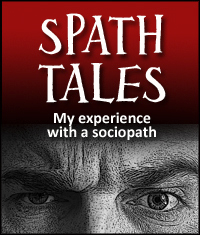 Editor's note: This story was written by the Lovefraud reader, "marinapearl."
I almost married a sociopath. He seemed like my perfect match at first: kind, funny, generous, respectful. We had everything in common. We moved much more quickly than I would have thought possible for me, as I am usually very cautious, but this was unlike any relationship I'd ever had. We were "soulmates," "meant to be."
Before long we were engaged. Everything was going well, except for when we would argue. Every time we had the slightest disagreement, he would have a meltdown. Nothing was ever his fault, and he always managed to make me feel bad for saying anything. I just thought he was really sensitive, but it concerned me that nothing ever got resolved.
He was extremely unreliable, always showing up late for our dates and not bothering to tell me. When I asked him to at least call or text me if he was going to be late, he yelled at me, saying he could never win with me, that he was working hard to provide for me (even though we weren't even married). He also would hardly lift a finger to plan the wedding, even though my dad was paying for all of it. When I would ask him to help, he accused me of shooting down all of his suggestions, of which he'd never had any. On one occasion he admitted he didn't care about the wedding. He just wanted to get married.
He also had this crazy story that a guy in the apartment building he managed wanted to kill him, because he alerted the police to his drug and human trafficking ring. He didn't go to work for a week, because he feared for his life. His bosses, according to him, wouldn't do anything to evict him, which made no sense, because they could evict anyone they wanted. The police were somehow powerless as well. The more I think about the whole thing, I am more convinced that none of it was true. But at the time I was worried, not just about his safety, but of our future, because he kept saying he was going to quit his job. When I asked him to come over to talk about my concerns, he claimed not to feel good (a common excuse). I basically pleaded with him, and he agreed to come over. But later he told me he'd been so worried I was going to break up with him that he'd run off the road and crashed his car. I never saw any damage to it.
This was around the time I started catching him in his lies. He claimed to have ordered the invitations, but later told my mom that he hadn't ordered them. I believe now he was trying to stall the wedding any way he could. He lived with his parents (or, according to him, they lived with him and he was supporting them), and he was working on an apartment attachment for us. But it kept getting delayed, and he would give me the most absurd excuses that were never his fault: the architect was dragging his feet on drawing up the plans, his dad submitted the permits wrong, they were rejected because a previous addition wasn't up to code, the house needed to be sided, etc. So I gave him the benefit of the doubt, and even helped him put new siding on his house. The apartment never got built. I suggested we rent something nearby until it was finished, but he didn't want to waste the money. Finally I suggested we buy a little trailer to put on the property while we worked on the apartment, so we did. I paid for most of it, even though he earned a lot more money than I did. It was old and kind of ugly, but it served its purpose. He insisted on tearing it apart and renovating it, which was totally unnecessary since we were supposed to be living in it only a short time.
As the wedding approached, he became increasingly weird and difficult. He would accuse me of being unhappy all the time, when really it was both my job and trying to plan a wedding by myself that was causing me stress. He said things like, "I feel like you can't stand me, that I'm just a burden to you" and "I don't even know why you're with me, I have nothing to offer." And then, three weeks before the wedding, he called me crying, because he wanted children and I didn't. This was the complete opposite of what we'd agreed in the beginning of our relationship. We both agreed that if it happened we would be happy, but we wouldn't actively be trying to have kids. Now he was saying he would never be happy without them.
I now realize all of these things were just him trying to get out of the relationship, and insisting that I was unhappy was his way of making it seem like it was my fault.
He gave me an ultimatum: I had to be the one to decide if we were going to stay together. I pleaded with him and cried, but he was very calm. I asked him to come over to talk, and he agreed to do that. He brought a mutual friend who was married and who agreed to act as a sort of counselor to give advice. When I laid out all my concerns about my "fiancé's" behavior—his unreliability, his emotional instability, his lies and changing stories and broken promises—he just sat there and said nothing. No attempts to reassure or comfort me, no promises to work on any of our issues, not even any excuses for his behavior. He had just checked out. Finally I realized if I went through with the wedding, this was what our life was going to be like. And I wasn't going to be with someone who was just going to give up every time things got hard. So I said so.
He got up and walked out. He didn't even say goodbye.
Later I had a relative meet up with him to get my stuff back, and give his back to him. He asked my relative how I was doing, and he said I was crying every day. This was probably the worst thing he could have said, because then my ex started emailing me. I had changed my phone number, and my relative refused to give it to him. He asked me how things could have ended the way they did, and when I told him all the things he'd done to drive me away, all he had were excuses and accusations toward me. So I stopped replying. Later I learned that he'd tried to get through me through my best friend, but I'd told her about his behavior, so she refused to work with him. He then began friending many of my friends on social media, including one of my exes, with whom I am still on good terms. I have no idea what his motives were, but I warned my friend who is my ex, and he said he thought it was weird that he would want to friend him, and that we would be careful.
It's been a little over a month since I heard anything from this disturbed person, but I have heard things about him. The church he was supposedly very involved in has barely seen him, and when he does go, he sometimes disappears early without explanation. A mutual friend told me he's already tried to pick up another woman, but she turned him down. This was after he promised he would always love me. Also, I learned from a couple that he dated their nineteen-year-old daughter when he was thirty-five, and she broke it off because he'd been pressuring her to marry him. He never told me any of this.
To this day I don't know what his motives were. I'm not rich or devastatingly beautiful. I think he just wanted an obedient wife to live with him and his parents in their depressing house in the middle of nowhere, because that's exactly what his mother did. She married his father, never worked a day in her life, and spent all her time doting on the family. He just wanted me to be a second mother. But these are just my theories. I don't know for sure.
Because of him, I lost my job, because he convinced me to quit, saying I wouldn't have to work when we were married. I lost a whole new life I thought I was going to have. I lost my trust in my fellow human beings. But worst of all, I fell head over heels for a man who never existed. I am still in mourning for an illusion. And I'll never know why it happened.