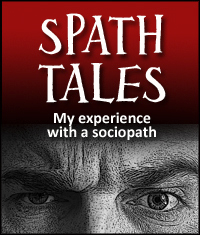 Editor's note: Lovefraud received the following story from a reader whom we'll call Theresa23, who relates her experience as the parent of two sociopathic children.
My experience is probably a bit different than most, but then again maybe not, maybe it's just not talked about.
I am a parent of two sociopathic children.
One is a boy age 21, and the other is a girl age 28. The girl is more of a histrionic antisocial personality disordered person where my son is more of a narcissistic sociopathic or possibly even psychopathic person.
"Blame the mama"
This is important to me because so often in the media, and in therapeutic journals and everywhere else- people want to "blame the mama"! I am here to tell you, as a licensed clinical social worker in the state of California, that sociopathy in young adult children may sometimes be due to the parents' parenting, but it is not so in my case, and I bet it's not so in the majority of cases.
As an LCSW I was a children's counselor, I did parenting classes, and I could be considered an expert on parenting. However I mistakenly, in my youth, had children with first a probable psychopath/sociopath, and then I had another child with a confirmed narcissist and also possible sociopath.
What I have to say may be death for adoption agencies (which I also in my career have worked for), but I am of the STRONG opinion that Nature, i.e., genetics, is about 95% responsible for children's personality traits, and Nurture, i.e., environment, plays maybe a 5% role of influence.
My ex's son and nephew
The father of my first child has a son and a nephew who are both currently serving time in prison.
The nephew committed murder of his girlfriend. He beat her face in so badly that they required dental records to identify the body. According to his own testimony, after he killed her, she was bleeding so badly on the hotel carpet, that he dragged her into the bathtub, and then went outside to smoke a cigarette. Eventually he called 911 and made up some lame story about her having fallen on her face, apparently several hundred times. He is in prison for the rest of his life.
My ex's son, and my daughter's half-brother, has already served at least 10 years in prison for beating his girlfriend so badly that she had to stay in intensive care for several weeks, however she lived. I am not sure how much longer of a term he has. This boy entered prison somewhere in his early 20s, after completing this act.
Daughter is aggressive
My daughter is aggressive and violent. By age 17, she had approached me three times to punch me directly in the face. She has assaulted her boyfriend and now husband a number of times, and unbeknownst to me she used to assault her younger brother, when left home to babysit for short amounts of time.
Despite her aggressiveness, she is much much much more sophisticated in how she subtly uses, manipulates, and manages people's perceptions of her, and controls and dominates people, than my son is.
My daughter comes across as all sweetness and light, and once she has your trust, she will begin to try to destroy you, but all the while trying to project an image of being on your side. So many instances happened to me between the time that my daughter was 15 till her age now 28; there are too many to list here.
Evacuated by wildfire
But I will outline just one of her maneuvers. She and I had both been evacuated from our homes in 2021, during one of the California wildfires, for 19 days. I fortunately had an out of state vacation preplanned for most of that time. However when I returned home, my area was still within 9 miles of a raging, out of control wildfire. The Air Quality Index (AQI) was between 450 and 500; breathable is about 87.
My daughter was staying with her brother's godmother and I was tent camping on a local church's campus with 100 other homeless people. Some of those people were fire refugees like me, but they were also long-term homeless, long-term drug addicts and dealers, people who openly said they were positive for Covid, and other folks you wouldn't want to hang around normally.
At the time I had an Australian cattle dog, who was not friendly to other dogs, so I was camped on one of the further outreaches of the campus, with my campsite on one side up against the swamp. One night someone tried to break into my camp at about 3 a.m., however my dog barked, ensuring my safety.
Asked my daughter for help
My daughter was able to go home about five days earlier than I was. I asked if I could come sleep on her couch for the duration, as I was cold, choking and coughing from the smoke, afraid of attacks at 3 a.m. by unknown intruders, there was positive Covid in the camp, and drug deals going down that I could hear at night.
My daughter said no. And let me tell you, had the situation been reversed, she wouldn't even have had to ask me for shelter. I would've been there picking her up the day that I got to go home. I have always been there for my daughter. I could not believe that she refused. I was dumbfounded.
To rub salt into the open oozing wound, the following day she called me.
This is what she said. "Oh my God! I was so worried about you last night. It got so cold down there that I was worried you would've been cold, out there, sleeping in the tent like that. Were you cold last night?"
She said this knowing full well the situation with the long term homeless, druggies and drug dealers, people positive for Covid and my 3 a.m. unwanted visitor. She said this knowing the AQI was around 475. She said this knowing that in an instant she could have secured my well being and safety. She said this To Be Sadistic!
The last day of evacuation I ended up going to the ER as I was coughing and gasping and couldn't catch my breath. I was negative for Covid, so they gave me strong inhalers for "Smoke induced asthma." In 56 years of living, (at that time), I had never had asthma, or been on inhalers in my life.
This is just one of 1000's of incidences of my daughter feigning concern, when in fact she's Is sadistically hurting me either physically or emotionally.
My son in jail
My son is a different story. My son is now 21. Upon graduating from high school in 2019 he earned a full ride scholarship to UC Santa Barbara for physics for four years. In other words, his tuition to UC Santa Barbara was paid for, for four years.
UC Santa Barbara is very difficult school to get into, especially for physics. I state this because my son is probably just this side of being a genius. Unfortunately he also has zero empathy, very little conscience, and also enjoys hurting and exploiting people. He ceased all contact with the family after high school graduation, but two years later he contacted my daughter, from jail, crying and upset. Apparently someone in jail had tried to kill him, and also he tried to hang himself twice in jail.
My daughter didn't tell me and he did not contact me but I found out through the police sending me a letter to come and get his belongings in 30 days. I Googled my son's name, and to my shock and horror, my 20-year-old son had just been arrested for bank robbery. Seriously.
Raft in the ocean
A few months earlier, I also found out, via Google, that in March, at 1:30 a.m., he had also taken a classmate out on a homemade, makeshift raft into the ocean. The two boys had to be rescued by the Coast Guard, and they both nearly drifted out to the ocean, however were spotted, and when they were rescued both were entering hypothermia.
Now the reason I mention these things is that; on one hand my son was smart enough to be the person who received the most scholarships in his senior year in high school out of the whole grade, due to his intelligence. On the other hand, he was so reckless that he endangered himself and others both in the bank robbery, and the misguided raft trip. With little preparation he robbed a bank, and also almost killed himself and his friend out in the ocean.
Psychopathic risk takers
Psychopaths are very high risk takers by nature, and they also have no regard for other people's safety or health. Because he was my son, I went to his court case, and got him released to me under mental health provisions.
At that time he told me that the jail/prison had diagnosed him with bipolar, and they put him on lithium. I thought that perhaps that would cure his psychopathic behaviors, and it seem to for a while. However, I think really what happened was that he was just putting on the charm, because he needed to use me for a time, until he got off probation, and got his feet under him again.
He has now returned to very cruel, malicious and emotionally harmful behavior, as he had exhibited towards me, especially in his last two years of high school.
If I died, my son did it
In his last two years of high school, I told two friends of mine, that if I ended up murdered, that it was my son! I was literally afraid for my life. My son acted calm and pleasant outside of the home, but in the home he belittled, criticized, destroyed my things, and looked at me with such hate that there was absolutely zero light in what used to be his pretty brown eyes. I was afraid for my safety and in fact for my life.
I cried and cried and cried for my lost son, and try to reestablish a meaningful loving connection with him. Nothing I tried worked.
He destroyed literally thousands of dollars of my stuff. He especially targeted things that were sentimental to me. By the end of his senior year, I had to lock my bedroom door, just when going to the bathroom, or he would be in my room either stealing or destroying something. He vehemently and angrily denied everything, even when there was only him and I living in the house.
One time he chased me into my bedroom screaming, "you have to say that I didn't do such and such. Say it now! Say it now! I got to my room and locked my bedroom door. He started pounding on it screaming similar things. I told him I was calling the cops unless he stopped. That did stop him that night.
Skipped therapy
One night he threw himself down the stairs, and writhed around on the floor in the living room screaming "I can't feel my skin I can't feel my skin." I tried to get him into counseling. He went one time, and said absolutely nothing, not one word to the therapist, for the entire hour. He did not engage, he would not play a game, he just sat in his chair and stared at her.
After that whenever I went to school to pick him up for therapy, he would skip school and leave campus before I got there. After a while either calling the cops, or threatening to call the cops, started to become a regular thing.
No backup
His father had died a month before he turned 13. Even though his father and I were divorced, his father would back up my parenting. After his father died, I had no one to back me up in my parenting, and meanwhile my daughter was actively sabotaging my parenting.
She actively lied to my son about me, or would come and pick him up if I grounded him or gave him consequences. After awhile, I was too tired to fight them both- and just relieved he would be gone for a night. I do believe my daughter has had a lot to do with my son's mental illness. I just didn't see her for who she was, for years.
I was "psychologically unstable"
Junior and senior years of my son's high school he systematically attempted to destroy my self-worth, my self-confidence, and she did destroy my reputation at the high school. In part he got so many scholarships, because he said I was a psychologically unstable, psychotic, alcoholic, physically abusive since he was born, starving him, locking him in his room. All of those things were false.
After he acquired the scholarships, he dragged me around to scholarship dinners, where everyone thought I was a psycho with aliens about to pop out of me at any time. I kept asking him why people were looking at me so strange or being hostile, and of course he said I was just being paranoid, it was all in my head.
After this incident, I went to the local women's center, and talked with a longtime counselor, who I had known in my own professional capacity. I asked her that given she had worked with abused women for 25 years, surely she had come across children or husbands, other abusers, who had been done things like my son. She said in all of her 30 years, she had never heard of any one person being so malicious to another person, much much less a mother.
Restraining order
At the end of his senior year, two months into summer, it was necessary for me to file a restraining order on my son, after he pushed me. The police came and took a report, but my son had driven away by then.
Later that night, after dark, he began circling my house, making noise, and trying to get in. That night I secured my house by nailing two by fours on the inside of my front and back doors. I turned all the lights off in the house and turned all the yard lights on. I sat there in the dark, on the inside steps, with my car keys and purse, and a short knife, ready to flee out of a window if necessary. I was terrified.
He tried to get in for a good half hour, and then either left or at least stopped actively trying to get in. That was one of the worst nights of my life. He was very, very angry that I had filed a restraining order on him. I was afraid for my safety. At the same time, in his state, I did not want to call the cops, because he was now 18 and I knew he would go to jail.
I tried to protect my kids
If there is any parenting mistake made by me, it is that I tried to protect my kids, and get them help.
I did not want them to be labeled as severely mentally ill in school, or be seen as evil by others, or start a long trek into the legal penitentiary system. Perhaps I was wrong in trying to protect my children.
In hindsight, maybe I shouldn't have done so. The toll on me of protecting my children has been enormous. I have chronic PTSD, I have anxiety which I never had before in my life, I have lost trust in nearly everyone. It took me at least three years to regain some sense of self confidence. I entered into a depression. I contemplated suicide many times. What I went through I wouldn't wish on any other person in the world. Especially not a loving mother like I was.
Psychopathic and sadistic kids
So obviously there's so much more to my story, but that's the gist of things. I really want to get the story out there because I read so much about how, allegedly, it is the mother's parenting that screwed up these psychopathic and sadistic kids.
I'm here to say, both as a professional LCSW, and as a parent who went through it, that that's not the truth and it's just further victim blaming.
This society tends to blame victims and they definitely also tend to blame parents and most specifically mothers. It's a common misconception that mothers are to blame for most, if not all, of children's mental health issues, and I am going to stand up and say that is not true.
I have been criticized and scrutinized and put under a microscope, questioned and nailed to a cross about my parenting. As a caring empathic person, I have myself gone over my parenting with a fine tooth comb, to see where I may have screwed up. And the worst thing that I ever did was yell.
Never abused my children
I never abused either child, and I supported them in everything they did. Yes, they also had relevant consequences when they didn't do things right. Yes, they had responsibilities and chores. Yes, they were taught to care about other people, went to church, and had two parents in their life for the majority of the time, until their father died.
Both children participated in many different sports throughout all the years, as well as drama and singing. We went skiing as a family quite often. We went downhill sledding quite often. We went to the park. We went swimming. We went to the lake. We went hiking. We did a lot of fun things as a family. Until my kids hit puberty, ours was a very loving, very tightknit family. After puberty all bets were off.
Selling and moving
At this time in my life, I am selling my home and moving out of state. I do not trust my children. I am afraid they may harm me, especially when they realize I am serious about zero contact with them. At 57 years old, I am afraid of my children.
This is no joke. This is no Hallmark movie, this is no plea for attention. Believe me this would not be the kind of attention anyone would want.
The only rationale for doing a story about this is that this is becoming commonplace. Because of the shame and stigma associated with the projected impression of being a bad parent, malicious, callous, and sadistic psychopathic and sociopathic children are abusing their parents all over this land, behind closed doors, and behind smiling public faces.
The parents get labeled and blamed and shamed. Parents are guilty prima facie. All that is required for a guilty verdict is the children saying so, and believe me, these children know what they are doing to their parents. They know that they have public power and control by managing people's perceptions maliciously.
Nobody is talking about this!
The stigma of being a bad parent is covering up the awful cruel horrible things these sociopathic children are actually doing to their very own parents, without cause or justification.
The absence of media coverage, and silence about these sociopathic and psychopathic children abusing their often now, elderly parents, is a national tragedy. 90% or 95% of the time the parents being targeted are good parents, loving parents and compassionate parents.
This is akin to similar taboo topics not discussed in the 1950s. Back then nobody talked about domestic violence, or racism, or sexism. "Leave it to Beaver" was the preferred façade of the day.
Presently, this is a real horror going on behind closed doors for parents, and I think most especially for caring loving mothers. Any casual perusal about the literature of sociopathic and psychopathic people will tell you that they routinely seek out the most caring empathic and compassionate people. Why? Because they make easier targets.
My kids abuse others
My kids practiced on me in their teen and adolescent years. Now they are both adults and continue to try to practice on me, but too, I am sure they are negatively affecting other people's lives as well.
In fact, I know this to be true. I've seen the destruction that my daughter has done with her ex-boyfriend, and the destruction my son has done with his ex-girlfriend. In both cases my children wore down their S.O.'s self-esteem, and somehow or other became the sole indicator of the other persons self-worth. I know those kids acquired damage from my children, and in part I hope this information makes it up to them, and validates their experience. I am a parent of two sociopathic children and I am so sorry my children are the way they are.
I may be the only one standing up brave enough to take the ridicule from all the other sociopathic children, well-meaning but ill-informed parents, professionals and the like, plus my own children's wrath and vengeance, but this needs to be said.
Mama shaming and blaming
This is a story of our times. I am so tired of Mama Shaming and Blaming. So if this would bring some awareness to the country, about increasing sociopaths and psychopaths among our children, who then turn around and abuse the parents, and blame the parents for the abuse that they're inflicting, then I have done something useful.
Sherry McGregor started a site called rejectedparents.com. And Miss McGregor was my life savior when I was first going through all this. However in my own little survey of people I know, everyone I've talked to has at least one child who has accused them of abuse and worse, and the parents I know are good loving people, and claim it never happened.
This is a national epidemic. I don't know what's going on with our youth, or why they are choosing to turn on their parents, or whether it's a social peer thing, or an Internet thing? I don't know what's going on but there's something going on, and we need to put a spotlight on it, because the parents are getting abused and accused of horrendous things that never happened.
Learn more: Overcoming children's genetic risk for externalizing disorders