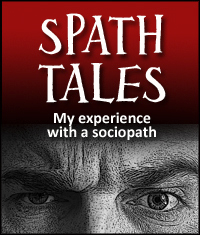 Editor's Note: This Spath story was submitted by Lovefraud reader whom we'll call "Tina-Marie."
I was married to a Cluster B – sociopath, psychopath, narcissist.
He left the children and me six years ago. He created a smear campaign against us before he left unbeknownst to us.
This was so he would have a posse of people who would feel sorry for him.
He took all the money and borrowed against our jointly owned home without my knowledge or consent. Since he left he has denied the payment of our daughter's school, while he pays for the son.
He had our son kicked out of his beloved chorus where he sang for seven years. The dad floated a big check for the expulsion.
He has hacked into my emails having had them all sent to wireless phone numbers.
My bank accounts have been hacked into.
Most of the horrible acts towards me have been AFTER the divorce and it is has recently escalated in the past year.
Each day is filled with horror.
Sadly, the son who he was the most brutal too has aligned himself with the dad – because the dad is playing the victim and the now 14-year-old wants a father.
His father has changed the child's personality, has isolated him from family and friends and even had the child suspended from school last spring, with the gift of taking him to a professional baseball game as a reward!
The child was given the coveted honor and integrity award the previous four years!
The dad is trying to damage the child to torture me since I have protective orders in place for him to stop harassing me. He did so for three years via email daily. Now he can't, so he does it through the son.
Our son gives my ex every bit of information he wants. The police, the courts, my family and friends, the banks, the internet and phone all see it and we can't stop him.
He has also abducted my son on several occasions and the National Center of Missing and Exploited Children have assigned a case number to my file.
This is about as bad as it gets as I am getting more imprisoned daily.