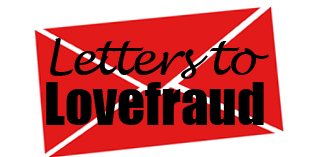 Editor's note: Lovefraud received the following letter from a reader who posts as "rosered."
Dear Donna,
I have been a follower of your website since  last year. That was when, after four years of mental anguish, trying to understand inexplicable behavior, praying for my children (and myself), financial crisis, and wondering what it was that I was doing so wrong, I finally left my husband.
In the week after, in which I was a totally emotional wreck, my sister urged me to follow links in an email she had sent me 6 months before. I had been reticent to read it at the time, brushing off her message as "totally ridiculous." The email subject line was: "He is a Narcissist." In retrospect, I realize just how blind I was to things that I didn't want to admit, didn't want to know, and wanted to run from.
I did finally follow the links, one of which was to your website. My eyes were opened at long last. I was finally surfacing from a dark lake that had consumed me in the years of the marriage. I was breaking into the warm light from those cold waters…if only I had read her message in its entirety 6 months before. My sister used the term "Narcissist" synonymous with "Sociopath," though I think the latter term is more fitting for him.
Much has happened in the year since I clicked on those links. My now ex-husband is currently under a criminal indictment for aggravated stalking. Despite his current situation, he continues to use our children in his strange war against me, and insists that I am the crazy one (I used to believe that).
Mistakes during departure
My departure was dramatic, and I made tremendous mistakes. I had told him in the days before that I was interested in a separation. The attorney I consulted with on that final day a year ago urged me to file for divorce. That afternoon, when I returned home from work, he had already picked up the children from daycare, which I thought was unusual.
When I told him that I had filed (yes, big mistake I now know), he informed me that he had too, and that "you better get all your financials in order." I thought this was a strange response to what was the most saddening experience since my father's death a decade earlier.
The evening only got stranger. He refused to allow me and the children to leave, despite my pleadings. Ultimately, my family called the police because they feared for my safety. At first, the police response was that "they were his children" and that I couldn't leave with the children without his consent.
I was floored. This man had moments earlier barricaded the door of our home and physically held me away from the door when I tried to leave. I was distraught, and fearful that the police would not help at all. After about an hour of the police at my home, they finally "convinced him" to let us go to my mother's home for "a day or two."
That evening on the two-hour drive to my mother's through desolate woods, my "loving husband" cut off my cell phone while I was in route. The next day, he started spending money on my credit cards, of which he was an authorized user.
He became more and more erratic and strange in the next couple weeks, and he refused to leave my home (which I had owned before the marriage and thankfully never added him as a co-owner). It took an emergency court hearing and a mutual restraining order to get him out of the house so the children and I could return.
A mistake on my part with the first custody visitation sent him into a rage, resulting in him chasing me home from his apartment (where I had come by for a visit to see where the children would be staying…mistake, mistake, mistake, I know…), jumping out the vehicle, blocking the door to my home, and screaming at me demanding to know "where his children were." My sister videotaped his violent rant, which conveniently ended just as the police arrived.
Spiraling out of control
Things continued to spiral out of control in the next few weeks. He stole items from my car, vandalized my car and my home, followed me constantly (I kept "noticing" him when I was out and about, both in his personal and his work vehicle), sent harassing messages via email and text proclaiming what a terrible parent I was, called the police to do welfare checks on the children when I didn't answer the phone, vandalized his own vehicle and filed a police report claiming it was "her or her friends," stole my mail from the mailbox, forwarded my mail to his address (when I finally caught on and rekeyed my box), calls and confronts my boss and co-workers demanding they give my work travel schedule to him (my travel schedule was his point of contention in the custody dispute), hacks my Facebook account and messages a friend pretending to be me, hacks my Pinterest account (a favorite hobby of mine) and deletes my 20,000 pins, tries to use credit cards I had replaced after his initial spending spree that he stole from my mail (I had wised up and canceled them again), leaves a card and flowers on my door on our wedding anniversary, and follows us two hours away during a weekend family vacation to a state park (where the park ranger observes his "suspicious vehicle" and inquires at the park cabins if we know whose it is…lo and behold I am shocked to identify it as my estranged husband's).
Police investigation
Eventually, I install video cameras at my home, and catch him on camera in the gated, locked backyard of my home removing items from the garden shed, testing doors and windows, and peeking in the house.
Finally, I call the police with my attorney's urging. A detective opens an investigation, and I hire a private investigator of my own. The private investigator places a GPS on his vehicle (legal where I live), and begins recording restraining order violations as he comes by my residence. Meanwhile, we go to civil court with video in hand, and he is found in violation of the restraining order and subsequently held in contempt, though the judge essentially just tells him "don't do it again."
With the active police investigation going, within a month, I capture him in still photos with cameras again at the front of my home. With these photos in hand, a warrant for aggravated stalking is issued, and he is arrested within the next week. After 3 months in jail, he is released on bond, and the adventures have continued since then.
His new M.O. is third party stalking and harassment. He is currently using child protective services and the family court system itself to harass me. Despite his criminal bond, he had false reported abuse to child protective services twice, and hauled me into civil court on a contempt motion. The contempt hearing was just last week, and it ended badly for him. The contempt charges for me were dismissed, but the judge, finally growing tired of his antics, sent him to jail for non-payment of child support. He is out as of yesterday, and I wait with bated breath for the next surprise.
Other women endure the same
Since my ordeal began, I have met many women who have experienced hauntingly similar, or even more frightening events, than what I have endured. I have developed a keen radar for their stories, and have begun to realize that relationships with the sociopath are all too common. A daycare teacher of my son's is still stalked by her ex-husband 3 years post-divorce, a former intern of mine was in a long-term relationship with a sociopath she began dating in high school and left only after an incident where he held a gun to his head threatening suicide (he didn't do it–and still sends her weekly communication two years later), my counselor was the victim of a stranger stalker who was a maintenance man at her apartment complex, etc., etc., etc.). I am so frightened by the commonness of this behavior.
Just yesterday, I came across an article regarding another incidence of aggravated stalking by a former federal prosecutor:
Former US Attorney charged with stalking, on DailyReportOnline.com.
I am somewhat bothered by the fact that the court's initial response in this case was to place him in psychiatric treatment and order a "family violence intervention program." Don't they know that the sociopath is HOPELESS and UNTREATABLE???? Why doesn't our court system understand that this behavior cannot be rehabilitated? After all, no matter what they tell an official or counselor, the sociopath will NEVER NEVER NEVER believe that they did anything wrong. How can someone so righteously certain of themselves be "rehabilitated?"
I am nervous that my ex-husband's punishment will be a "treatment program." The only thing that can stop his actions and the actions of those like him is to remove him from society. The only problem is, even if convicted, he will be out in the world again in 1-5 years. If I am not still his target, someone else will be.
Educating myself
In many ways, I have been lucky that it has not been worse. In educating myself, I have learned of stalking behavior that went on for much, much longer and escalated much further than my own case has. The Lovefraud site is peppered with these tragic stories.
I left last year, and he was jailed for aggravated stalking a few months later. I have been frustrated in the process and experienced much anguish, but things could be so very much worse. A good attorney, keen to the fact that he had many loose screws that just can't be tightened, has guided me (and cost me a pretty penny — its easy to forget your attorney is not your therapist until the bill arrives). Thus, while things have improved, I'm still pretty close to the bottom. I'll never be as low in life as when I lost my dad years ago, but I've come close in this.
Stalking and sociopaths
These stalking behaviors seem, in my reading, to be almost ubiquitous with the sociopath. In fact, I wonder whether anyone in a relationship with a sociopath who left the sociopath (as opposed to being discarded by the sociopath) was NOT stalked in some way, shape, or form during the relationship (I was), or after the relationship (I still am, despite his criminal charges).
I'm certain that the sociopath is incapable of NOT engaging in this behavior. In fact, I am certain that he is COMPELLED to stalk. With all his narcissistic rage ablaze, he has to PROVE to the world how he has been wronged by the vicious beast (me or you, or whomever his victim may be). He does this by using the stalking to find details about the victim that he can use to disparage, humiliate, or embarrass them. Furthermore, the sociopath "proves" to the victim that he is superior by his stalking behavior ("I can still control your existence, your decisions, your fear, your stress. Aren't you impressed?").
My explanations may be mere armchair psychology. I certainly am no expert on the subject of sociopathy or stalking, and will spend the rest of my life trying to understand these things.
As my initial readings transitioned from the psychology of the sociopath to the psychology of the stalker as my ex's behaviors escalated, I felt like I had been given a secret insight before being told what a stalker was about. So much of the behaviors and psychology of the stalker (partner stalkers, at least) overlapped with the behaviors and psychology of the sociopath. What is strange to me, however, is that I don't read many documents or references that link the two terms. As far as I am concerned, all partner stalkers are sociopaths of some degree. Am I off base on this assessment?
Hurt, sad and confused
I am still very hurt, very sad, and very confused about the past 6 years of my life. I am saddest for my children, who do not have a loving father in their lives. I am sad that this man may even remain in their lives at all, which is such a tragedy I can barely comprehend it.
When I left almost one year ago, I truly didn't understand that it is not possible for him to be part of their lives. I had an illusion that the marriage was just my fault, and he could be a nice person if I just weren't around. I thought that he could be good to our children despite his distance with them and harsh treatment of them (they were toddlers at our split).
Now, I realize what a dolt I was. Not only because none of this could possibly be my fault, but because I thought he could be redeemed and behave differently just because I wasn't there, as if I brought out the worst in him. I realize now that what a year ago I thought was his worst was in fact his BEST, as he has proven repeatedly in the past year.
Obsessed with understanding
I know my wounds are still quite raw, but it makes me fearful of ever being in a relationship again, even if I now know the things about myself that make me attractive to the sociopath. After all, what if next time I attract one more subtle or adept at his cruel game than my ex-husband was? I made the mistake after the separation to try to reach out to an old flame, but quickly realized that I am much too damaged for any attempt at a relationship any time soon.
In my attempt to heal, I have become a woman obsessed with understanding the impossible to understand. There are so many aspects of the past several years that I will never grasp, and I am becoming aware that I have to STOP trying to understand them before I drive myself insane. It is a delicate balancing act of education, realization, absolution, and obsession to say the least.
I can only hope by continuing to educate myself, I can find the realizations and obtain the absolution I hope for. By doing this, I hope I can let go of the obsession.
In the meantime, I will reserve my heart for myself and my children. Please know that your website and the resources I've found there have been instrumental in helping me educate myself.
There is much complexity in the story that I won't recount here, like all the warning signs early in the relationship and during the marriage, further details of the events before and after his arrest, the ongoing custody dispute (OMG—what is WRONG with the family courts??), and my own emotion spiral at various times in the whole thing — I have been far from strong in this. I have a wonderful family, a relentless attorney, a helpful counselor, and two very beautiful and loving children. Without them, I would have sunk beneath that dark water a year ago.
As of now, I'm just bobbing on the surface. I pray someday, I will be able to lift off and fly free of that abyssal pool. I am hopeful of that.