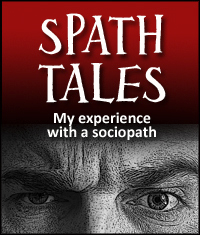 Editor's note: Lovefraud received the following story from a reader whom we'll call "Gale."
I was a widow for 5 years. After being married for 43 years, my husband died of cancer.
I did not like being alone and therefore I was vulnerable, to say the least. I enjoyed being a wife & mother, and sharing, loving & caring for my family.
I met my psycho on the internet, thru a dating web site. Had I trusted my intuition, I would have run.
There were many red flags. I did not ignore, but was charmingly convinced I was not being fair, but judgmental.
I considered myself to be the 3rd wife, but after several years of marriage, one of his daughters convinced me I was more like number 8. She ran the names of the previous wives off in front of my husband, and he never denied the facts.
He started dating his daughter's best friend. He even had the nerve to try and convince me we should rent her our spare bedroom for $300 a month.
On Fathers Day of 2011, he had a big party at our home, with his girlfriend & his children. He threw me out of the house & I had to spend the entire day in the garage.
I was in a state of shock. I guess I could have called the police, but I don't know if they could have helped.
He left me & went to Florida with her. Since, this experience, I have discovered there are more like 11 women he has done this to.
His mother will be 100 years old, and when I told her of my experience with him, stating I cannot lock him in the closet to make him behave, she stated he has lived this way his entire life.
I have questioned, why did his family not warn me? But then he would have convinced me they were spreading rumors.
This man is going to be 78 years old. He is crippled and deformed from having syphilis, chlamydia & other sexually transmitted diseases. He presents himself as a Romeo; he is blind to his real image.
His reason for his behavior his mother was out every night and his father said women were no good.
He takes no responsibility for himself, stating that he was sorry he started the affair, but could not stop. He was driven like a demon who had no control over himself.
I consider him to be a very pathetic individual. In fact he is lacking all the qualities that makes a human a human. He is nothing more than a driven animal, a mindless robot, programmed to do evil.
I do not believe people are born this way. We all have choices and I believe that after choosing darkness you step into the abyss where there is no returning to the light of this world.
It's been an experience I would never have chosen, but it has taught me that when these psychos reveal who they are, have nothing to do with them.
They are not sick as the world usually states. They are truly EVIL.