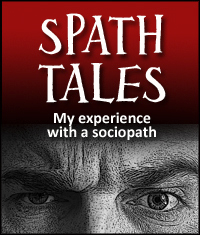 Editor's Note: Lovefraud received the following story from a reader whom we'll call "Rhoda."
My ex is an attorney and used his position to financially ruin me by targeting our children.
I spent over $250,000 on legal fees, while he was legally allowed to represent himself, and even question me on the witness stand as both my ex and his own attorney. The legal system allowed him to continue to drag me to court for 7 years.
I was awarded sole custody twice and he waited for the judge to retire, filed again, and this time was awarded joint custody and I had not done anything different or wrong.
Our children have suffered the most. Our now 21-year-old daughter wants nothing to do with her father, but our now 15-year-old son must endure court ordered visits.
My ex convinced the judge I was a bad parent, when in fact, the courts suspended his visitation with our son for two years due to his abusive relationship.
Our son, whom I took to therapy to deal with his emotions and a product of being subjected to his father, was diagnosed with PTSD and had thoughts of harming himself. His psychiatrist and long-term mental health providers both testified in court, but the judge either did not believe them, or could not legally help him.
The courts continued to victimize both our son and myself, ordering me to attend court ordered co-parenting for a year with my abusive ex. Our son was forced to go to "reunification therapy" for a solid year with his abusive father. The therapist, picked by the judge, told our son if he didn't cooperate the judge would send him to juvenile detention!!!
Who's word would the judge believe? Our son had to just endure it! More abuse from powerful people.
I tried for years to protect our children from their father, and the legal system did little to help. The legal system is not equipped to recognize or deal with sociopaths. It becomes a battle of "he said, she said."
Except, I did everything right, in the best interest of our children "¦ allowing the lies and badmouthing by the father while I kept my mouth shut, not wanting to confuse our kids.
It was pure hell for years watching our son bite himself, kick walls, scream after returning from visits with his father, bang his head, try to strangle our family pet, and draw a picture of himself dead, with a gun, with the words, "Yes, I want to go to Heaven."
The court assigned a GAL who was an attorney, not a mental health provider. She told the judge in court, "He looks like a normal 14 year old boy."
Where was she when he was having his meltdowns? Why doesn't the court restructure how they handle "high conflict" cases? Why don't they have trained mental health providers, paid for by the courts, to investigate "¦ speak with any long standing therapists, interview teachers, family members, neighbors, doctors, who know the children and find the truth.
My son is now just given up, his spirit broken. He endures his visits with his father because the court says he must, but when he's 18, I have no doubt, he, just like his sister, with have nothing to do with his father.
Parents like myself should do something rather than complaining, but what? I knew in my case I couldn't fight a well-known psychologist, appointed by a judge, who never bothered to read the 6 years of court testimony.
It was hell and I wish others would not have to endure it, especially innocent children.