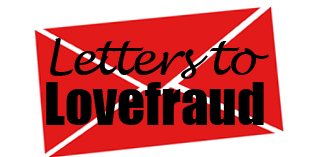 Lovefraud received the following letter from a reader who posts as, "lucky2Bfree."
Donna,
We spoke a while ago and it really did help me, it was good to speak to somebody who genuinely understood how I felt and also get some perspective on the situation.
To recap, my fiancé borrowed a lot of money for me and told me stories which I now know to be false.  We were living together in the United States, but when I returned to my native country to nurse my terminally ill mother he told me he needed to leave America and wanted to join me. He borrowed more money, told me he was falsely arrested and needed me to pay the bail bond but suddenly went quiet, leading me to believe something awful had happened.
Before that he had been professing his undying love and telling me I was the best girlfriend in the world. To others, though, he was telling them I was stalking him, he had ended it with me and that I was following him and his new girlfriend around. When I tried to contact his family none of them would speak to me. He had set everything up perfectly. He had been seeing someone else the whole time, she had his baby while we were trying for a baby ourselves.
When I spoke to you last I was pursuing a civil case against him for the money he had borrowed. I had emails, cards, even video messages of him discussing this money as a loan, yet in his declarations he said it was a gift. He lied about everything, telling them I had been such an awful girlfriend that I was paying him money to basically stay with him. He told them that he had given me loads of money before and totally slandered my character. He agreed to pay me back in an out-of-court settlement at the last minute and has been making regular payments.
He told me he had been in trouble with the law before, but this is when he was young, and he had changed, found God, grown-up, met his "soul mate" (me) etc. In fact he was a violent criminal with a long history of firearm possession and drug dealing. He had served 11 years in a maximum security prison and now I look back I feel lucky to be alive. I shudder when I think I could've married him and I could've had his child. I've read about people taking out life insurance policies out on their partners and killing them, anything is possible with a true psychopath.
At the time I was desperate for closure, desperate for revenge, desperate for the truth to get out, basically just plain desperate.  While I am pleased I got my money back, it actually cost me over half in legal fees. At the time it meant a lot to me and it helped me to regain some of my self-esteem and get closure.
What I realise now is that the real reward is to be free. As much as I despise what he did, I had been so manipulated by him that I still had a lot of emotions flying around. I read somewhere once that the opposite of love it's not hate, it is indifference. Before I hated him, now I am indifferent.
To anyone out there that is going through a similar situation to me, my advice would be run for the hills and don't look back. Don't get caught up in trying to win, trying to make them feel bad, trying to battle it out, because the most important thing is to be as far away as possible. Having the time away and the distance has given me a lot of clarity and perspective on the situation. I now see it for what it is, and feel although I got some battle wounds, I did dodge a seriously big bullet.
My attorney has told me my ex is involved in several cases now. He has a few DUI's, a personal injury law suit, a landlord and tenant breech of contract. His life isn't going well, he treats everyone the same as he treated me after all, and that can only go on for so long. I was so caught up on making him pay at first but really who he is as a person will ensure that he goes from crisis to crisis and drama to drama with no stability his whole life. I, on the other hand, have feelings, have my morals and my conscience, am capable of loving and  still have my life.
If it wasn't for Love Fraud I would never have known this man was psychopathic. I thank you for being there when I was at rock bottom and no one else understood.