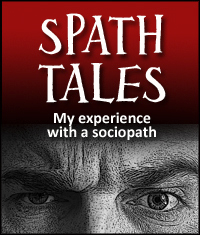 Editor's Note: This SPATH Tale was submitted by the Lovefraud reader whom we'll call "Terry Ann." Other names in this post have also been changed.
He is as romantic and alluring as his designer label name sounds. I met "PQ" on Millionaire Match.com. His profile states he was born in Milan, Italy,
I wasn't seeking a millionaire. I wanted a man with a respectable job, status, and stability.
We had a whirlwind romance in a two-week period of time before he suddenly had to move from Bradenton, Florida to Couer D'Alene, Idaho.
I clearly remember his first phone call to me. His accent was sexy, romantic, and sweet.
Within moments, he boldly asked me personal questions, but he was so nice, I complied and answered. I normally don't like to tell anyone right off the bat that I have been divorced three times and had two abusive husbands, but he wanted to know my marriage history immediately and why my marriages ended.
The first week we dated was interrupted by my out-of-town cousin and her husband.
He called me on day three after meeting and wanted to meet just somewhere for a few minutes. I invited him over to sit by my pool with my family from Illinois. They were captivated by him, as I was.
The next day, he texted me while I was spending the day with them in Sarasota and he wanted to take all of us out for dinner…. his treat! He did…. and he was extremely generous. We had a wonderful time.
I was absolutely mesmerized.
During week two, he wanted to spend time with me, but I had a day off work where I had to take my elderly mother to two doctor's appointments, and he came along and also took us out for lunch! I was so impressed.
Then, he suddenly relocated because he was an entrepreneur and the "investors" were ready and it was time for him to relocate.
I visited him two months later at my expense because I was excited to book a trip to see him. We had a romantic and wonderful time. Every moment I spent with him was magical and romantic.
He called me loving, sweet, silly, and sexy names: Sicilian Bombshell, Sicilian Goddess, Baby Bunny, etc.
He told me he would take care of me, that we would be a power couple. He had made millions before and he will make that money again.
Then, the drama ensued.
The investors were not bringing the money to the table.
He was having some health problems.
He had to support his ex-wife who was mentally disabled with obsessive compulsive disorder.
He was defaulting on his health insurance.
He was at risk for defaulting on his mortgage on the house his ex-wife lived in.
After four months of knowing him, daily texts, daily phone calls, lots of attention, lots of sexual interchange on text, he asked me for a loan of $1,000, but only in cash.
At first I sent a check and he said he had to close his accounts. So, he had me send money via Fed Ex.
He asked me again in July. Then, I visited him in August (and brought $800 cash with me) and we had the most romantic week of my life.
One week after returning home, I received an email (which I still have) that described a desperate situation he was in and that he needed to reinstate his health insurance, as he had a small heart attack a week before my visit. He needed a cardiac cath procedure because he probably had a blockage.
I did not want him to die. He asked for $12,000 cash, in four separate Fed-Ex envelopes, mailed on separate days.
I decided to do it because I could not bear the thought of the love of my life dying of a fixable heart problem. He promised to repay me about a month later when the investors came forward with the money, but that all fell apart.
The company dissolved and he was out of a job.
He subsequently moved to California and is staying in a guest house of a former neighbor who has done very well in life. We were apart seven months, and he was finally able to come see me. I had to buy his $1,000 + airline ticket.
By the end of the week, he told me he had hit bottom, had borrowed money from people who were not nice.
Now, he was in trouble and had no capital money to work with.
He told me his image and credit were everything.
His home was for sale, but if he defaulted, he would lose his equity. He did not know how he would make house and car payments. On top of that, his ex-wife that he supports has very bad vision due to cataracts and is only at 50% vision and will be blind by the end of the year if she does not have surgery. Her co-pays for the lens implants are over $8,000.
He told me he NEEDED $65,000.
I laughed and said I don't have it.
He said, "Yes, you do. You have retirement funds, you have savings." (By the way, I would have to take nearly $100,000 out to net the $65,000 to cover the taxes and penalties.)
I said, "No, I am absolutely stone cold on this. There is no amount of persuasion that would ever make me do such a thing! I am not going to work the rest of my life!"
He said he would pay me back with interest. I said no. He asked if I would help him on any level, such as a credit card cash advance. I blatantly refused.
The relationship lasted almost 14 months. It is so painful to know that the whole relationship was not real. I really loved him. He was so loving and sweet. He fulfilled my emotional needs beyond any stretch of the imagination.