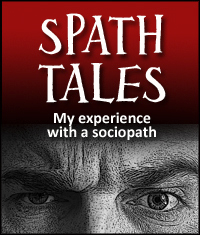 Editor's note: Lovefraud received the following story from a reader whom we'll call Carmen21. After going back and forth with a man for many years, she learned that sociopaths do not change.
I met J in 2006 at work. At the time, I was involved in a long-distance relationship with my first love of 8 years. I was attracted to J the moment I saw him. During a work conversation, J asked me what my story was. I had a feeling he already knew because everyone at work talked about how I can do better and couldn't understand how I was so loyal to a long-distance relationship. J said he knew but wanted to hear it from me. I asked him if he was in a relationship. He said he was from Boston and moved out here to California because he followed his son. He said he was separated from his son's mother, and that he rented a room from some roommates.
He was very charming and respectful, and invited me out with a group of friends. I thought it was sweet of him to invite me believing there was no ulterior motive. We went out with a group of friends, to shoot some pool, and had dinner. That night we talked and had a great time. He told me I was one of the most beautiful girls that he had ever seen, and that he would never disrespect my relationship. He had so much charisma and charm, I was instantly drawn to him.
Of course, I didn't let him know at that time. I felt guilty because I started to have feelings for him. He would call and text me from time to time, and we would see each other at work daily, but we would keep our distance as I didn't want anyone getting the wrong idea about him and I. I went out to dinner with him a few weeks later, and once again he was very respectful, and did not try anything. I just remembered I was so drawn to his charm and charisma.
Our first date
I still remember that second date like it was yesterday. I still remember what we both wore and what we had for dinner. About 2 months later, I got an apartment that was much closer to work as opposed to my 30-minute daily commute. When I told him about it, he asked if we could go out on a celebration dinner since I would be closer to work and closer to him, so I accepted.
We went out to dinner, then we parked in a residential area to talk. That night we talked for hours, and somehow the conversation lead to him making a move on me, but I pulled back because I was still in a relationship. He then apologized and said he couldn't help himself because he thought I wanted to kiss him back. We talked more, then we both ended up kissing for hours. During that time, he told me I was it for him, and that he knew I was the one. Before we knew it, dawn approached. I remember we both didn't want to admit we were tired and waiting for one to say the word about going home. I think he finally said it and we went home. (our separate homes that was).
From then on, things moved quickly. We went to lunch after work the following week, and I told him that I felt guilty and didn't feel right about this whole thing, I told him I wanted to end it. At that moment, he told me he loved me and couldn't let me go. He held both of my hands and told me that he knew we were meant to be and that I deserved to be happy too. Before we knew it, we were kissing in his car, and he told me he wanted me to love him the way he loved me. I wasn't sure what I was feeling at the time, but I knew it was too soon to be love but also knew those feelings took over whatever I felt for my relationship. He told me he would be patient and wait until I ended my relationship.
We talked and texted daily, we didn't tell anyone we were seeing each other for a month. I was on this unexplainable high. He would send me notes at work, call to my extension to tell me he was thinking of me and that I was beautiful. He literally swept me off my feet. I just knew I was happy with him, and I had never felt that way before. A few weeks later, we slept together for the first time and it was the best sex I ever had. He swore he would never leave me and that we wanted me to have his baby.
His son's mother
As the weeks passed, people started suspecting and eventually knew that we were seeing each other. That's when things started falling apart and the rumors about him started. People started asking me if I was seeing him, and they would tell me to be careful because he was a womanizer and didn't care who he hurt. They also said he was living with his son's mother.
I asked him about this, and he denied that he was living with her, but admitted he was with many women and that none of them meant anything to him. I remember he was so proud that we were seeing each other and told everyone how he felt. My friends even told me that he seemed excited and they never saw him that way before considering he was with many women at work. The rumors were driving me crazy. I would hear of him flirting or hitting on other women, yet he would deny it and have an answer to everything with proof to back it up.
Little by little, the sob stories started about how he was struggling financially and how he was considering moving back with his son's mother just to settle the financial burden but that there was nothing going on there. I told him I was not comfortable with that, so I told him I would help whenever possible. Before I knew it, I was paying for our dates, and our weekend getaways.
Break up and make up
There were lots of breaks-ups and make-ups in that short time. I noticed he had a temper and at that time, I was emotionally stronger and wouldn't put up with it, so anytime he blew up on me, I broke it off only to go back after he would call me to apologize. One day he left me a voicemail telling me he needed to talk. I can tell he had been crying.
The next morning, he told me he had been lying to me and that he had been living with his son's mother, but he swore that there was nothing there, and that the only reason he couldn't tell me was because he feared he would lose me and couldn't live without me. He was so convincing, and I believed him. We made plans to get an apartment together as soon as my lease was up.
As the weeks went by, I noticed that we weren't spending every weekend together anymore. The highs and lows were very frequent, and I found myself trapped and confused. There were a few weekends where some of our coworkers had poker nights, which he would attend. I soon found out by a mutual friend that he was attending those poker games with M (his son's mother), and that they had 2 kids together, not one as he claimed. I was furious finding this out and decided to cut him off.
I ignored his text messages and calls. One message had me furious and I had to respond. (little did I know I was only giving him power by responding.). I told him I knew the truth, and to stay away from me or I would tell M everything. He then left me alone for a few days. During those days, I was so broken hearted and missed him. I wanted him back so bad, but I was angry and confused.
When he texted me again, he asked if we could talk. I thought to myself, "what can he possibly tell me that I don't already know. He's been lying this whole time. What now? What kind of twisted person denies he has a kid?" He called me and said that he knew he messed up, but that he didn't want me to think that I was just a piece of ass to him, and that he was in love with me. He also said that the reason he denied his other kid was because M had cheated on him, and he didn't know if the kid was his or not. (another lie of course but I believed him at the time). He assured me that he was only there because of the kids, and that he was planning on leaving as soon as my lease was up for my apartment.
I was pregnant
I continued to see him, but little did I know I was already pregnant. When I called him to tell him, he sighed, and said "let me call you back." I didn't know what to make of this. We had plans to move in together and he would always tell me to have his baby during sex.
In the beginning of my pregnancy, he went with me to my appointments. I started noticing that he was not calling or texting me as much. One day he called me by accident, and I can hear his conversation with M. It was a conversation I'll never forget. They were talking about moving to Mexico for a while. I knew then he never had any intention on leaving her but decided to play it cool until I gathered all the facts.
I had lost my job and only had a bit of savings left. I couldn't afford my car payment, so I asked him for help while I was struggling. He then suggested that his neighbor was selling a car cash, and that I should buy it because I was going to end up getting my car repossessed anyway. I asked him if the car was in good condition, and he assured me that it was. I still trusted him thinking he would never jeopardize my safety since I was pregnant with his kid. He said the car would cost 3 grand, so I gave him the money to give to his neighbor.
The next day after getting the car, the car stalled on me and left me stranded. I called him multiple times, and he did not return my text or calls. I then went to his neighbor's house to explain what had happened, and his neighbor told me that J knew that the vehicle was faulty, and that he had sold it to him for 1 grand. I was furious and shocked. Not only was I pregnant with J's kid, but I was also out of a job, and he betrayed me, scammed me, and jeopardized mine and my baby's lives.
Telling the other woman
At that point I had it. I went to his house to tell M everything. When I told M, she wasn't surprised and asked if I was keeping my baby and I said yes. She told me they were never separated, and appreciated me telling her what was going on. I then left and had to figure out how to survive on my own with my baby.
I did not hear a word from him throughout my pregnancy. Then 3 months after my daughter B was born, he reached out saying he wanted to see her. He came to see her twice, then disappeared again. I didn't understand how he could do all of this. What kind of person does this? Worse, why couldn't I get over the pain and why did I still love him?
Three years later
I did not hear from him for another 3 years, where he reached out asking to see her again. I agreed to let him see her but did not realize there was an ulterior motive. (We had an open child support case which was accumulating, and the department of child support finally found him in Boston). He convinced me that he was the one who reached out to them because he wanted to start taking responsibility.
He flew out here to California, and he showed up with clothing and toys. He seemed genuinely happy to see her, and started telling me how much he had missed me, and that he was scared to reach out to me because he knew he screwed up. I was hesitant to believe, him but wanted to believe that there was some good in him, and that he really was here because of his daughter and me.
He spent a week in my home, and in the beginning nothing happed other than him spending time with B. He woke up early, cooked breakfast with her, played with her. Everything looked like it was going well. He was taking her to preschool in the mornings, and she was excited telling the staff that she had a daddy now. We then talked, and he said he was struggling back home. He wanted to start coming out at least a few times a year so that he can see B, but the amount on child support would make it impossible. I wanted him to be there for B so badly. I was convinced that if I didn't do this, B would later hate me because I didn't do anything to let her father be there for her. I reduced his child support by 80%.
The next day he said something happened at home and he need to fly out right away. He promised he would be in touch. He did text daily when he went back. Those text messages became less frequent to nothing. Before we knew it, he disappeared again. He emailed here and there, then completely disappeared.
I married someone else
After 2 years, I moved on, got married, and had another baby girl named S. S was born premature with multiple health issues and took away from my time with B. Until S was born, B was the center of attention. I got 1 email from him when B was 5 years old. I finally told him to just stay away and that she was better off without him.
We didn't hear anything from him for years, and as far as I was concerned, he was good as gone. B was doing well, she was in Girl Scouts, and in a Competitive Dance Team. She had some behavioral problems, but I disregarded them as attention seeking due to the time we spent in the hospital with S.
Read more: Sociopaths and family
I started getting more involved in B's activities with her school and extracurriculars in order for her to know I was there for her as much as S. In June of 2015 B was diagnosed with ADHD the same day that S was diagnosed with cancer. Back to the hospital stays we were again. I made sure B stayed busy so that this wouldn't affect her. S beat cancer after 6 months, and we tried to pick up where we left off with B.
Junior High
As soon as she started Junior High, things took a turn. I noticed B's behavior changed completely. Her anger was not normal, and she knew how to charm, and manipulate people. I did not understand this and thought that maybe it was the puberty hormones or bad association at school. She started testing boundaries, and I knew something was off when she had no fear of consequences.
She started asking questions about her real dad, and I did not give her too many details. Things only got worse and she ended up in the psychiatric ward several times. During therapy, her father came up multiple times, so I went through hoops trying to find him hoping he can give her some closure. He did call and reach out to her and he told her that he was irresponsible but that he would try to be there as much as he can. He was calling her daily, and then it stopped.
Diagnosis: Conduct Disorder
The hospitalizations and behaviors escalated. There were a few months where B would do well, then would have an outburst which resulted in a hospitalization. She was diagnosed with Disruptive Mood Dysregulation and Conduct Disorder. Things got so bad that DCFS was involved because we had no control over her behavior and she was running away from home.
I started blaming myself thinking it was something I did or didn't do. Maybe I didn't give her enough attention when S was sick. Why didn't I get her help sooner when I saw the warning signs thinking everything was associated with her ADHD? B saw several therapists and they all said it was a behavior issue rather than mental health. They would say it could have had something to do with early childhood trauma. A number of things could have caused this. My instincts as a mother told me something was off, but these were all professionals so how can I know better? What can cause my child to be without empathy, remorse, lie, charm? This was not learned behavior. We did not teach her this.
My marriage was falling apart, and we made the decision to separate so that my other daughter did not have to witness her older sister's outbursts. After 2 years of fighting to get her into a residential treatment center to keep her safe, I was finally able to get her into a boarding school which was 15 minutes away from where J lived. After speaking to J, he offered his place for me to stay for when I visited our daughter.
I was hesitant at first but he insisted that we would sleep in separate rooms and that his intention was only to help me out so that I did not have to spend money. After multiple conversations, he finally convinced me and when that day came, he picked me up from the airport, and we went to his place. He then invited me out to dinner, so we went to dinner and played the slots at the casino. (I didn't realize at the time, but he had a gambling problem.)
Can people change?
While at dinner he started asking if I believed people can change. I didn't realize at the time, but this was his attempt at manipulation. He started telling me that he still wanted me and that I still looked amazing after 15 years. I told him I couldn't let him back in because I didn't trust him due to his track record.
As we walked out of the casino, he had his arm around me and asked me how long we were going to talk about the weather (meaning we both knew we wanted each other so let's get to it). I changed the subject and we just talked on the way back to his place. He then asked if he could sleep on the same bed and that nothing would happen. He said he just needed to feel me close. That night we did cuddle, but I rejected all of his attempts to seduce me.
The next morning, he insisted that I kiss him. Despite multiple attempts to reject him, I eventually did kiss him, but felt guilty afterwards because I wasn't fully divorced. We then went to see our daughter B and this was B's first time meeting him (that she can remember). His connection to her seemed genuine and I was hoping that he changed and really wanted to make it work for her this time. I wanted to give him the benefit of the doubt.
We spent the day with B and it was filled with love and laughter. B even told me she wanted to cry because all she ever wanted was to see her parents together, even if they weren't a couple. After dropping our B back off from our visit, J and I went back to his place and watched a movie together, and I kept my distance from him. I can tell he was bothered and stormed out of the room.
Text argument
I tried disregarding it but for some reason felt compelled to figure out what his issue was. I sent him a text asking if he was mad. He responded saying he wasn't but that he didn't want to make me uncomfortable, so he left and for me not to worry, that we my trip was almost over. (I didn't realize this was another manipulation tactic.) I then got into a text argument with him telling me he was just mad because I didn't fall for his game and that I didn't sleep with him.
After multiple exchanged argumentative texts, I started packing my bag to leave. He then came in and apologized asking me not to leave and that he loved me. He convinced me to stay. That night he held me, and it lead to sleeping with him. Of course it was the most incredible sex ever and I was instantly hooked.
After leaving back home, we had been texting each other and we agreed to try again for B. We had plans for me to fly out the following month, but I noticed he wasn't texting as frequently. Anytime I would question the lack of communication, he said he was constantly sleeping, and that he was tired from work. He did work graveyard shift, so it made sense. Things were going great, but his lack of communication was a constant issue. We literally were breaking up and getting back together every week because of it.
Am I too demanding?
He made me feel as if I was being too demanding or having high standards when I would confront him about breaking his promises or not following through on what he said he would. I even started doubting myself and wouldn't bring it up as much. I started visiting him every 2 weeks, and things were great in the beginning. He was constantly flattering me, saying I was so beautiful, and made me feel great about myself. We had so much fun on our weekend getaways, and I felt like I was young full of energy again.
There were little things that would come up which should have been major red flags. The first thing was that he was constantly gambling on his phone. I noticed that every time I suggested we did something different; he would seem unhappy unless it was the casino. Then one day on his way to pick me up, he got pulled over and got a ticket, and crashed his car.
I did feel responsible in way, so when he gave me the sob story of how he was struggling because of this, I offered to help him out. Little did I know that this was the first of many. This went on for 4 months where I was paying for everything again. I had the stability, and money, and he knew this.
There was one time where he was supposed to pick up B for a visit, and when I got upset with him for not showing up, he turned it around on me saying he was in a lot of pain from his gallbladder and how dare I go off on him. After a couple of days of ignoring his calls, he went on a visit with B, then sent me a picture of them. By this time, I was over my anger, and we were talking again.
The last weekend
The last weekend we spent together, I was already feeling uneasy about everything and realized he hadn't changed. We stayed at a hotel, which I paid for and we had plans to go to the pool. He insisted we go to the casino first, so we did. When we got back, he completely changed his mind, and I was upset with him so I went and showered, then got ready for bed, then as if nothing happed, he asked if we were going to have sex. I knew in my heart that this would be our last weekend together, so I agreed to sleep with him again.
Afterwards he apologized and said he was ready to change. He said he wanted to start planning his move to California and that he made his decision to move in with me once B graduated from her program at the boarding school. I went home hopeful thinking maybe this was finally happening, and that this was it. The next day, he asked me how I was doing, and that he was doing great. He said he knew he hit rock bottom, and that it was a new day for him to start his change. That was the last text I got from him.
I did not hear from him for 2 weeks. All of my texts and calls were ignored the 1st week, and I eventually got the hint that it was his way of cutting me off completely. I was confused broken and shocked. I realized that the ulterior motive was me not raising his child support and once the case closed that was it. Once I saw this, I reopened the case again and he finally sent me a message as if nothing happened asking me to set up a visit with B for him. Then he gave me another sob story about how his son got into some legal trouble and that this was his reason for not being in contact.
Sociopaths do not change
I did some research on this behavior and came across Love Fraud. This opened my eyes to everything, and then I learned about how everything he did had an ulterior motive. This last time it was probably sex, money, and of course the child support case.
Learn more: Overcoming children's genetic risk for externalizing disorders
I also learned that my daughter probably inherited the same personality disorder. I don't know if it's too late for her, but it explains the manipulation, charm, lying, lack of empathy, or remorse from her.
I also learned that this last time I was vulnerable due to everything going on with B, and he took advantage of my vulnerability. I would have never been unfaithful to my husband, but I was vulnerable because we are separated, and we are in the process of divorce, so since there is no future, I let myself go and fell for J once again.