EXCLUSIVE: Photos of dismembered body parts positioned on a white sheet shown to horrified jurors as woman stands trial for stabbing her husband, chopping him up in pieces and then storing them in Tupperware containers
WARNING GRAPHIC CONTENT
Daniel Burroughs, 66, of Mays Landing N.J. was missing for almost seven years
Loretta Doyle Burroughs, his 63-year-old wife, is on trial for his murder
Chopped up remains rotted in Tupperware for seven years, court told
Two plastic totes were wrapped in multiple layers of garbage bags to contain 'the strong smell of decomposition'
Some of the bags contained scented dryer sheets and liquid air freshener beads
Burroughs claimed her husband drove off to Florida with a younger woman
Victim's suspicious best friend secretly recorded a phone call with the accused played in court
By DONNA ANDERSEN
Originally published by the Daily Mail on March 13, 2015. Reposted by permission.
The skeleton of Daniel S. Burroughs, of Hamilton Township, NJ, was in pieces.
His skull, spine and ribs, all a sickly shade of yellowish orange, were positioned on a white sheet, somewhat near where they should be, except that none of the bones were connected to each other. Arm, hand, and leg bones were also detached.
The jury gasped as the photo was displayed on the criminal courtroom projection screen.
Burroughs had been reported missing on September 1, 2007. Almost seven years later, on May 17, 2013, his remains were discovered in two plastic boxes in the Ventnor, NJ home of his former wife.
Loretta Doyle Burroughs, 63, is now standing trial in Atlantic County, NJ, charged with the murder of her husband, who was 66 when he disappeared.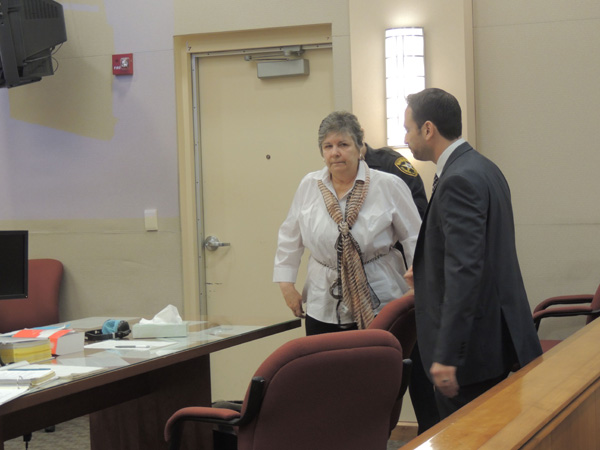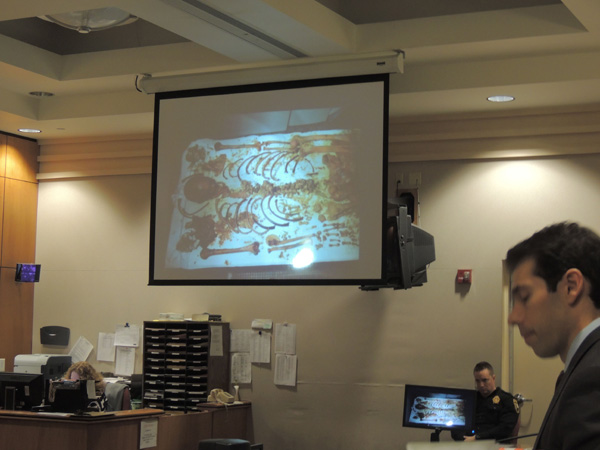 'This defendant killed her husband in cold blood, eviscerated his corpse and placed him in Tupperware to rot for seven years,' said Seth Levy, chief assistant prosecutor, in his opening statement.
'She lied and manipulated to get away with it, and she did it all for the money.'
Loretta Doyle Burroughs, who sat crying at the defense table, has pleaded innocent.
'The state wants you to believe that Loretta murdered her childhood sweetheart for a few thousand dollars,' said Anthony Previti, assistant deputy public defender.
'She didn't murder Danny Burroughs and the state can never prove that she did.'
Law enforcement officials were looking for legal documents and bank records when they searched Loretta's Ventnor home, testified Detective Caroline MacDonald of the Atlantic County Prosecutor's Office.
In the closet of a guest bedroom, MacDonald found the two tote containers, wrapped in multiple layers of black garbage bags, which were themselves surrounded by clear outer plastic bags.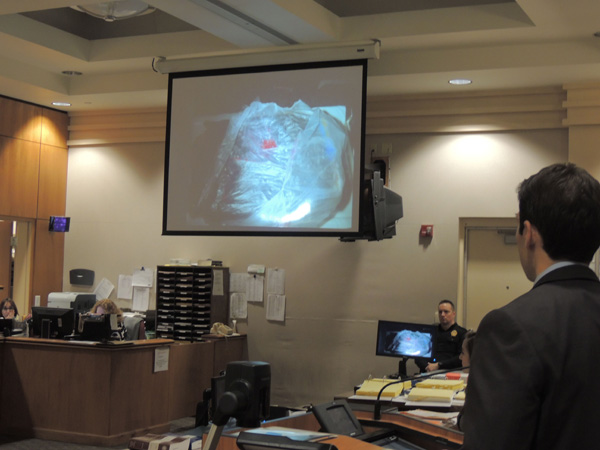 Some of the bags contained scented dryer sheets and liquid air freshener beads.
As MacDonald, of the forensic crime scene unit, opened the bags, she started to smell 'the strong smell of decomposition.'
'I've been around dead people,' she testified. 'It is a very distinct odor. That is the odor I smelled when I opened the trash bags.'
The two plastic boxes were transported to the morgue. When the boxes were opened, inside was a body 'in extreme stages of decomposition,' MacDonald said.
The skull and jaw were in a separate canvas bag inside one of the boxes.
On cross-examination, Public Defender Anthony Previti noted that the investigators also found a cigarette butt. A woman's DNA was found on the cigarette, but it was not the DNA of Loretta Burroughs.
Back in August 2007, Loretta had told her friends and family that Danny left her. He'd driven off with a younger woman in a yellow Hummer with Florida license plates.
Danny always dreamed of retiring to Florida, testified his best friend, Robert Valiante, of Mays Landing, New Jersey.
'I've known Danny since 1973,' Robert said. 'That was his big thing, going to Florida, walking on a sandy beach.'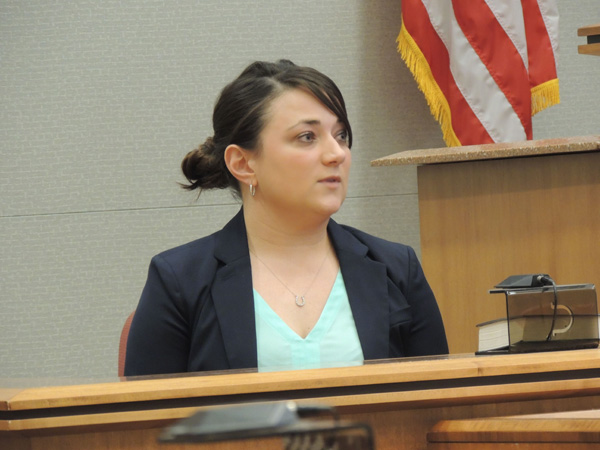 In fact, Danny talked about Florida at a birthday party hosted by Robert and his wife, Joyce, on July 21, 2007. He and Loretta attended the party, even though Danny's right arm was immobilized in a sling after recent rotator cuff surgery.
According to Robert, while Danny was saying that he and Loretta were moving to Florida as soon as their house sold, Loretta was standing behind her husband, shaking her head no.
Also in July 2007, Loretta asked her daughter, Nicole DiDomizio, of Mays Landing, NJ, to arrange a vacation to Sesame Place, in Langhorne, Pennsylvania.
Loretta wanted to take Nicole, Nicole's husband and their four children to the theme park, the daughter testified. Loretta paid for the trip.
'My mother set up the vacation,' Nicole said. 'She picked the date, time and location, and she asked me to make the arrangements.'
Nicole testified that Loretta didn't want her to tell Danny about the Sesame Place trip.
Nicole also testified that Loretta said her husband was leaving for Florida, she was not going with him, and she didn't want Nicole to talk to Danny about that either.
This bothered Nicole. 'I loved Danny,' she said. 'He was a very nice person. He was good to myself and my children.'
So Nicole bought a card that said, 'Good luck with your new life.' When she knew her mother wouldn't be there, she went to their home on Leipzig Avenue in Mays Landing, NJ, to give the card to Danny.
'He was very confused,' Nicole testified. 'He said, "What's this for?" And I said, "What is this for?" That went on for 10 minutes. It became awkward.'
'I felt I couldn't betray my mother. He was a good grandfather to my children. But he didn't understand what I was talking about.'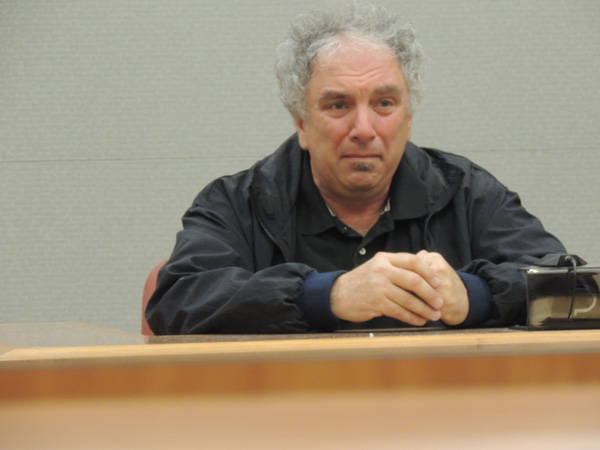 The Sesame Place vacation was slated for August 3 to 5, 2007. Early in the morning on August 3, Nicole said, she, her husband, and their four children were waiting for Loretta to arrive at their home so they could all get on the road.
Loretta was late. Hours late.
Nicole said she called her mother '40 to 100 times,' on her cell phone and house phone, but got no answer.
Loretta finally arrived. 'She was frenetic, completely emotional, she was crying, borderline histrionic,' Nicole testified. 'Whenever she feels she's done something to upset someone, that's when the tears and 'I'm so sorry' begin.'
'When she was so late, I was aggravated, the kids were upset and my husband was upset,' Nicole testified. 'I always just kind of go with it, but I think I used a very strong expletive.'
'She said she had an argument with Dan.'
But once they arrived at the theme park, Nicole said her mother 'participated in all the Sesame Place adventures with the kids, like Lazy River.'
Two or three days after they arrived home, Nicole testified, her mother told her that Danny was gone.
About the same time, Loretta also called her husband's best friend, Robert Valiante, and asked him to come to their Leipzig Avenue home.
'She told me my friend left and ran off with some girl in a yellow Hummer with Florida tags,' Robert testified.
'Knowing him as good as I did, he never would have left. We were that close. If he was going to go somewhere or do something, he would have told me.'
Loretta asked Robert if she wanted to buy some of Danny's possessions — he had tools, construction equipment, a collection of remote-controlled model airplanes, a jet boat, a drum set.
'I would not buy his stuff,' Robert testified, 'because he was my friend, and he would be mad when he comes back.'
'She said, 'He's not coming back.'
They walked outside to look at the jet boat, and Robert saw mothballs on the ground.
'She said there was a dead woodchuck,' Robert testified. 'I have a farm. I didn't think it was an animal.'
'I know what a dead animal smells like. I've been around people who have passed away. You could smell a strong odor. It's a big difference there.'
Robert was suspicious. In fact, he was so suspicious that he later recorded a phone call with Loretta.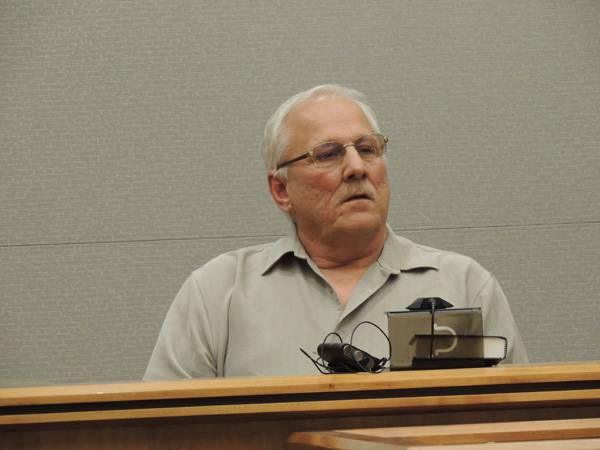 The recording was played in court. In it, Loretta said that she had spoken with Danny, and she told Robert about the conversation:
'He goes, "I'm doing fine, I'm doing fine. This is what I always wanted. I always wanted to be down here."
'Loretta said she replied, "That's fine, then, be there. But don't be here anymore. Leave me be. Don't call me anymore."
Danny Burroughs was last seen alive on August 2, 2007. Ronald C. Roberts, who lived directly across the street, testified that he saw Danny on a riding lawnmower, cutting the grass. Danny's arm was still in a sling.
On Friday, August 10, 2007, Danny's half-brother, Raymond Wantorcik III, 57, of Glenolden, PA, called to find out how Danny was feeling.
'Talking to Danny before the surgery, he was always upbeat,' Ray, still grief-stricken, testified. 'After the surgery, when I talked to him, he sounded lethargic, slow, said he was in pain.'
Loretta answered the phone. 'She said he left me,' Ray testified.
Ray drove to his brother's house the next day, unannounced. When he arrived, he saw Loretta and her niece in his brother's shed with the door open.
'She had a legal tablet,' Ray testified. 'She was looking at the tools. She was taking inventory and writing them down.'
'She saw me, became startled and rushed her niece into the house. She approached me, then she turned on her tears.'
"I'm so distraught; I'm so distraught," Loretta said, according to Ray. 'He left me for a young girl, went to Florida.'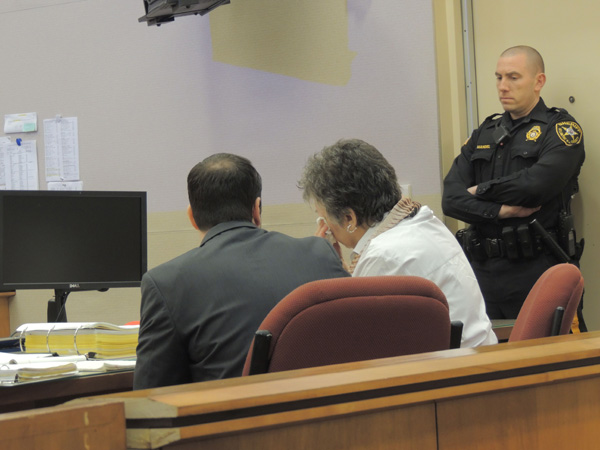 According to Ray, Loretta said Danny left her with problems and took all the money. But the story kept changing.
'One time she told me that she got into the safe and the money was gone,' Ray testified. 'Then she said she couldn't get into the safe.'
Ray visited Loretta several times over the next few weeks. Once Loretta told him that Danny had called, and he said that Ray could have whatever he wanted.
Ray described his last visit to Loretta.
'I was sitting at my brother's kitchen table,' he said, his voice trembling. 'She was on the other end.'
'I said, "Loretta, I'm filing a missing persons report about my brother."
Ray demonstrated Loretta's response. He slammed his hand on the rail in front of him, jumped up and yelled, "Why the f*** do you gotta do that? I just told you that he called this morning."
'He never called,' Ray said tearfully. 'He never called.'
On Labor Day weekend, 2007, Ray went to the Hamilton Township, NJ, police and filed the missing persons report on Danny Burroughs.
In court, Chief Assistant Prosecutor Seth Levy asked him why he did it.
Ray answered emphatically: 'Because I knew he was dead.'
The trial resumes Monday. The defense is expected to present its case on Tuesday.
Next: Loretta Burroughs found guilty — After killing her husband, she put his head in a handbag