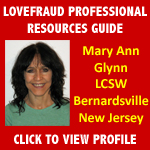 By Mary Ann Glynn, located in Bernardsville, New Jersey
I have noticed that those who get involved with a sociopath, whether it's for 30 years or three months, the relationship has the same devastating effect. I've heard some describe even a brief encounter with a sociopath as the most destructive relationship they'd ever been in, even if they had previously been in a physically abusive relationship. What makes this true?
Loss of value and power
Any abusive relationship is destructive. In order to survive it, a person has to sublimate their needs and their identity, and a loss of self is experienced over time. Self-esteem is battered. Ongoing exposure to physical or verbal degradation from controlling over-correction to condescending criticism to demeaning words or tirades, and frequent angry tones from controlled disdain to simmering rage to outright screaming, over time have a gradual eroding deconstructive effect. The violation of boundaries and disregard of personhood translates into the gradual loss of value and power, and the ultimate dehumanization of the victim.
In a nutshell, if a person who is supposed to love you reflects back to you on a continual basis anger, disapproval, disregard or neglect, you start to feel not valued, unworthy of their love, like you are wrong, you don't matter, you're not enough. You feel ashamed of who you are — a very painful emotional place. You start to believe different things about yourself, even if you started out feeling positive and strong. It's the nature and essence of abuse.
Abuse what is it?
Recognizing abuse is a process because you are attached to the person, who you believe loves you. You do everything in your power to make it work, especially if you have children. For an indefinite period of time, you will be locked in denial by the cycle of abuse in which the abuser becomes "remorseful" and/or romantic after the abuse, which then ignites hope again. If the abuse is obvious, you're likely to recognize it faster and your survival instinct may kick in faster. Also, other people may notice it and bring it to your attention.
Many partners of sociopaths do not experience much outright abuse. It is much more subtle — deceit, rejection, disapproval, and distancing, coupled with the feedback that you're imagining it, crazy or needy, or that's you're the one victimizing them. That has the effect of keeping you off-kilter, in constant self-doubt about your perception, even your sanity. It's crazy-making. The feeling of unsafety created by their lack of honesty and being kept off guard takes away your sense of safety and security that relationships must have for love to be shared.  When it's not safe to even speak and be heard and or even feel certain, you start to erode, you have no power to be heard or valued. You are being abused — in fact, taken for your mind — but it is being handed out in an insidiously veiled way.
You've been tricked
At the point when you realize the person you have been with for however long has been tricking you, the trauma and humiliation of being deceived and used is a violation that in and of itself has a crushing power. Sociopaths take you at your most vulnerable — the giving of your heart — and they use it, make fun of it, scorn and degrade it. For me, the part that makes me most angry at him and me, is that he had the ability to take my power away. He had the ability to manipulate my perception and devalue the best things in my character to meet his need, and I let that happen.
Reclaim your power
But, for today I choose to accept my naiveté and vulnerability and desire to be loving, to forgive myself, and take my power back.