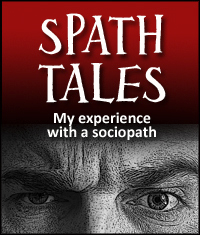 Editor's note: The following story was submitted by a Lovefraud reader whom we'll call Kimberly19. Names have been changed.
I am married to Tom, Barbara's ex-husband and prime victim, and am raising her children, as we were finally successful in gaining sole custody with only very limited, supervised visits granted once a month.
I have been served with a TRO (retalliation to pulling off her mask), slandered and subjected to hateful and manipulative comments. This, however, is nothing compared to all that she's done to my husband and the kids, as well as numerous employers.
When everything 'blew up', it came to light that there was a massive fiduciary breach and they were days from losing their home and having utilities shut off, penniless, significantly overdrawn as well as in debt, destroyed credit, troubles with the IRS, and without insurance. The complete opposite of what my husband knew should be true, which was well over $500,000 cash in the bank, retirement accounts, college funds already set for the kids, a low mortgage, no debt, and a loving wife.
Barbara had stolen a notary stamp when their youngest was a newborn, forged signatures to remove Tom's name from the house so that she could commit mortgage fraud. Falsified bank statements for years, falsified tax returns, fraudulent welfare filings, thousands and thousands in debt by taking out cards in my husband's name… it was unbelievable.
When my husband and his parents started looking around the property, they found numerous large black trash bags filled with collection notices, lien notices, notices of foreclosure, etc. She refused to leave the house and ultimately was forced to leave by court order, 9 months after all this was discovered. She lost all rights to the house, as she had not only spent her half of the marital assets, but spent Tom's as well. There is an exemption clause in the divorce that keeps her liable for any fees/expenses incurred due to her fraud.
It would have been nice if all had ended at that, but it's continued.
To date there are 4 fraudulent welfare claims in 3 counties – one of which includes a forged custody agreement, which used a filing stamp from a claim of exemption hearing from another state to 'legitimize' the document. (We were told this by the county DCSS, but they have been legally unable to provide us a copy of this document despite Tom being party to the case).
She has been arrested for felony embezzlement, but the DA screwed up at one of the hearings and it was rolled back to a misdemeanor. She has now filed for a Mental Health Diversion, so this case is still outstanding.
She stole from another employer prior to that one and she was unable to press charges.
The employer she was working for when she was arrested is now on the hook for ~$30,000 for a judgment that she owes my husband (for the legal fees it cost him to untangle the house due to her fraud). She worked in the office and hid the garnishment documents from the employer, who then, after being warned by us, continued to listen to her lies despite being brought into court and having to testify under oath. We are almost certain she was fired on for intercepting garnishment documents from DCSS for the kids' child support.
She has worked under the table, and falsified job search records to avoid having her income imputed. When she was arrested, computers she'd given the kids were confiscated. It turns out -despite her telling me that she'd 'scrimped and saved for months and instead of a Christmas Bonus, her boss had given her the corporate discount to discontinued computers- she bought them via her company's account at Staples or Office Depot, along with $9k in gift cards as well as getting herself a new iphone, computer, printer, and headphones.
She also added her cable/internet bill to the check to Comcast from the company and paid 3 months of car payments via a company check. This doesn't include giving herself raises and bonuses and altering her time sheets to be paid more than she worked.
This only came to light because she had intercepted another garnishment document, falsified her wages and forged the employer's signature. It was an obvious forgery, so he was confronted by our attorney. When she was confronted in court, in front of the judge (at the claim of exemption hearing that she took the filing stamp to put on the custody agreement) – she didn't even flinch. No reaction at all.
It was chilling, actually. She skipped right past that and didn't even acknowledge that it happened, and went right back to work and shined her way through that confrontation, playing innocent the whole time – "I sign things for you all the time (billing records) – I didn't think this would be an issue since you're so busy, blah blah." It would take several weeks before he caught her moving money around on the books before he fired her, and weeks after that before they would begin to piece together the extent of her fraud and embezzlement.
She tries to say that she was abused by my husband, and that's what caused her actions. She tries to say she is bipolar and that's what causes her actions. Yet, I have never seen her remorseful. The only time I have ever seen her actually REACT is when the mask is pulled off – when she's exposed.
Ten months after her arrest we were back in court re: custody. She had been given supervised visits, 3 hours every other weekend, but had not seen the kids even one time. She had texted them a message stating that she was so broke and so downtrodden that she couldn't afford food or gas, let alone the $75/hour for the supervisor.
We had subpoenaed her financial records as well as having been given access to a social media profile. What we had were thousands of dollars being spent on pro hockey tickets, pro basketball tickets, pro baseball games games, dining out, sex shops, manicures, wine tasting, etc.
When the judge saw this she nearly removed any and all visitation, but reduced it to once a month for up to 3 hours. Barbara has never scheduled more than 2 hours, and even at that it took another 4 months after this hearing for the first to even occur – and that was with her mother handing money to the supervisor.
The visits over the past 16 months have digressed badly, with the kids (now 17.5 and almost 16) calling her out on her lies and manipulations, refusing to have the grandmother attend visits due to her lies and manipulation and generally no improvement despite numerous efforts by the kids to express their needs and asking for certain boundaries to be respected. (such as confirming the visits more than 2 days ahead of time).
The kids are amazing and incredibly sweet, and thankfully, due to extensive therapy over the past 3.5 years, are really doing well overall. The abandonment and attachment issues are present, but not as significant as they could be. I credit their dad, who has dedicated his life to prioritizing them over all else, and the continuity our home provides.
But, knowing that your mom stole computers that were your Christmas gift, and took you into the office to shred documents ("Great, now I'm complicit in her crimes") is not a great feeling.
Just this April we had to pay $4700 in taxes for a fraudulent loan she'd taken out against that house that was 'forgiven' last year. That comes out of my pocket, personally, as does the thousands of dollars in medical expenses and therapy for the kids that she literally refuses to be accountable for. (She told the judge that they were all 'frivolous').
Blending families is not an easy task, but without a doubt the hardest part of my marriage is his ex-wife and the constant drama that we can't seem to get away from. We're close, but not close enough.
Seeing the criminal court system fail time and time and time again is so frustrating. We realize that we've been incredibly lucky from the family court side – we have the kids. They're (mostly) protected from her at this point and are safe.
But knowing there's still no criminal record and she continues to defraud employer after employer is …well, I just have no words.