Editor's note: Lovefraud received the following story from a reader, whom we'll call Barb20, about the price of not listening to intuition.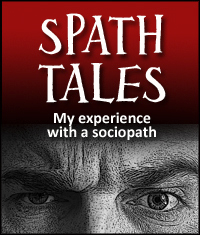 I was in a relationship with a sociopath for 10 years on and off. Two of those married to him. I am currently separated from him and living in another state.
I originally met him online and we started dating. I remember the first few dates I had a little person inside telling me I was too good for him but quickly squashed that because it seemed so conceited. He came from a low income family, didn't graduate high school and drove a truck for a living. I come from a middle class family, I'm a college graduate and had a good career.
Knowing what I know now I was the perfect target. I had come through a rough divorce 4 years prior. I owned my own home in a nice part of town. Everything moved so quickly after we met. He really had no home because he was an over the road truck driver. So before I knew it he moved in with me and my kids. He was charming, attentive, and made me feel special.
As time went on he would quit his job every 3-4 months and always came up with some lie of mistreatment. I would be stuck taking care of him for weeks until he found another job. This cycle went on for the entire 10 year relationship. He was also a very heavy drinker and occasionally did recreational drugs. I did neither.
After a year or so I began getting fed up the drinking and his constant need to be drunk. We would be at his family's for a party and he would drink until he could barely stand up. Then I'd have to help him to the car and get home. Heaven forbid I should suggest we leave if he wasn't ready to. He would cause a scene.
After a drinking incident about 2 years into the relationship I threw him out. I would do that 2 more times. After the 3rd time I decided it was done. After the initial constant text messages telling me I'm worthless and he's done with me etc., it got quiet.
I resumed my life with my kids and friends. After only a week or 2 he was living with some woman. Four months after I threw him out I started dating a wonderful man who was kind, honest, trustworthy etc. We planned a weekend trip and as we were leaving the sociopath emailed me and somehow knew all about the trip. I didn't respond.
Then it was quiet again until another email where he said he can't live without me, he's miserable, he gave up drinking can we please talk. I fell for it. We got back together. 2 years later we married and we moved out of state where we knew no one.
I had on occasion uncomfortable feelings when he would go over the road but never had any proof anything was going on. We broke up 2 or 3 more times, which always ended in me going back.
I started feeling day by day that I wasn't in love with him anymore. My behavior changed from being attentive to cold and quiet. In April we had a huge fight over something ridiculous and again I left. I had accepted that I wasn't in love with him anymore but was frightened of the unknown. He did the same thing crying and begging me to come home.
Again I gave in. I returned home reluctantly knowing in my heart I didn't love him anymore. He started acting weird and all of a sudden was going to work weekends to save up for a house. He was gone constantly. I had a weird feeling in my stomach but I just pushed it aside.
Then one day he texts me that he isn't coming home and wants to separate. I was furious. Why didn't he just let me leave in April when I told him I wanted to? Looking back I know now the break up had to on his terms not mine.
As the days passed I found out more and more about exactly was happening on those "work" weekends from his own family. I guess I needed to hear details and proof to finally accept what he is…a sociopath.
When I confronted him about the cheating he denied it of course but when I told him it was own family, he lost it. He called them all and screamed at them just further solidifying what was true. I packed my belongings and moved back to my home state where my family is.
There are now 600 miles between us and that's how I want it. I have blocked him, his family, and anyone else connected to him from my phone and social media. I have peace for the first time in almost 10 years. He stole that time from me and I can never get it back. He is dead to me
Donna Andersen comments
This story is a perfect example of how our intuition warns us about predators, be we don't listen, at least not at first.
Remember: Your intuition always knows. Your intuition's job is to protect you. Not listening to intuition can lead to betrayal and pain, as it did for Barb20.