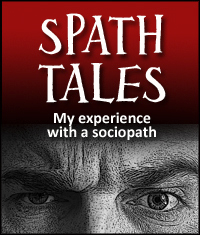 Editor's Note: This SPATH Tale was submitted by the Lovefraud reader whom we'll call "Good Mom."
The father of my son was a spath.
He is now deceased. He killed himself.
He was a drug and alcohol addict and he was very abusive. I was beaten regularly. I was a possession. He owned me and he owned everything that was mine.
He lied as easily as he breathed.
I went through a very difficult break up with him when my son was 3 years old. I did not know until after his death that he was a spath.
We have a son who is now 37 years old, and I do believe this is hereditary because he is also a spath and acts exactly the same as his father, maybe even worse.
I had never known anyone who behaves this way, no one in my family was ever like this. It is so unbelievable to me that anyone can behave this way. He has done such horrible things to me I wouldn't even know where to begin; it goes way back.
I have not seen any information or stories from parents of spath's. All the stories are about couples. I think parents of spath's don't like to speak up because maybe they are protecting their child, are in denial, or they are afraid of being blamed for the way their child turned out. I hear it all the time; parents get blamed.
I know it is NOT my fault my son is a spath.
I was a hard working single parent, was not abusive, if anything my son was on the spoiled side as I am a softie. I do not drink or use drugs. I worked a full time job and did extra jobs on the side so I could afford to meet the needs of my child and I made a lot of sacrifices back then.
Now that I look back on his childhood, I can see that he was clearly showing signs of being a spath from the time he was in about 5th grade, maybe younger. Maybe it was his father's abusiveness that affected him, I don't know.
I did not know about this mental illness at the time and I wish I had. Everything my son has done lied, stolen money and collector items, damaged property, etc. everything he has done he manages to turn it around and say it was ME THAT DID IT! It is always all my fault.
He tells all his friends and acquaintances that I was an abusive, drug-using, horrible mother when he was growing up and that I caused him to be an addict because I gave him alcohol and marijuana, which is absolutely not true. He will tell people this right in front of me right to my face so it makes it look like it is the truth. I have been called horrible names and threatened.
I have been nothing but good to him, helping him out and rescuing him over the years. Letting him come home when he is down and out, feeding him when he is hungry and he doesn't appreciate any of it, yet I keep letting him come back and I keep helping him out.
He is nice only when he is in need of something, then when he gets it I am treated horribly again.
He acts like he owns me and my house, he takes over and takes control of my home. He has this sense of entitlement and thinks everything I own is his and he has the rights to it.
I try to lock him out of the house and out of my things and he picks the locks and gets in. He is my only child and I have no other family except for my elderly mother. It is so hard to know what to do when it is your child. The advice is to cut off all ties for good, but when it is your only child it is hard not to believe he will turn himself around, so he keeps getting more chances.
He is in rehab now, only because he wanted to avoid jail, not because he willingly wanted to go. He'll be there for three more months. I have not been in touch with him since he went in three months ago because he is so angry at me right now.
I had to get a restraining order against him to get him out of my house and stop the abuse, so he has cut off all communication with me. I am thinking he has done me a favor. I need to stay strong when he gets out in case he is in "need' again.
I need to never see him again or he will ruin my life all over again. I logically know this but I don't know what will happen. The closer the time comes for his release, the more nervous I become.