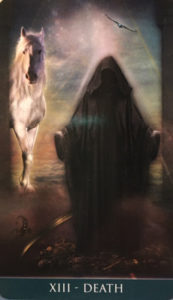 Editor's note: Liberty Forrest, author of several self-help books and a certified Law of Attraction Life Coach, explains what the Death Card in a Tarot reading really means, and why it may portend great things for you. Read more about Liberty.
As a psychic and medium, over the past few decades I've had many clients come to me because they feel trapped in a relationship with a sociopath. Whether it's a family member or a romantic partner, they feel helpless and don't know how to move forward — which is why they've contacted me for guidance.
Sometimes I've used Tarot cards in my readings. Provided the reader is experienced and "in alignment," Tarot is an excellent tool to gain clarity on difficult situations and decisions.
The meanings of most of the Tarot cards vary slightly from deck to deck.  But some remain the same, no matter which deck you're using. The Death card is one of those. It's also one of the most feared and misunderstood cards.
And it's one of my favourites to get in a reading.
This card represents the death of the old and making way for the new. It is about clearing out the deadwood and finding new growth. It is the card of transformation and rebirth.
The Death card frightens many people, for they think it means that they, or someone they love, is going to die — although when they hear it signals great change, they can become frightened of that, too, even if they need it.
You see, we have a natural fear of change. We're hard-wired to stay safe so we can survive. Something deep inside us tries to prevents us from risking that. This is part of why we stay stuck in those toxic relationships. We prefer the familiar and the known to the unfamiliar or unknown.
Read more: How to leave or divorce a sociopath
So we stay in it because in a twisted way, it feels safer than doing something new.
Sometimes our level of discomfort has to surpass our fear of change in order for us to be willing to take that risk and create something different for ourselves.
Ready or not, great change can be thrust upon us at times – especially when dealing with sociopaths. Although it may be terribly painful while we're in the midst of it, in the end something good will come from it. When you get the Death card, it's telling you that whatever needs changing will change — whether or not you feel ready for it. 
And there you are, looking bewildered as your life hangs a sharp left, and there's the divorce you thought would rip your heart out, the career change you didn't know you could make, the family member moving far away, or your life being blown to smithereens, only to be rebuilt, one tiny piece at a time.
And if you're dealing with a sociopath, chances are that you've experienced pretty much all of that.
How Do You Start Rebuilding?
I know that can sound like an overwhelming prospect. I promise you that there is a lot to be said for starting over and rebuilding, for retreating into the safety of a cocoon where you shut out the rest of the world, what it thinks, how it judges, or what it wants from you.
While in "retreat mode," you throw out anything and everything about yourself and your life that no longer works for you, or that takes up space in your heart or your soul that could be better used for something happier and healthier.
This is how you lay a new and healthier foundation from which you begin to rebuild your life, one step at a time.
And once you have completed this process of rebuilding, this period of transformation of yourself and your life, you will emerge from your cocoon, a strong and beautiful butterfly, graceful and free of your past. The old "you" who crawled and hid amongst the leaves and branches now takes flight, your beautiful bright colours floating here and there in the sun, dancing on the breeze for all to see.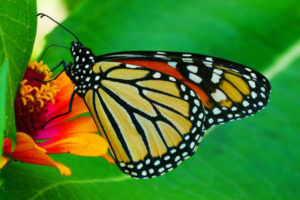 And just as you look different to the world, the world looks different to you. From the heights of climbing rose bushes, or from the breath of wind that gently carries your magnificence from place to place, your perspective is altered.
When all you used to see was your little corner of the garden, you're thrilled that now you can soar. With your newfound freedom, you see so much more of the world. There are new experiences just waiting for you, new adventures to broaden your mind and expand your life.
As much as you may have enjoyed at least some parts of your little corner of the garden, you couldn't go back to that life or that existence. You are no longer that little caterpillar.
And you will never be that caterpillar again.
Yes, it's true that great change can be frightening. And sometimes, even though we know it's necessary, the notion of undergoing a complete transformation can sound terrifying.  I've had more "great change" in my life than most people have ever even considered. And I mean it in a much bigger, broader and deeper way than just the 47 times I've moved house. 
Learn more: The Miracle in the Madness: Pathway to healing from destructive relationships
So I can assure you, I do understand. I know that heart-stopping feeling of seeing the Death card reappearing in your life, whether literally or figuratively.
But ultimately, when you're on a path of healing, a journey toward happiness and fulfilment as I have been, you come to see that there is nothing more rewarding for yourself and for anyone who loves you than when you live the Death card and become the most beautiful butterfly your garden has ever seen.
A version of this article was originally published on libertyforrest.com Reprinted with permission from the author.