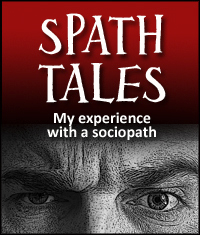 Editor's note: Lovefraud received the following email from a reader whom we'll call "William20." He writes about the shocking and flagrant way in which a sociopath reveals her disorder, although he didn't realize it for a long time. Statements in brackets [ ] are editor's notes.
I joined Lovefraud about three years ago, although I was aware of you before that, when my relationship with a covert narcissist I was engaged to for over two years ended horribly (at least for me).
I thought I had recovered and in time "re-discovered" a lost love and a person who I considered to be a good friend for more than 19 years.
We married last December and after I completed a full rehab and upgrade of the home we purchased in January she locked me out the next day. I had begun to peg her as a narcopath and called her on it.  Not smart I know.  But I had to know and I guess I found out.
I began suspecting she was highly sociopathic more than narcissistic as the past months wore on and she instituted court proceedings and an attempt at false felony charges in family court via DVROs [domestic violence restraining orders]. Fortunately she "fudged" in court and the judge that day did not believe her and her ridiculous evidence fell way below the standards needed. Her illegal voice recordings although permitted showed her to be more the perpetrator of violent acts than the victim she was professing to be so the case was dismissed.
Today, I actually followed my instincts and downloaded your recovery book you offered and there it was!  The term spath. Used to be S-Path, the shortened term for sociopath.  Narcopath seems to have replaced it these days and I had forgotten all about it.
SPATH. Immediately I thought of the email address she used and had used for the 19 plus years I had known "my friend:"  spathcr@xx-mail [initials and domain are changed].  What a fool.  Seriously.
Read more: Is your partner a sociopath?
The email always bothered me and made me a cringe a bit and in 19 years I just did not make or must have chosen to overlook the connection.  What a laugh she must get every time anyone, especially a significant other writes to her at her email address.  She is publicly flaunting in our faces who she is….spath = of course sociopath  cr = are the initials of her first and last name.
She knows she is a sociopath or has been told she is and is just making a joke of it in her mind.
She did drop hints that she had been to counseling over the years and my breaking off our relationship over 15 years ago made me one of the four guys that had forced her into counseling.  Her words, not mine.  That I was the one guy who had gotten away and now she had me.  Yeah, like a black widow with her prey trapped in her well-spun web (of lies). It seems likely that one of her counselors one day must have told her they suspected she was, or they had diagnosed "CR" as a sociopath.
It just clicked a few minutes ago.  I am telling you because I have to tell someone…and I know you will understand that feeling.  I feel like a fool.  But I know I am not alone.
But its my sixth decade in life and I had had hoped for so much more.  I have been more carefully vetting people that come into my life these days, especially over the last 3 years when I became aware of long-term narcissistic influences in my life thanks to my ex-fiancee.
Learn more: Sociopathic seduction — how you got hooked and why you stayed
But with "CR" I only gave her relationship with me a cursory re-examination because we had been "friends" so long and she did not exhibit any obvious overt or covert narcissistic tendencies.  Of course not.  Because she is a sociopath, and narcissism in her case for sure, has only been exhibited post devaluation and discard phase, post "relationship."  And it is definitely an overt narcissism.
Hard to believe sometimes any of this has happened and is happening.
Anyway, Donna, thank you for allowing me to share about how this sociopath reveals her disorder. Maybe it will help someone else.