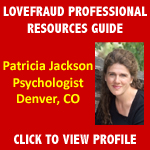 By Patricia Jackson
When you live with a sociopath or psychopath (the difference will be the subject of a future article) you find yourself analyzing everything he (or she if you were unfortunate enough to be targeted by the fifteen per cent that are estimated to be female) says can be a source of endless analysis.
The questions go something like this:
1) Why did he suddenly change? (Meaning why did he just go from being pleasant/kind/good/nice/reasonable to mean?)
2) What happened in his past that makes him act like this?
3) What did I say, do, fail to say, fail to do, that provoked him?
4) What if I do X. Y. Z? Or for that matter A. B. C. D. E. F. G. through W? (Maybe that will reach him.)
Sound familiar? How many hours have you spent trying to figure him out? Thousands? Hundreds of thousands? How long have you felt like a small animal trapped in a hamster wheel? These questions do not lead to the doorway out. Do everything you can to stop. Stop driving yourself crazy. (He's already done enough of that.)
The more time you can spend not thinking about him (not easy) the better. Inside, in the midst of the madness, a small, still voice tells you that life should not have to hurt this much, that you did nothing to deserve this level of suffering and that there is a way out. That small and courageous voice is right.