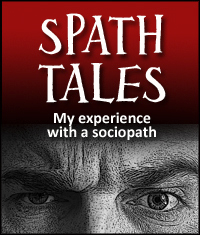 Editor's note: Lovefraud received the following story from a reader whom we'll call Sharon21. she met a guy online. While he lied, I paid, she said. Names are changed.
Whew! This is hard to revisit! I'm still very much in the healing process. I have listened to so many books, I have read so much on Narcissism, it has consumed my life. Until I experienced what I did, Narcissist was just a word to me. I truly believe the Narc I was involved with could lead the pack! It was that bad.
I'm an empath. Hands down. I'm educated. I'm professional. I hold a Management position with a large corporation. I spend my days, caring for and helping the elderly. I'm a single mom of 3 kids. I was with their father for 17 years, married 10. I've raised all 3 of my kids by myself; they are productive members of society. I have strong friendships. I've never had a falling out or lost any friends. Relationships/Friendships are important to me. This is me. And for the longest time I couldn't figure out, why I allowed myself to get involved with the person, I'm about to tell you about.
March 2021
Kevin (My Narc) contacted me on POF. He was in my area doing some work. He lives in a distant state. Didn't know this upfront, of course. So, I replied to his message and we began talking. He was the nicest person on earth. I was the most beautiful thing he's ever laid eyes on, he was funny, attentive, messaged me all day long, even while working, immediately asked me out on a date, because he didn't want me to slip away. He asked for my number, I gave it to him. We texted for a month, never missed a "Good Morning, Beautiful" text, "What's my baby doing" "when are you available for dinner" even some texts weren't asking me to dinner, rather "meet you at Cracker Barrel at 7pm" very persistent. It was a good month.
I have a trip to Vegas planned at the end of March, but promised when I returned home, I would make time to have dinner with him. And so I did. We met at Buffalo Wild Wings end of March. I got there first, and told him where I was sitting. He arrived, stopping at the bar in BWW, to get me a Bloody Mary to bring to the table. He comes, sits right by me in the booth, immediately hugged me, asked me for "his" kiss. Held my had, told me "We have great chemistry, we should start dating"! In my mind, I'm thinking, that's not how it works, Pal. But, I had been single for a while and chalked it up to, maybe things have changed.
So, I just drank my drink faster, thinking that would make this all seems normal. Before I knew it he had his hands down my pants, in the back. Made me super uncomfortable, so I stopped that. Very little adult conversation happened, he did tell me he was trying to buy a house in my area, and that his job had him in my area for 3 years, and that he had just gotten out of a 12 year relationship. We laughed a lot, and just had a good time.
His adult son and sons friend accompanied him. And then joined our table. Kevin ordered up shots for all of us, double shots for me. Nice guy! When it came time to pay, I decided to pay, because that's not out of the norm for me. I do it often, when I go out with friends. HAD NO IDEA WHAT I WAS DEALING WITH AT THAT POINT!
His hotel
So we left, he had me drive him to his hotel. So I did, he demanded that I go up to his room with him. I refused, and he kept on it, and said, it would be nice just to hang out and watch TV, etc. So, I agree. Get up to his room, it's about 10 pm at this time. He fails to tell me that he has a roommate, I found that out when we walked in and there lays his room mate, sleeping. I said, oh heck no, and tried making my way to the door in the pitch black! He aggressively got me in the bathroom, and I'll spare you of those details. But super disrespectful to the roommate and I swear if I would have gotten in the bed, he would've screwed me right there with the roommate right next to us. I later find out, that he DID do that with other girls.
So I leave, bruises all over me, from him being super aggressive. Not entirely sure what the heck just happened. By the time I got home, I had a "Good night, baby" text. And of course, first thing in the morning a "Good Morning Beautiful" text and "MUAH MUAH MUAH" that's his signature text. I didn't reply, a little while later "Miss you, Princess" so I reply. Had spent the entire morning at work, talking to my coworkers about my first night out with Kevin. I told them he's "for a good time not a long time" and definitely not "husband material"! Several red flags I noticed from the beginning.
Read more: Seduced by a sociopath: It's not love, it's love fraud
So, he was only in town Sunday-Thursday; the crew went back to his state Friday-Sunday. First weekend gone, heard from him all the time, even left me sweet Voicemails, etc. there was a point in time where he repeatedly sent texts and I wouldn't reply.
April
So, saw each other several times throughout the month of April. I received texts "hope to see you tonight" often. BWW was our go to place, because that's where his son was at, I continued paying each time. He NEVER paid. Eventually he told me he was broke from paying "back child support" to his son's mom. And he always ordered the most expensive thing on the menu, pepper Jack steak wrap, and cheese curds, plus drinks. Got to the point, where he would ask for the ticket, and then get up and go to the bathroom. EVERY. SINGLE. TIME. A couple times at the end of the night he would tell me next time, I want you to pick a place, I want to take you out. Never happened. It was never just the two of us. He never paid.
Somewhere in all of that he started asking me to go to the Dispensary's and pick him up his weed vape pens, because he "was in so much pain, and that was the only thing that helped"! Well that and continues back rubs, from me, and putting his pants and shoes back on, when he asked me to do, in his whiney baby voice. His weed vape pens were $98 a pop! I found some cheaper ones at $48, but those weren't good enough.
Throughout the month of April, communication JUST on weekends started to get less and less. He and his son Motocross race, so I just chalked it up to that, and didn't want to be a burden. He often made me feel like I was bugging him, when the "silent treatment" started!
Going home
So end of April, I find out from another crew member, that I had become friends with, that they were getting ready to get shipped back to his state! I said, when, he said, tomorrow?!! I said, what? He said, yep, Kevin didn't tell you? I said, sure didn't. So, met up with Kevin that night, and of course, he knew nothing about it, Tim was lying, he isn't going anywhere, and 100 promising reasons why he wasn't being shipped back. He's the "best operator in the company" he is needed here, etc. And if he was being shipped back, I'd be the first to know from HIM! So, I of course believe him. Not Tim.
Next day comes. Don't hear from Kevin. So, I text him. Nothing. I text again. It's about 12 when he replies. He's already back in his state!!! I expressed my feelings. And he promised me that he would drive back to see me, "promise baby" "you're an awesome person with an awesome family" "Gosh I miss you so much already" etc. I was completely shattered. I can still remember being at work and literally feeling like my heart was murdered. There was nothing left of me. My best friend just left. And hurt me in the process. I had just seen him the night before and he assured me everything was okay. He was going nowhere, we still had plenty of time with each other.
May — Back home
His texting slowed down, and I would go bat shit crazy and send him multiple texts about how important communication is with being long distance, and that it doesn't take much to text, etc. I would go 12 hours sometimes longer without a reply from him. The "Good Morning, Beautiful" texts got fewer and fewer. He would promise to call me, and then wouldn't. There was always some excuse. I would be on edge, angry, over the communication issues, and then when he finally did come thru with a call, after me practically BEGGING to hear from him, he was like the nicest person in the world! Would even agree that he could do better, and not "forget" about me. But the very next day, same thing! And HE never replied with a response, to any of my "feeling" or serious topic texts. Usually it was just "MUAH MUAH MUAH"!
So, the first weekend he agreed to come back, was Mother's Day weekend! From the beginning, he portrayed himself as this guy who genuinely loves his parents, Ma especially, which melted my heart as, I have a soft spot for elderly. It's what I do for a living. So, I told him, it's Mother's Day Weekend, you need to be with your Momma!
He then asked me to come there because "Gosh I miss you so much"! So, because I missed him, I packed up, took time off work and headed to his state. Talked to Tim on my way, and he told me, Kevin must be serious, he's invited you to his territory. And Tim used to tell me all the time, how Kevin tells them all about this Amazing woman he met! That all played on my mind hearing good things he was telling he crew!
I paid again
So, arrive in his state on Thursday, his Truly's and weed pens in tow, as requested. So, it's about dinner time when I arrive. Kevin tells me that his "Ma was going to give him her CC number" to order us dinner. This is a 50 year old man. Had absolutely no shame in this. I said, absolutely not! I'm a grown ass woman, I work, nobody's mom is going to buy our dinner. So, I paid!!!
This is how he operates! Later found out "Ma" is a sick lady and Dad handles finances. So big lie. But he knew what he was doing.
So, we look over the menu, and he requested, the $35 PRIME RIB DINNER! Thank God it was only available thru the weekend!! So, I order, I pay. Food comes. He asked me if I minded eating in the dark, he owed the Electric Company $350, and if he didn't pay it, they were shutting it off. Of course, I thought to myself, okay, but that doesn't mean you can't use your electric now. But, I didn't say anything, just agreed to eat in the dark. Makes sense now, he wanted me to give him the money for "Electric bill"!
So we are in the dark. During our "black out dinner"! He tells me, he has a special day planned for us tomorrow. I was excited. This is all I ever wanted. I spent a good part of my life, raising my kids, and now it was my turn. Felt so good to have someone to hang out with and do fun things with! All I ever wanted.
Friday — Special Day!
I drove. Used my gas. But, "HE" took me to a waterpark resort area. That morning, he threw a baby fit about having no clothes, and his son took them all. He found the absolute worst outfit to wear out. So, on the way to the resort he tells me, that "Ma" put $200 on his card. To buy himself a pair of jeans, and to take me to dinner.
We get to the resort, and I decided not to go in the stores with him. I'm not really a shopper. So, I went and got myself some coffee, and just enjoyed the atmosphere from the bench outside of UA, American Eagle, Old Navy, Nike. Only the best for him. Very focused on his appearance. Name brand everything. So he finishes shopping. On our way to the car, he said he spent $130 and that left him $60 to go on the road with next week! So, I paid for lunch, gas fill up, his Trulys, and then dinner, when we returned home. He was quiet the entire ride home. "Silent treatment"! Looking back, I'm sure that he was mad, because I didn't pay for his shopping spree. There was no bedroom activity that night either.
This is when I believe the discarding started!
Saturday — Family function
Had to leave because he had a family function to go to. The fam was headed up to an Aunts house for Mother's Day!! Even faked a call to his dad that morning, about using his truck to get there! It was all a lie! He went to a cook-out with his downstairs neighbor and daughter in the town he lives in. So, we said our "Good-Byes" "Love yous" and "MUAHS"! He then asked me if I had any cash on me, so he could come see me next weekend. I said I didn't. But we would figure something out.
I wasn't on the road an hour, when I received a text "Miss you so much, Baby" MUAH MUAH MUAH. I replied, thanking him for a good weekend, and I had a great time. Literally the two things that he did for me, fixed my plate, put some massaging slippers on my feet, and whispered in my ear one night "I think I love you"! "The gut don't lie" he kept saying. That was my good weekend.
The week- Communication wasn't great! But GREAT when it did happen. I asked him several times if he was still coming. "Promise baby, I'm coming" "I miss you" "hate sleeping without you" even called me at 5 am one morning because "he couldn't sleep." I missed it, but called him back 2 minutes later, to no answer. Wednesday night, he asked me to Walmart money gram him $300 for gas to get here. I've never done that, so, I sent $250 to his sons Venmo! Received "Love me baby so much" "you're amazing" texts that night.
Coming to visit
Friday-he called me bright and early! Told me he was going to do inventory on his truck and was getting on the road! "Love you see you soon"! Didn't hear from him the entire day. Didn't think anything of it, because he was driving. So, I spent my day gathering up all his favorite things, preparing for his arrival.
Around 4 pm, I text him asking if he was close. I was sitting outside expecting him to pull in at any second. I was so excited and couldn't wait to see him and spend the weekend with him. About an hour later. He replies "dad had a heart attack, not doing well, at the hospital with Ma"! "Call when done"! My heart sank. Once again, murdered my heart. Never called, stop replying to my texts. Until later that night. Told me dad wasn't doing good, Ma was a mess, staying the night at Ma's house. Would leave in the morning. I knew he was lying because I called every hospital in 100 mile radius and nobody has his dad.
I also reached out to his sister, who can't stand him. His dad was perfectly fine, and actually had been at her house that night. Kevin carried out this lie the entire weekend. Even telling me that he was having to take his Ma to the bathroom and everything, just leaving the hospital, Ma is crushed, please pray for us.
I finally called him out on his lies, he still continued to lie. Then he called me on Sunday, and I said, just stop. I know you're lying. And then, he threw his son under the bus, it was all Kyle's fault, he saw his bags were packed, but he begged him to go racing with him and just wouldn't let up. So he went racing. Later I found out from Tim, who also worked with Kyle, that Kyle told them all what happened. He told his dad that he took the money from me, he needed to make the trip to see me. Kevin's response was "fuck that we're going racing"!
So, I began investigating and consuming my life with it. I looked him up on the court system. Has a report a mile long. Including restraining orders for stalking, property damage, small claims, I reached out to several EXs who all had horrifying similar stories. All the way back to 14 years ago. I continued to talk to his sister who told me so much. I was absolutely sick!
Don't really remember much about the end of May, besides consuming my life with digging!
June
Communication is awful. But still talking. A couple times he questioned me about who I was out with. And how it better not be other men. Etc. Then another big lie comes, after a blow up over not receiving a call when he said he would call. He told me, some girl he was with previously had come back into his life, because she was 5 months pregnant with his baby girl! Even promised to send me sonogram pics when he got to her house on Friday. Told me he talked to the nurse personally. It was all a big fat lie.
He starts telling me he's coming back to my area. So that was the new focus. He would be back after July 4th!! Even concocted a "big surprise" one weekend. Sunday he called me to tell me the big surprise was he was for sure coming back. Told me "no cheating or playing with other dicks" he was coming back to spend a bunch of time in my bed!
TWO days later he showed up to his parents hand in hand with another woman! His sister was there and set me pictures! So, I reach out to her, and she tells me "she doesn't need advice from me or the next bitch"!
So, totally freaking confused and blind sided, I spiral out of control, I begin investigating her. She's a big time felon, on probation too until 2027! I text him one night, and she takes over with his phone! And then they call me and leave me threatening voicemails! I turned the voicemails into her probation officer, they arrest her couple days later!
The same EXACT day she is picked up, he was out THAT night with another woman he met on Tinder!!! He wines and dined her all weekend! Paid for everything. I intercepted that one, and she had figured him out from the beginning! 2nd day in he was telling her he "loved her"!
July — August
July was spent on "silent treatment" a lot. Very little communication. Very nasty comments were made to me. I'm the Narc, I'm a fool, I'm a pathetic person, he doesn't owe me any money, etc!
August-remained friends, because he was fired back in June and he was needing groceries and stuff, assuming he could probably get them out of me. But I refused, so back on Silent Treatment currently!
Learn more: What did they want? Psychopaths, antisocials and other exploiters in romantic relationships
That's my experience! Lots of stuff in between all of that, that I'm sure I'm forgetting. His reputation in his home town is horrible, he's even screwed his son over with money. He got about $3k out of me total, in just a month's time.
I'm completely destroyed, shattered, confused, angry, scared, all of it! I have been thru some stuff in my life, including losing my mom, a 3 year divorce battle, losing my brother to heroin, and this has been by far the most destruction I've ever been thru!!!