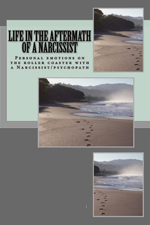 Editor's note: The following essay was written by a Lovefraud reader whom we'll call "PeggySue."
My book, Life in the Aftermath of a Narcissist came into being as I worked to create my life again following the utter anguish of being used and manipulated by the husband I cherished and who, I believed, loved me. In the midst of heartache and disbelief, I found myself to be dealing with the memories of gaslighting, my devastated emotions, a financial outlook of sheer decimation, and the loss of just "who I was."
Marrying on the heels of my completion of my book called Romance Stew, I was, at age 55, heady at finding "Mr. Right." The man and his family filled my heart's empty spaces with hopeful expectation in discovering love with all the trimmings and a caring extended family. However, with a narcissist it felt like I had enrolled in a master's degree program on ever shifting sands of reality.
I had participated in acquiring practical knowledge in the arena of romance and relationships and I was "seasoned" at that age, recognizing that Love doesn't always bring the curtain down on a happily-ever-after theme. Even so, I sought enough good times to offer balance with life's rough patches. Meeting "my particular" narcissist proved such a disconcerting trek into unknown territory. Loving and losing as I have described in my journey's discourse was to be a learning experience beyond any I could have fashioned in my wildest fantasies. This jaunt through the bowels of "the Twilight Zone" found me feeling as if I had joined a traveling circus from an alien planet.
The Night Listener
To attempt to have the reader comprehend this horror story and not feel it's all oh-so dramatic from a "victim's" capacity, I would urge everyone who comes to these books to find the film, The Night Listener. It was written by Amistead Maupin and stars Robin Williams. The tale is an excursion into horror for anyone of ethical standards. Williams'character is a night radio show host who is given a moving manuscript written by a young boy who was horrifically abused. His social worker now has custody of him.
As Williams' character is drawn deeper into the emotional entanglement with these two, he begins to question their actual identities and even his own reality in the way he connects with them. He is a man of genuinely high levels of warmth, love, and deep empathy. Unfortunately, the entire production has been only a fabricated charade. The sensation is one of being "out-of-space and time," leaving the host to sort his compassion, awareness of intellect, and his own desire to believe in an idea where he wanted to be of benefit. He now must also handle this feeling of excruciating vulnerability. This movie brought back the anguish of my own "fairy tale" within a fairy tale.
Financial black hole
The relentless surprises from the onset of my marriage, following a whirlwind courtship, proved extremely costly. It seems that my substantial funds vanished into the black hole of financial crises brought by my spouse and his family almost in the blink of an eye as I struggled to maintain the marriage. His IRS debt from the past raised its ugly head. The arrival to live with us of the bipolar, alcoholic adult son with expensive legal problems set the stage for chaos and highlighted my lack of savvy in standing my ground in this alien domain, away from my family and friends.
Along with this came the drunken, drugged out former sister-in-law who called incessantly, leaving explicit boy-toy messages for my spouse I always felt such an affront all the more so because my husband really had no desire for intimacy with me and I was immediately saddled with all the household expenses and even the cell phones for his son and parents "¦ and of course, the never totally "in the past" first wife. My mother-in-law had held her close to "the family core" through the decades since their divorce and my spouse's former re-marriage.
My invalid mother-in-law living within a half hour drive felt me to be a coupon from heaven as I planned to use my money to add to the household coffer while I worked on writing. She called 4-6 times a day and there was forever some need of chauffeuring, errand, transportation, housework requirement, help to her husband, or trip to a doctor or therapy required. I had chosen this man whom I loved and also his family and felt that the marriage vows required persistence to that commitment.
The therapist
I was the only participant in agreement with this thread of belief. Soon his online contacts, reconnections with women of the past, and virtual dating began. Following the "I Do's," I was informed that my spouse was bipolar and I required that we meet his therapist. The tie between these two was immensely close and she supplied him with excuses for his behaviors, all the while telling me how important it was that I carry such a load in the family setting.
A bank levy followed with a lengthy unpaid period of illness soon after. Finally, the light glimmered weakly at the end of the tunnel "¦ until, seeking marriage counseling, I suggested that his mother might be perpetrating emotional incest with her desires for me to call him her pet names, have her name be placed on all my gifts to him, and wanting details of any sexual intimacy. I became quickly disavowed, unceremoniously discarded. Apparently auditions for my replacement had been underway and the next lady chosen. Not only "left for dead," there would be no closure.
Hope now
With the passage of year five in this strange adventure within the aftermath, I still struggle with the financial debacle and emotional triggers, but hope exists.
I suspect I've taken down my "romance at all costs" shingle from my front doorway. But, I'll look in on it and shine it from time to time. I did seek that elusive "Camelot" of high adventure with its invention of fanciful sentiment. Although I did encounter and even initiate heroically marvelous deeds in the quest for my evasive dream, the lighthearted zest more than occasionally found itself dashed by life's details and unexpectedness.
So, now, with a limited arsenal of skills, I can share my story with you. In the process, I have connected with the most amazing people, mostly women, who have taken the same path. Their passages shared for the aid of others along the route fill me with awe, humility, and joy at the depth of humanity and compassion.
You can survive. I have.
Life in the Aftermath of a Narcissist is available on Amazon.com.