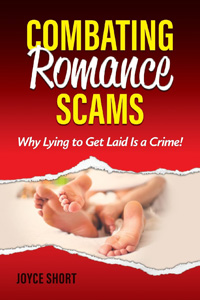 By Joyce Short
Romance scams are a crime epidemic! We read about them daily in the news and many of us here on Lovefraud have suffered from this malicious behavior! We were defrauded of our highest emotion, which is love, and deceived into sex by someone totally different than who they pretended to be. Millions have fallen victim to this crime wave. It won't stop "˜til we do something about it!
That's why I wrote Combating Romance Scams: Why Lying to Get Laid Is a Crime!
I recently learned that Federal Prosecutors in Missouri included information about my blog, Stop Rape By Fraud, in their indictment to lock up a "serial rapist." He'd used false pretenses to con over 30 victims. But blogs hit or miss. They don't convey a cohesive sense of the crime or the solution for it like a book can.
You can help spread the word! For who knows better than the people who experienced the crime, how harmful it can be!
Making a change
Each state creates its individual set of criminal laws, so getting lawmakers and society on the same page is a daunting task. Even if one state adopts new legislation, the effects will not be unilateral. It takes a coordinated effort to create similar laws around the country, and that's my goal. Doing so will open society's eyes and cure the problem. And because the federal government has an interest in protecting the internet, we can also look to make romance scams part of federal cyber-laws.
Combating Romance Scams establishes a clear picture of the crime and introduces specific language for a law that can bring romance scams to a screeching halt! It provides the consistent responses everyone can use to cut across the naysaying, ridiculous excuses people make for offenders. I've heard them all"¦. from "It's not a crime to lie," "If you lock men up for lying, you need to lock women up for wearing makeup," to "Laws aren't meant to protect people from being gullible," and on and on.
Combating Romance Scams identifies the elements in the law that society and lawmakers have overlooked, that makes lying to get laid a crime! And the well-worded language of the new law can be adopted by any state or jurisdiction.
Here's how you can help!
Get the book! It's a quick read, 120 pages.
Write a review on Amazon. Doing so truly motivates and enlightens others to help as well.
Call on the legislators in your area. Give them the book and tell them your story. Insist that they enact the law to prevent this harm from spreading!
Even if you're not up to reaching-out to lawmakers, reading the book and writing a review will be a huge help!
Next steps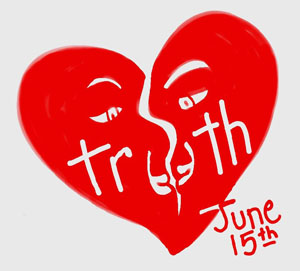 I'll be compiling a list of "Truth in Romance" Advocates for each state. Contact me to be included. We'll share news and help each other through this process. In addition, we'll establish June 15th as Truth in Romance Day around the world! Together we can make a huge difference and restore integrity in romance.
Kindle Fire Drawing
I'll be including the names of the first 20 reader/reviewers in a drawing for a free Kindle Fire. If your review is one of those first 20, please be sure to send me your name and email address. I can be reached at [email protected].
While you can't go backwards to avoid the harm you were dealt, you can reclaim your power and prevent this crime from hurting anyone else! By reading Combating Romance Scams, Why Lying to Get Laid Is a Crime, you can be a vital part of demanding change.