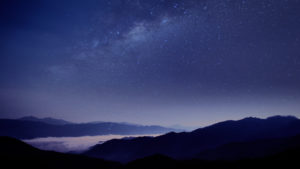 Editor's note: Liberty Forrest, author of several self-help books and a certified Law of Attraction Life Coach, reminds us that an important step in our recovery is to keep the sociopath out of our thoughts. Read more about Liberty.
By Liberty Forrest
Yet another day is drawing to a close. You're unwinding, perhaps with a cup of something or a glass of wine. Or maybe you're brushing your teeth, the soft sound of your slippers padding from one room to another as you lock the door, check this and that, or peek in on the tousled heads of sleeping children.
Maybe you've already tucked yourself in under the duvet, the lights are out and you're settling in for the night. The day has been recorded, and now you're playing the tape, perhaps on fast forward, occasionally running it on slow motion, or maybe now and ten hitting "pause." You're reliving the moments, the accomplishments, the things left undone. You're hearing the words that came out of your mouth and the ones that were directed back at you. Perhaps not all of them were pleasant on either side of the conversation.
If you're dealing with a sociopath or the after-effects of such a relationship, sometimes the end of the day can be a challenge. You find yourself wondering what you could have done differently. You can feel guilt or inadequacy wash over you like acid. You beat yourself up, recriminations slamming against your brain like a car into a brick wall, and causing just as much damage.
And of course at the end of the day, it's dark, the world gets quiet, and you have your thoughts to yourself. Too many of them, perhaps. Too much time to reflect on all the things you did wrong, all the ways in which you should have known or should have seen…Stop. Just…Stop it. Those thoughts will eat you alive.
The sociopath's bad behavior is not your fault
What you do with those thoughts is central to your healing. If you allow yourself to go down those roads of blaming yourself or feeling like you should have known better or done something differently, you'll never find any peace. Sociopaths are expert manipulators. They look for kind people who are trusting and loving, ultimately using these wonderful traits against you. They're highly skilled at getting you to believe that their bad behaviour is your fault. But it isn't. It just bloody isn't.
Learn more: Self-forgiveness – Understanding and letting go of guilt
They've already torn your life to shreds. Are you really going to give them any more of it to trash? Do they deserve to ruin even one more second of your life?
I didn't think so.
Learn to keep the sociopath out of your thoughts
There's one really great way to stop them from destroying one more moment of your precious life. And that's to keep the sociopath out of your thoughts. When the nasty ones come, the memories, the self-recriminations and guilt, all of that self-destructive poison that the sociopaths would dearly love to know you're drinking, you have two choices. You can keep drinking their poison and give them all of your power and happiness. Or you can distract yourself with more positive thoughts. You can plant seeds for fun and silly things you'll do right now or in ten minutes or tomorrow. You can start choosing to shove the poison away by doing something that makes you feel good.
You'll soon see how different life feels, and then every night when you unwind for bed and it's almost time for sleep, you'll end your days on a much happier note.
You'll review the day since you got up. There will be highlights; there will be some low points. The specifics will depend upon your circumstances and your perspectives, of course, and on what's important to you – and what isn't.
So as you pull up the duvet tonight (and every night), ask yourself some good questions. The answers will help you stay focused on how to get through the coming days. Did you experience joy today? Were there some truly lovely moments of real happiness? I hope so. But if nothing particularly happy springs to mind, how about trying to find some right now? Rewind that tape. Take your time and go over it in slow motion. Scan the picture for details that you might have missed during the original recording and the first playback. I know that there can be days when it feels like the only good thing you can find is that you're still breathing!
Did you take any time today to play? Oh, I hope you say yes! Okay, so you were busy. I know that one! But you can still have playful moments or at least enjoy being light-hearted as you went about your activities? Did you flick some water at your family while washing the dishes? Did you grab one of your kids and pin him down for a good tickle? How about cracking the worst possible jokes, or digging up some seriously lame puns? It is just so much fun to be silly.
Don't forget to snack on soul food …
And what about your spirit? Did you take some time to nourish it? Did you do anything to feed your weary soul? Perhaps write in your journal, have a lovely hot bubble bath, or go for a long walk near some trees? Did you enjoy some hugs with family or friends? If not, did you ask for some, especially if you needed them? If you didn't, why not?
Were you working way too much? Were you being productive or just trying to stay busy? Did you waste a lot of your precious time? Did you take a well-earned break, or maybe you goofed off and took some soul-saving time out? I hope so. I can assure you that you don't always have to work and be productive.
I hope that when you go to bed, you can refuse to let the sociopath get to you. I hope you can say it was a good day. Or a mostly-good day. Or at least, if it was really challenging, I hope that you are able to let go of thoughts that don't make you feel good, and that you can look back over the day and find some good in it.
And I hope tomorrow is much better.
But whatever happens throughout all of your days from now on, I hope that every night when you climb into bed you can feel good about what you did and about the choices you made since getting up in the morning. I hope you're refusing to give sociopaths one more second of your joy. I hope you're feeling great about the parts of your day that you could control, and about many of the other parts, too, because whatever you do on any given day should matter to you.
Every day is more valuable than the last
You see, although we don't really think about it, as each day falls into the cemetery of all the others that went before it, every one that remains for you to spend becomes that much more precious. Every day that passes is more valuable than the last because there are fewer of them left to be enjoyed.
So tonight when you finally crawl into your bed, I hope that when you "rewind" and "press play," you feel sure that whatever you did today was important and meaningful to you because you gave up a whole day of your life for it. They're yours to spend as you please. Do not waste them on sociopaths. You and your life are far too important for that.
This article was originally published at LibertyForrest.com. Reprinted with permission from the author.