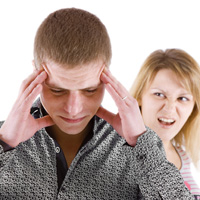 UPDATED FOR 2022: When Lovefraud readers ask me for personal consultations, it's because someone in their lives usually a romantic partner acts in ways that they simply cannot understand. The readers describe an unfathomable mixture of affection, attention, contradictions, deception, blaming and rage. It makes no sense and it's behavior that they've never seen before.
So imagine the readers' surprise when I say, "Yeah, they all do that."
It's true. Sociopaths all seem to engage in the same abusive behaviors. Recognizing physical and sexual abuse is straightforward enough. You may also be aware of psychological and emotional abuse.
But if you're involved with a sociopath, you may also see some of the following:
Blaming you for his or her bad behavior
No matter what the sociopath does, from disappearing without explanation to cheating on you to physically assaulting you, he or she will say it's your fault. You weren't attentive enough, or you complained too much, or you pushed his or her buttons. They will tell you this with so much outrage that you may actually start to believe it.
The smear campaign
Long before you have any inkling that there is a problem in your relationship, the sociopath is trashing you behind your back to family, friends, neighbors and the authorities. He or she may say that you're mentally ill, cheating, doing drugs, or other lies. The objective is to take down your support network, so that when you finally realize what is going on and reach out for help, no one believes you.
Telling you that no one else will want you
In the beginning of your involvement, the sociopath showered you with compliments you were beautiful, smart, fun and sexy. Now, the sociopath tells you that you're old, fat, ugly and stupid. The sociopath says he or she stays with you out of obligation or pity, and you'll never find another partner. This is designed to weaken your confidence and self-esteem so that you are afraid to leave.
Constant calls and text messages
Early in your relationship the sociopath may have called and texted constantly, claiming he or she was head-over-heels for you. You may have though it was cute, proof of true love. But gradually the calls and texts became intrusive and are now used to control you. If you don't answer the call or text back immediately, he or she may fly into a rage.
Demanding to know everything you do
Calls and text messages are the first stage of controlling behavior. Eventually the sociopath may make you account for every minute of your day, demanding to know what you did, whom you spoke to and what was said. The consequences of providing the wrong answer: rage. Eventually you may be afraid to do anything without the sociopath's permission.
Relaying what others are supposedly saying about you
The sociopath may tell you that your family, friends and neighbors have bad opinions about you, or think there is something wrong with you. Everything the sociopath says is likely a lie, and he or she is fabricating all the stories, but you don't know that. The objective is to drive a wedge between you and your support network, so that you feel you can't turn to anyone for help.
Manipulating the money
Sociopaths typically drain you financially in one of two ways. 1) They get you to pay for all the expenses and run up your credit cards until you are broke. 2) They convince you to quit your job, perhaps to take care of his or her kids, which makes you financially dependent on them. Either way, when you've had enough and want to escape the relationship, you don't have the resources to leave.
Accusing you of cheating
Many sociopaths will accuse you of cheating on them. Even though they have no basis for making these accusations, they say you're sleeping with your co-workers or still involved with previous romantic interests. Why do they do this? Because they are cheating, so they assume you are also.
Using your deepest secrets against you
Back when you were in the honeymoon phase of your relationship, when the sociopath was showering you with attention and you thought it was true love, you may have shared some deeply personal information. Perhaps you'd once been abused. Or you had an addiction. Whatever. Eventually, the sociopath uses that personal information as ammunition to hurt you.
Electronic surveillance
Today's technology is great but unfortunately it has a dark side. Software to monitor your computer and cell phone, GPS tracking devices, and tiny microphones to bug your home, are all cheap and easy to install. If you feel like the sociopath is reading your mind, it may actually be that he or she has you under surveillance.
Threatening suicide
As shocking as it may seem, threatening suicide is a typical sociopathic behavior. The idea is to guilt you into staying in the relationship. The sociopath may be bluffing with the suicide threats, or may be serious. Either way, know that you are not responsible. The best thing you can do is call 911.
Strategies of power and control
What you need to know about all of these behaviors is that they are sociopathic strategies of power and control. The sociopath does not engage in these behaviors just because of you. All of these forms of abuse come right out of the sociopath's playbook. He or she likely treated other people exactly the same way.
Why is it important to understand this? Because by recognizing that sociopaths engage in these abusive behaviors all the time, you can take back your power. The sociopath's actions are not your fault. In fact, it doesn't matter what you do — the sociopath's behavior will not change.
So you might as well get out.