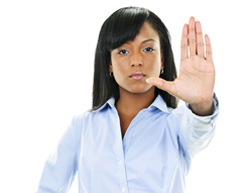 UPDATED FOR 2022: Lovefraud recently received the following email from a woman who, unfortunately, must understand the rules for negotiating with a psychopath. Here's what she wrote:
I have woken up to the fact that I am living among a nest of snakes. This includes my kids that I love. Can you recommend anything to read that helps with negotiating with a psychopath? They are so angry and so nasty. However, things "must" be worked out. Any suggestions on reading materials?
The safest approach to take with a psychopath is not to negotiate at all, to get the person out of your life. Unfortunately, this is not always possible, especially when the psychopath is your spouse and you share children.
So if you are faced with the necessity of negotiating with a psychopath, here are rules to keep in mind:
Know your bottom line. Know what you absolutely must have, and know what you can part with. However, do not communicate this to the psychopath. In fact, you should be cautious about communicating it to anyone — you don't want the information getting back to your adversary. And make no mistake — this person is an adversary.
The psychopath's objective is to win. Figure out what it is that he/she wants to win. Can you part with it? If so, let it go — although you can pretend to put up a fight just so the psychopath believes he/she has won a big battle.
Use an intermediary, such as an attorney. The less personal contact you have with the psychopath, the better. He/she wants to torment you. Don't give the psychopath the satisfaction of doing this.
Psychopaths love drama. He/she wants to get a reaction out of you. Do not react. Do not let the psychopath know that you are hurt, angry or upset. Be a rock in the presence of the psychopath — cry when you get home.
Do not expect a psychopath to do something because it is right. Do not expect them to be concerned about anyone's wellbeing, including yours or their children's. If they express concern, it's a ploy.
Do not be nice. Do not expect the psychopath to be fair. Play hardball.
Psychopaths will only act in their own self-interest. Figure out a way to use this against them. What is in his or her self-interest?
Psychopaths will lie and manipulate. If you need evidence and documentation, make sure you have it.
Psychopaths will seek information from your family and friends, often under the guise of "being concerned." Although your family and friends may mean well, they may fall for the act. Keep your plans to yourself so that they can't reveal anything critical.
Any agreement, such as a child custody order, must be detailed, precise, and ironclad. If there is one inch of wiggle room anywhere, a psychopath will take a mile. Do not leave any gray areas or ambiguity.
Even if you get an agreement, do not expect the psychopath to abide by it or court orders willingly. There must be firm deadlines and consequences. Enforce them.
Psychopaths only understand power. What power do you hold? Use it.
Do you feel like you're living in a Dr. Jekyll and Mr. Hyde situation? Like the charming, considerate person you thought you were involved with has been replaced by a monster? Know that the charmer was an act, and you are now seeing the real person.
Even though you're probably shocked by the change, you need to understand the mindset that you are dealing with. Here's a book that will help you in negotiating with a psychopath, which was previously reviewed by a member of Lovefraud:
As our reviewer said about the book, "disturbing, but necessary reading."
Lovefraud originally posted this story on Sept. 21, 2015.