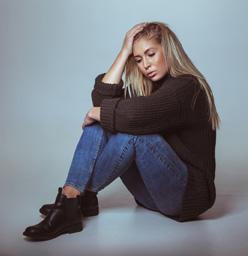 When you finally figure out that you're dealing with sociopaths, your state of mind is complete and utter shock. On the one hand, you are relieved to know that it's not you; something is definitely wrong with them. On the other hand, you still can't wrap your brain around their behavior.
It's mind-boggling, and here's why:
Everything you believed was a lie
You probably caught some of the lies as you went along, but the sociopaths explained them away. Then you learned that the entire nature of the involvement, the entire reason they are in your life, is complete fabrication. It was never about romance, or shared goals, or family. It was about exploitation.
The unbelievable sense of entitlement
Not only do the sociopaths exploit you and everyone else, they feel totally entitled to do it. They want what they want, when they want it and how they want it. Other people are simply tools to get them what they want. Why? Because in the mind of the sociopaths, that's what they deserve.
The mask comes off, and you don't know who is behind it
They were so charming, so helpful, so caring and they're gone. Now the sociopaths treat you with disdain criticizing, belittling, ignoring and abusing you. You wonder what happened to the sweetness and chivalry and realize it was all a charade, an act to hook you. Now that you are no longer useful to the sociopaths, or they've moved on to new targets, they see no point in pretending any longer.
The long con
You realize that the sociopaths targeted you from the very beginning. In fact, they may have scoped you out before they even found a way to wiggle into your life. Some sociopaths are capable of plotting and calculating far in advance, and then brilliantly executing their plans. You were nothing to them but an objective.
It was all just amusement
Sometimes you cannot discern the sociopathic objective. They took nothing from you not money, sex, a place to live, business connections, nothing of value. So why bother with all the games and manipulation? It makes no sense! Then you realize they were just entertaining themselves.
Nothing is sacred
They talk convincingly about God, religion, righteousness, spirituality, patriotism, family values, saving the planet or any other aspiration and their behavior is the complete opposite. Their fine words are nothing but a smokescreen, lulling you into trusting them, so that they can take advantage of you.
Complete lack of shame, guilt and remorse
The sociopaths lie without missing a beat. They bulldoze people without blinking an eye. They even make fools of themselves without feeling foolish. They simply do not experience the emotions of shame, guilt and remorse, which, by the way are instrumental in developing a conscience. So they have no conscience.
You are hurting, and the sociopaths simply don't care
The words of love or loyalty that you once heard from the sociopaths have disappeared. Now, the sociopaths are capable of incredibly cruel behavior and then they act as if nothing happened. You are in shreds, and the sociopaths wonder what the commotion is all about.
Your worldview is shattered
Society tells us that we're all created equal, everyone has good inside, and we should treat others as we want to be treated. You probably took these messages to heart, and they were the rules you lived by and they failed you when the sociopath came into your life.
Now, you've learned the hard way that these rules cannot apply to everyone. Approximately 12% to 16% of the population is disordered, and for these people you need a different set of rules rules that are designed to protect you.
This is the most difficult part of processing your experience with the sociopath changing your worldview. The way you understood life cannot apply to everyone you meet; some people simply are not wired like the rest of us. This is what really blows your mind but it is also the wisdom to be gained by your experience.