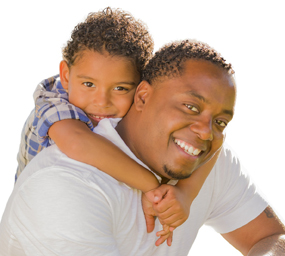 UPDATED FOR 2021. Editor's note: Lovefraud received the following letter from a man whom we'll call "Scott." Scott was involved with a woman who he now believes is a narcissist or sociopath. We'll call her "Valerie."
Valerie had a son and told Scott that he was the father, although he had his doubts. The two split up, but Scott supported the boy for 18 years and was active in his life. Then Scott found out that he was not the boy's father, and Valerie is now doing everything she can to keep the boy away from Scott.
A father's tragedy
I claim you as my son. I claim you as only a father can! However, you don't claim me, the man who raised you.
The first time I saw your face your were born in the hospital. I shared your first minutes holding you. Touching your skin, counting toes and fingers, staring at you. I wanted a son and you came to me, reaching, crying for me.
This was my life's next greatest achievement, having a son. What a proud dad I was for 18 years. I lived for you, struggled for you, felt pain beyond any measure for you. I worried about you. I felt bad for you and felt guilt for you, because I failed you. I could not control the Narcissist for a mother you had
I could not protect you from lies, manipulation to the nth degree. I could not protect from everything. The bond of a mother to her son. This bond has been broken beyond repair. I could not stop that broken relationship from hurting you and our family. A Narcissistic personality had taken you over
I remember your first day at kindergarten, I used to come to eat lunch with you in elementary school. Your great accomplishments in High School. Basketball, Tennis and a Full scholarship to College. Graduating with honors. I was there I saw the ribbons around your neck.
A lying, deceiving, and manipulating sociopath and narcissist has taken you away. They change the facts, brainwash you to believe them, keep you under their control, until reality is gone. Only to be proven wrong in the harsh light of day and truth. Judgment will come one way or another.
A son was separated from his real father, look up the definition of a father, it does not include sperm donor. Where was the sperm donor while I was fighting for you in court? He could not stand up for you. I stood up for you. If you only knew the truth.
I wonder sometimes do you think of me. The 18 years of memories we had together. The good times we had together? Unfortunately you are now a shell of a person, withdrawn and lonely. This is damage your mother did to you. Don't let her control you.
How could this happen. How could a bond of years be broken? What happened, how come you choose to not talk? Why? I know why you are under severe amount of stress, controlling influence by intimidation, threats, mental abuse, controlling behavior by the one who you should trust the most.
How come there is silence? You now have Narcissism, it's a disorder taught to you by your mother, she is to blame, not you.
How come there are no answers? How come you won't let me talk to you? Where are you? I will wait for you, or always be here.
In a time span of 18 years I gained a son and lost a son, stolen from me under my own eyes. The reasons not even understood by me, or you.
A mother's job is to nurture, protect, and hold her children, not to push them away, not to push away people who love them. Not to try to sever the ties that bind. Not to be selfish.
What if I did not move to that neighborhood? Would have ever met your mother? I wonder what if— all the time. I wonder if I was stronger, could I have done something better? What if I had more money to fight for you? What if I just went along with it, the emotional manipulation, the controlling person, the one who almost defeated me?
The constant manipulation, the separation of family. The need by one to control over all. Emotional Abuse. The harsh world of a sociopath. Post-Traumatic Stress Syndrome (PTSD) is prevalent in my and your life. It's simply Abuse.
I battled emotionally and legally for you for years, yet all you saw was one side. You did not see the side where I was trying to do the right thing. I tried talking to you but you were being manipulated by a very strong personality that was and still is destroying you.  You are lost now. But I can find you, you have only to look for me? As I have always been there.
You are lost in your own world, not sure who to turn to, which family is mine. Who is my dad? What is a dad? What is a father? You know the answer in your heart.
Who can claim me, who stands up for you in the legal system to yell to everyone "I am your father, I am the dad?" No one can take those years away from me. They are proof that I matter. I love you, as my son. You are my son, I molded you"— As best I could. I'm sorry I could not prevent the abuse you have long suffered.
I looked you up online. I saw your life unfolding from afar. I was not a part of it. I was losing connection with you. I lost 2 years now worth of time. I'm getting older now, you have so much time ahead of you. I have not so much time.   Life goes by in the flash of a mosquito's life. Two years, go by in a flash of 6570 days, 157,680 hours,   9,460,800 minutes or 18 years.
I found out you were coming in a time in my life that was a mess. I could not reconcile some glaring truths staring me in the face. I could not trust in her words. I was manipulated in the worst way. I was told that this precious boy is my son. I did not find out till later, you were born of another father.
Learn more: Overcoming children's genetic risk for externalizing disorders
I was blinded by your smile and my yearning for a son. I did not care to face reality, I had a beautiful daughter and now my life was complete — a son to carry on my name.
Now my name will stop with me.
Minutes go by so fast, so meaningless, so lonely, there is a hole in my heart. It can be surrounded by love but the hole never goes away.
A father's tragedy.
Lovefraud originally posted this article on January 31, 2015.