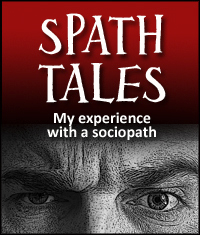 Editor's note: Yesterday Lovefraud posted a story from a woman in Australia whom we'll call "Shawna18." Read it here: I left the sociopath once I had everything back he stole from me and humiliated me in the process. She also wrote a letter to the next victim.
"After 3 years of no contact I decided against all advice from the professionals to warn the new victim," Shawna18 says. "It doesn't matter if she believes me or not, what matters is that if I planted a seed of doubt, then I will have done my job, unlike all the other women who knew him and didn't have the balls to warn me about him."
Names are changed.
Cecilia,
Let me introduce myself. I am the 3rd psycho who he had to get away from to give himself the opportunity to save his sanity. How do I know he's told you I'm psycho? Because narcissists stick by the same script and he told all 3 exes the same lies. Of course, you won't believe me just yet, but if this information plants a seed of doubt in your head and you begin to ask the right questions to the right people, I've done my job. Let me give you some background into the amazing, sad and tortured Keith who singlehandedly turned 3 mentally healthy women into allegedly 'psycho ex-wives':-
Margie – yes she went psycho after he left her (in the maternity ward after the birth of their third child) for another woman who had no idea he was married nor had 2 children and one on the way. This info was passed on to me by his own son Jeffrey but way too late to help me.
Fiona – yes she went psycho after finding out he had been screwing anyone he could including her 'best friends' during their entire marriage. And yes she eventually found herself a real man who she could finally trust, be happy with and thrive.
Me – yes I went psycho after finding out he was screwing around with some obese woman two months before our sham wedding, on our 'honeymoon' and throughout our 3 year 'marriage' and yes I went psycho when I found out that he was in Bangkok entertaining one of his many prostitutes that he keeps overseas during the same week I sat in hospital watching my sister slowly die. What a man you have there!
You don't believe me? Ask Jeffrey, Fiona or Cathy. Don't care? Say nothing, delete this letter and forget I exist. You won't hear any more from me anyway. Whatever decision you make, I am proud that I've done the right thing and I wish others had had the balls to warn me like I had the courage to try to warn you. If you choose to keep him this is the best advice I can give you. Enjoy his madness if that's what makes you happy, but please, keep your finances separate. Hopefully you have a house in your name only and you will keep it that way because when it ends (and it will) like with all 3 exes he will go for the jugular, and he will coldly drag you through the mud in his attempt to take you and your children for everything you have and had before you met him. As I said, he never does anything different.
Why now you may ask? I've had no interest in him or his new fake life until someone who apparently 'can't stand you' called after 3 years and kindly volunteered your name.
You probably wake up every morning and thank your lucky stars that you were soooo lucky to meet this 'charming,' funny and trustworthy man. Believe me he is none of those things, he's just someone who has the mental ability of a 6 yo in a man's body. And if you think in you he has finally met the one who will change him like we all did, think again. He will only find a more humiliating way to abuse your trust and when you find out the truth about him he will move on to his next victim and you will then turn into 'psycho no. 4'. He loves no one, not even his own children who he abandoned from childhood and who refer to him as 'sleazebag' because even they know who is really is.
I have nothing against you, I don't even know you. You may be one of those women who has no problem being humiliated, betrayed and back-stabbed behind your back. If so, I wish you luck. Whatever happens, no matter how he hurts you in the future I will know I did what every woman should do and what no one had the balls to do for me. I tried.
Shawna
PS If you show him this he will probably threaten legal action. Please tell him that unlike last time when he walked away and purposely left me penniless to 'punish' me for leaving him, this time I have the resources to go head to head with him and I welcome the opportunity to totally humiliate him a second time.