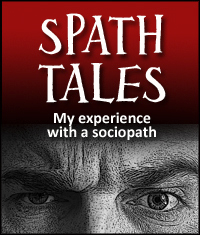 Editor's note: Lovefraud received the following story from a woman in Australia whom we'll call "Shawna18." Tomorrow read Shawna's letter that she wrote to the next victim.
Love bombed, soul mate within 1st day. Returned to his ex-wife, then returned to me when ex-wife didn't give him what he needed.
Moved from Qld to Melb to be with him. Lived together four years, loneliest years of my life.
Married me while he was seeing another woman who he continued to see for the next 3 years until caught. Divorced him immediately.
Went back on his word to not contest what we had built together as long as I didn't contest what he owned before me (his business). Realised he was a nasty SOB when he broke that promise and he used it to threaten me with leaving me with nothing if I leave him.
I fired my lawyer, went back to him on the proviso he signed over house & all we (me) built together. He did.
I left him once I felt I had everything back he stole from me and humiliated him in the process.
He now is with someone else he is wooing and right back where he started in his 20s. He calls this 'moving forward' and his motto is 'no regrets, life is too short'. Yeah!
I know he hates me now that he knows how I tricked him and in the end outed him to everyone he knows. If he wasn't a coward I'm sure he would love to 'get me' one day.
Hell he even tried twice to return just so he could pay me back. No success.
No contact means just that. Walked out on him both times without uttering a word to him. How dare he?
Before I threw him out he lied and threw me to wolves (his family) just so that I would be blamed for a huge mistake he made. Yet, a few months later he returned as if nothing had happened.
He even thought I would not be able to not get involved when his father nearly died when out of the blue he rang & sent photos of his father that looked like he was lying on a slab in hospital. He thought I couldn't resist rushing to his emergency.
Wrong! Deal with it, lie it, cheat it, betray it, whatever, but get your new 'love' to help you. I simply don't f*cking care for you or your father, or your brothers who based on your lies threw me out of the 'family'.
Three years of no contact, blocked from every medium there is and so is any person that I met through him. Every one of them.
Even left my golf club.
Sold MY home and now bought a caravan and traveling Australia. This is the worst thing one can do to a sociopath.
Did I forget to say he is a 'marriage celebrant'? Amazing isn't it?
He said 'I do' while licking his lips knowing at the first opportunity (on own 'honeymoon') he had a date with the obese one.
No contact is the worst thing that one can do to these sick individuals. What is worse than 'no contact' for this sicko is that he didn't get the opportunity to enjoy the triangulation between me & his new 'love' that gives him a hard on.
Even worse is that it must kill him to know he has no idea where I am, what I am doing, how I am, if I am happy, alive or dead. I disappeared.
In his case I am the one who as far as he is concerned never existed. And there is nothing he can do about it as no one that is around me now, will ever give him any information about me and if they do, it's what I want him to know.
I learnt a lot from him. The past is gone, it's what you do with what you learn that matters and I intend to enjoy knowing that I never needed him, what we had I built while he was in the background destroying it brick by brick.
I can do it again, and this time it will last as long as there is no one in my life who will take pleasure in sabotaging what I create.