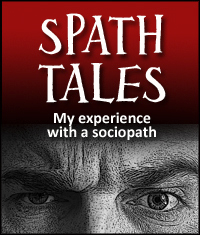 Editor's note: Lovefraud received the following story from a reader whom we'll call "Evelyn19." Names have been changed.
There is so much. There have been 5 sociopaths of extreme significance in my life:
My adopted father
2. Two husbands
3. One "boyfriend"
4. My son.
These relationships span the entire course of my life. I never told anyone my story until now. I was afraid. Now I am alone, fighting to survive, and still afraid. But I thought maybe my story might open another's person awareness to the dangers, horror and complete destruction they can cause.
I was born an "illegitimate" child of a 16-year old girl in a Catholic hospital in Texas. My biological grandmother and mother left me with the nuns at the hospital to be adopted out. The churches in the area were notified of a baby that needed a home.
In two weeks I was adopted by my father and mother. They had been married for 16 years with no children. My father had paid 1/2 of the adoption fee for a male American Indian infant. I was free. They took me and paid no more for the male. I was an only child.
My adopted father had NPD, bipolar 1 with psychotic features and panic disorder. My mother had severe co-dependency and major depression. Mental health issues even as severe as these were never acknowledged, and my father was a very well respected and successful member of the community as the postmaster and as a the chairman of the deacons at the First Baptist Church.
I was sexually, emotionally and physically abused by my adopted father. No one knew or said a word. I emotionally and mentally disassociated myself. There was very little emotional or any type of exchange between my parents. I remember feeling a wall around me and not wanted anyone to touch me.
My parents were very strict fundamentalist Southern Baptists. I said nothing but I thought. By the time I was 6, at least by age 7, I had suicide plans. Emotionally I closed myself off and planned. I read. I had lots of toys and an aunt that was not like my father or mother. She was my example and such a profoundly strong and intelligent woman was. I learned and did well in school. I had episodes of depression and lots of anxiety and anger. I kept quiet.
My first marriage was against my will at age 19. My parents found out I had had sex prior to marriage. My father wouldn't allow me to go back to college; essentially I forced out. I became a "black sheep." Because of being alone, the "boyfriend" said we should marry. I saw no immediate alternative we married and went to college. His name was Tom.
If Tom's lips were moving he was lying. If someone was a jet fighter pilot, he was too and knew all about it. If you were a kangaroo, so was he and knew all about. He loved guns and had a room full of guns and ammunition and ammunition reloading equipment. He'd get angry and fire his guns. Once he told me he killed 25 dogs at once. He would hold the gun to his head and tell me if I did thus and so, or didn't do whatever, he would kill himself. He would hold the gun to my head and force me to have sex with him 4 or 5 times a day.
Tom had several "girlfriends." He believed he was a genius and so did everyone else. He could be quiet charming and entertaining, very mystical and magical. He would take a car apart at 8 am, even if he had to be 300 miles away by 2 pm, and put the car back together and off he went. Speeding down the highway, and of course he had the guns. His father committed suicide with a gun he brought him. He was physically, emotionally, mentally sexually abusive in every way.
I escaped him after 6 years. He stalked me for 1 1/2 years more. Horror reined in my life. I had escaped 2, now 3 more to go.
Ten years later, in 1991, I married a classic sociopath / malignant narcissist. I won't review everything here but the entire array of "classic." This is so long but basically we were married for almost 10 years. I have a one child, a son. I was 37 years old when he was born.
Prior to and during the marriage, every type of abuse took place. George is the man's name. He didn't work. I was the sole provider and classic codependent personality. I finally left George. He had told me if I left he would take 100% of everything, including my son. That happened.
He had everyone's support, including the legal system. There are so many horrible, horrible events. Including a murder for hire.
This is all I can manage to write now. There are so, so many things. Thank you so much for the opportunity to tell my story.
P.S. My son became a narcissist growing up with the father I wrongly believed he needed.