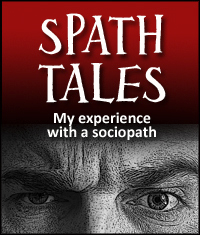 Editor's note: Lovefraud received the following story from a reader whom we'll call "Laurette."
In 2014, I met a man while visiting Calgary, Canada. He was loving, sweet, charming and said everything I wanted to hear.
Everything but the truth.
He was an alcoholic and determined to change his life. I admired him for that. He told me he had a child to a woman who he met at a party/bar and purposely got him drunk so she could get pregnant. It was a one-night stand. Six months after his daughter was born, she ran off without any notice and not telling him where she'd taken their daughter.
I fell pregnant to him almost straight away, which was a miracle because I had fertility issues which I'd told him about. Quickly he became controlling, paranoid, easily angered.
Seven weeks into our relationship, I left to go home to Australia. Over the next few months I tried to deal with the shock of my unexpected pregnancy and his wild accusations and abusive emails that swung from love to hate.
Then we started talking again, and he turned the charm back on. I offered to loan him money to come to Australia $8000.
When he got here, I doted on him, even though I was 5 months pregnant and having a rough time with it. After 3 days, he became abusive and I told him to leave.
He went to one of my best friend's house (an arrangement made without my permission). I went to her house the next morning where we had a huge argument.
A few hours later, I got a call from a mental health team, asking for me to come in for a consult. They saw I was not "delusional," "out of touch with reality," or "dangerous," like he falsely claimed, and suggested I speak to the police.
He then stayed with my friend for 4 more weeks. They went to another state together on MY money.
When he came back, he asked to see me and charmed his way back into my home. The next 4 weeks was filled with him slamming the door in my face, gas lighting, ignoring me if I tried to talk then abusing me if I persisted to try to resolve things.
He would threaten to kill himself if I didn't leave the room or do what he wanted.
He constantly pressured me for cash and my credit card for a partner visa to try to get him to move to Australia.
Eventually, I escaped to a hotel because I couldn't bear the stress anymore. I was always breathless and my stomach hurt. I could feel my baby become distressed when he was verbally abusing me.
I checked into the hospital then a few hours later; I began to bleed profusely. I rang him for help, but he said, "I don't believe you. This is just like what happen in Calgary. What do you expect me to do about it?"
(In Calgary, when I was 6 weeks pregnant, I thought I was having an ectopic pregnancy. I rang, texted and emailed him for help. He'd blocked me, but denies this. I went through the whole thing on my own and came home to an abusive email where he accused me of lying about the entire thing, and he never wanted to see me again. "Twisted liar," is how he put it, despite me taking photos of the medical records and bill from the hospital.)
The baby and I almost died. I lost 3 litres of blood. When I woke up the next morning form the emergency caesarean, he asked for my credit card to use for a lawyer to try to stay. Saying that he'd learnt a valuable lesson and would never take me for granted ever again, and neither should I.
He flipped out over nothing after being nice for 2 days. Left us in the hospital for 3 days with no word.
I named our child on my own because he didn't care. Until he found out, and then he turned even darker.
I was scared to go home, but I had to when I was released. I asked my dad to stay with me, because I was so terrified of being alone with him.
He tried to convince my dad I was crazy the moment I left them alone in the loungeroom. My dad disagreed with him because he was onto his dangerous game.
The next day, when I came home trembling because I was so terrified of being alone with him, he asked for the credit card and abused me for calling his daughter "after his first love who died of a heroin overdose." Something he never mentioned when I asked him 2 weeks prior about the name I chose. He spat in my face, and threatened to kill himself, so I went directly to the police and made a report.
They sent around an ambulance and police. He convinced them I was suffering with postnatal depression and they BELIEVED him! Suggested he speak to the hospital social worker. HE tried to convince her, but it didn't work. He was arrested.
My best friend of 26 years convinced me to drop the charges as his visa was running out the day before court anyway. So I stupidly did.
My best friend spent the next 2 and half months convincing me to bring him back, promising that if he stepped out of line that she would personally put him on the plane herself.
I was hesitant and told her "He doesn't love me. He's only using me for my money to come back and try to stay in the country."
"No he's not. He's loves you and misses you. He just gets frustrated and it all comes out wrong," she said.
Every day and every night this was our conversation. At a few points I said, "Why are you standing up for him? You're meant to be on my side!"
"I'm not," she said, and would turn it around on me, and how she didn't need to be doing this mediating for me when she had 2 kids of her own to look after…I was manipulated by the best!
The day he arrived at the airport, they ran off back to her house.
I went to her house that night with my dad and baby. He came outside and attacked us.
I went to the police, they said that my friend told them that she was hiding inside and saw the whole thing and I lied about him attacking us, while I was holding my 2 month old baby (who was 2 months prem).
So at first, the police didn't believe me.
My life fell apart. He threatened to take me to court to get my daughter. I went for a private intervention order. When he went to court, he told the court that he was getting married to someone else in a few weeks. My lawyer spoke with him and my ex best friend outside of court and they admitted it was them.
My best friend lied, denied and smeared my name and made lies about my mental state all to protect her shameful behaviour. Everyone believed her.
I fled the area for 3 months and told no one where I was, for fear of being served a paternity test.
I called Department of Women and Department of Immigration and hired a PI to see if he could find anything, like him working here when he shouldn't be. He couldn't find anything. Staying in hotels, Air bnb's and paying for a lawyer was draining all my money.
He'd managed to get over $20,000 from my father and I, and even though I had it in writing several times that he'd pay it back, he was now refusing.
My best friend's ex was keeping me informed on the phone of what he knew. As soon as she new he and I were talking, she started offered herself sexually to him, to prove that she wasn't in any kind of relationship with my ex. It worked.
Thankfully, daily emails to the immigration department worked because they asked him to leave. Neither my ex best friend or my ex would tell me if they were together or not, until last week.
In one of his controlling methods of contact, he sent me a 25 minute voice memo, where he spent 23 minutes of it telling me that I was the evil one and how he'd done "Nothing wrong." Two minutes of that was casually spent telling me that my ex best friend and him were together and how it was 'unplanned'.
A complete psychopath through and through.
To get myself through this, I needed to focus on what I could salvage from this to bring sense to this.
People who have been with psychopaths constantly go over past events with the psychopath, to try to make sense of what happen and why. I needed to try to make the most out of what happen, or it would've destroyed me.
So, I posted a photo of his daughter online and did my own searching for his history to find the truth. The PI's had come up with nothing, and I believed there was so much more. I felt it in my gut.
After months of searching, I found 2 people from his past: His ex who was the mother of his daughter, and one of the sons to the women he was with prior to me.
I was shocked to read the first thing they both said to me through our online conversation was, "Oh my god. I'm so sorry that you had the unfortunate luck of meeting him. He is a monster."
They'd never met, nor spoken nor knew what each other had said. So it was a shock to see that's the very first thing they both said.
To begin with, they were empathetic, and told me their horror stories with my ex. Their stories were so similar to mine it was horrifying yet it bought so much relief to know that it WASN'T me.
I WASN'T crazy or a terrible person. This guy was a nut bag and I wasn't alone now.
I knew he'd been hiding his past for a reason, but I didn't realise it was because he had a long history of violence towards women and children.
His daughter wasn't a production of a one-night stand with a stranger. He was in a relationship with the mother of his child and they'd worked together for a year prior.
She didn't keep him from his daughter, he didn't want anything to do with his ex girlfriend once she found out she was pregnant. She refused to get an abortion and never paid child support.
He slapped the son of the girlfriend before me across the face when he was drunk.
Both people were saddened but extended their hand to offer help and support in any way they could. Until my ex contacted them and lied to them about me.
After what the mother of his daughter told me how he was violent, volatile, crazy, abusive, an alcoholic and drug addict, I never thought she'd fall for his lies because he'd done it to her for years but…he did.
How? He told her a malicious lie about someone in my family to make my family look like we were the monsters. It didn't matter that I went to the police to report it, like every other awful thing he'd done. He was in another country now so he was out of reach.
People like him know how to cause as much damage as possible, without getting in trouble with the law. Master manipulators of the judicial system.
At the end of the day, I lost all my money, all my friends, I'm in therapy because of his lies an destruction.
But through my hunting for the truth, I found out about the truth about him, and found out other people came forward to complain about him to the Domestic Violence Unit because he'd been harassing and manipulating them for money. I had the sick truth (which helped free me from his gaslighting), and the police finally believed me.
My daughter will never know of her sister in Canada because of his lies. She will never know her family over there also because of his lies.
But I am free and my daughter will grow up safe. That is no small thing after almost losing it all to a psychopath.
I count my blessings every single day.