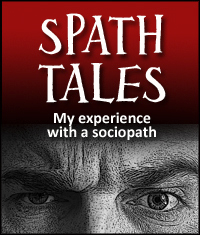 Editor's Note: This SPATH tale is an update to a story previously submitted by Lovefraud reader "Tina-Marie", 'I am getting more imprisoned daily'.
My well connected, well moneyed sociopath ex-husband, who abandoned the children and me years ago, took every dime and signed custody over to me, resurfaced 18 months ago.
He followed me to another state despite a cease and desist letter to not do so. He has had protective orders which he violated and got arrested for.
He had two criminal charges for domestic violence with the current pending charges I just mentioned. He has sent me threatening emails and texts telling me that if I don't drop the charges, he will bring our son to court with him to subject him to what is going on. He spent years bothering me, post divorce, but most of it was money issues. Now he has indoctrinated one of my children to do his dirty work.
He began to see my son, which resulted in weekend visitations where he never brought the child home on time, not by hours, but by days.
Last summer, he abducted my son. My child has not lived with me in five months. I have seen him ten times for a cumulative 117 hours!!!
Early in my divorce, my then attorney told me to never withhold visitation from the father as it would be, as she said, "a sure fired way to lose your kids." My ex did not ask for scheduled visitation so we did "liberal visitation," which ended up being a big mistake.
While with his dad, my son has been suspended from school for lying after his entire life of being an exemplary boy. His grades are slipping and as of now he is failing two classes. Prior to living with his father, he was a straight A student and received awards for honor.
His father asked for 50-50 custody. Part of asking for the change requires a custody evaluation. That worried me, not because of anything I have done, but because my ex is very wired into our court house. His brother is an attorney and my ex has contributed to judge's campaigns and is friends with quite a few of them.
I came to my interview with the evaluator with my documentation. I documented everything.
He came with our son.
He had my son say things about me that were completely untrue. The evaluator did not interview the sources she had me sign authorizations so she could speak to them, including my son's school counselor.
The evaluator's report looks more like a vendetta against me. She said that my son's failing and suspension are the "new him" and I am not "attuned to the growing teenager." She also said that I "set high standards" (not really, just don't like failing grades) and don't seem to love my son unconditionally which is insane. I have texts and emails that he sent me, each one more threatening than the next. I showed them to the evaluator, but who knows if she read them.)
Bottom line — the evaluator's recommendation is that my ex becomes primary custodial parent.
She also recommended that my ex have legal custody too. She is allowing me one day a month with my son. There will be no summer, school breaks or family events unless I get my ex's approval.
This is the worst thing — to have the SPATH control when I see my children.
I am shocked at this recommendation.
He has criminal charges for violation of protective orders, harassment, child abduction and domestic violence.
I have no record.
He has a history of mental illness and takes medication for severe depression (that he claims was due to my abuse) and now he has adjustment disorder (whatever that is).
I have no history of mental illness.
So, like he always does, he fooled the evaluator. He dragged my beloved child into the evaluation and had him lie, downright lie.
He has taken my son on holiday. Before they left, my son has assured me that he would keep in touch with me daily and that he wanted me to contact him.
As you can imagine, his communication with me has stopped.
I am on my 4th attorney, have spent legal fees over six figures and have been fighting harder than ever several years POST divorce!
I am in a healthy wonderful relationship for two and a half years now and all I want is to live my life without my ex in it.