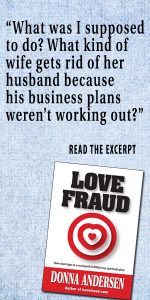 By Donna Andersen
We married secretly in Australia. Then six months after we met, had another wedding, complete with a reception and band, attended by family and friends. By this time I had already spent more than $53,000 on my husband's projects, much of it on my credit cards.
My brother's birthday was in March, and on a Sunday afternoon his wife planned a small celebration in their home. James said he had to work, as usual, so I went alone. Toward the end of the party, my brother cornered me in the family room.
"You know, Donna, Dad is concerned about James," he began.
"What's he concerned about?"
"He thinks James doesn't have any money and you … Read more