By Joanie Bentz, B.S., M. ED, CCBT, BC
"Do not just slay your demons. Dissect them and find what they've been feeding on."—The Man Frozen in Time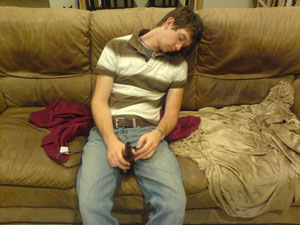 Angela was married to a personality disordered husband. She was already traumatized by the threat of danger with each day that she continued a relationship with him. With the prompting and help of her friend, she filed for divorce.
As the divorce was unfolding, her siblings, as was custom throughout the years, continued to demand her presence at all family functions. She had young children, and knew that she should not subject them to the heavy drinking and other activities not appropriate for them. Whenever Angela had ideas for other ways of celebrating holidays and events, her siblings would scold and then stonewall her. Angela called and texted her siblings to find common ground, but no one would reciprocate, and she was left in the dark about what to do. She felt like she had no choice but to attend the events, because she did not want to disrespect her parents and wanted her children to have connection with her family. Or at least this is what she thought.
She reluctantly decided to go to the events with her children, and always felt uneasy as she made her way there. She broke out in a cold sweat, and her stomach was churning. When she finally arrived, with high hopes that things would be better this time, no one really engaged her in meaningful conversation. She felt isolated. Worse yet, her children and their needs were ignored. Angela soon found an excuse to leave, and the disoriented feeling would begin to lift and relief washed over her.
She later found out that family members ridiculed her after she left, and passed judgment on why she stayed in her dysfunctional marriage for such a long time.
Narcissistic abuse during the holidays
If you've been exposed to narcissistic abuse in families, you know the holidays pose as a challenge. When family gatherings are on the horizon, you may feel a sense of dread and trepidation.
Have you ever asked yourself if this were an irrational fear, or if you have anxiety? Perhaps you even began to think you were crazy.
Have you ever declined attending a family function because you began to feel ill out of nowhere, with headaches, stomach issues and fatigue?
Did the narcissists press you about why you could not attend, and you truly did not have an answer? Or maybe you were afraid to speak the truth?
Lastly, did the narcissists, even in your adulthood, attempt to make you feel obligated to attend all planned family functions, with no regard to your own preferences, time constraints and responsibilities?
How you develop PTSD
If you replied yes to any of these questions, there is a chance that you could have post-traumatic stress disorder (PTSD) because of the ongoing mistreatment you endured from your family.
Complex PTSD emerges as a result of continual trauma for a long period of time — even years. When you are fully immersed in narcissistic abuse and have not yet made your breakaway, you may continue to justify their bad behavior. You may have horrible memories of what you endured, but think it is normal, due to the toxic bond, called the Stockholm Syndrome, that you have with your family.
Let's face it, you know of nothing else, so you proceed to define love as being traumatic! This also leads you to believe that you are the one with the problem, not them. However, the continual abuse during these occasions has posed to be a problem, for YOU — because now you are dealing with the ruination of your memories, which in turn adversely affects your physical, psychological and emotional well-being.
How narcissists ruin holidays and family events
The holidays present the perfect conditions for narcissistic families to engage in "gang stalking" or mobbing.
You, the target, may be the happy, content person who loves holidays for all the right reasons—to feel connected, to engage in meaningful dialogue with others, and to share the best parts of yourself.
Narcissists, however, use the holidays to stock up on their endless sources of supply and continue their "false self" charade, while stomping on your hope and good nature.
Every holiday, this scenario repeats itself. The narcissists invite anyone and everyone to their get-togethers. This ensures no genuine exchange and dialogue, and allows them to hide behind their flying monkeys, while they use the occasion as an excuse for overindulging in gossip, alcohol and other self-destructive behaviors. Some narcissists are particularly bold and may even slowly begin to break out the drugs they have been using privately in their home.
If you decline to participate
If you don't show up at all, you are on the narcissists' hitlist for good. How dare you refuse to be part of the situational abuse opportunity — called a "party" — that they painstakingly planned all year long? If you don't honor the head narcissistic by your presence, you are accused of disrespect and selfishness.
It never occurs to the narcissists that perhaps this is not the way you want to spend your holiday, or for that matter, your time. Since they lack emotional intelligence and empathy, they frankly could care less. Individuation — your need to be a separate entity from the family cult, is not tolerated.
The demands they try to enforce on you to engage with them make it more difficult for you to cope and stay grounded.
Healing from PTSD due to narcissistic abuse
The brain changes during PTSD, but most times it is temporary. PTSD is not a mental illness; it is a state of being that can be reversed through many healing modalities.
When you eventually become aware of the narcissistic cycle of abuse, especially during family occasions, your healthiest decision is refusal. You are not obligated to interact with anyone who is abusive, and you are not required to play an active part in their warped pathological circus.
Since you have — and always have been — the preferred scapegoat target, do not expect anything during these events to improve with each passing year. On the contrary, expect, as the narcissists age, events to get worse, as their crazy-making escalates and they scramble to keep up their sociopathic charade.
Your best course of action is to make yourself unavailable during the holidays, and engage in much needed self-care to heal from post-traumatic stress. You could start your own traditions and involve others who truly love you for who you are.
Helping others during the holidays could be therapeutic as well, as you extend your care outside of your own self to improve the lives of those in need — perhaps in a soup kitchen or a nearby church and community center. With the holidays around the corner, taking care of YOU in the ways that are best for your authentic self, which has been suppressed for so long, is most crucial for healing and increased wellness in your life.