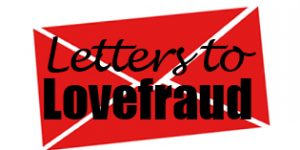 Editor's note: Lovefraud received the following letter from a reader who posts as "miaxo." Names have been changed.
Three years wasted. I met my ex 4 years ago. At a friend's house. I wasn't into him or attracted to him. But grew to be friends with him.
A year later I get a text from him saying he likes me and wants to take me on a date. I was so tired of dealing with disappointment after disappointment from the dating scene so I took his offer. He took me to the movies, was attentive and the night went well.
I texted him the next day to thank him for the date, and we texted non stop everyday. He was sweet, charming and gave me so much attention like I never got from a male before. He wanted to see me everyday and had me sleep over every night. The sex was passionate and would last for hours. I was on a cloud, on a high.
My friends told me we spent too much time together and it was unhealthy, but I didn't want to listen. I got a call from him while he is at work, saying he is moving away 2 hours away.
I start to panic and he tells me to move with him. I didn't even think about it; I just automatically said yes. I never moved far from my family. My family kept saying it was too soon, but I didn't want to listen.
The day before we moved his family was having a dinner and his mom was talking bad about me in front of everyone. I got up and walked out and began to cry. The next day we moved and I felt devalued by his mother. No one defended me. It was the first sign of the roller coaster of emotions I was about to endure.
We moved in. Weeks later, he started pushing back emotionally, didn't want to cuddle anymore. Claiming he's not an affectionate person, but he was those first 4 months. Arguments became regular, cursing me out for hours. Throwing me out, then stopping me before I go became regular. I felt smaller and smaller each time.
One day we went grocery shopping and he kept texting his brother, telling me he's going for lunch with his brother for his birthday and I can't go. Lunch at the strip club. I told him how it made me feel and he said he didn't care and if I broke up with him he doesn't care either. I cried from 2 pm till 3 am waiting for him to return. He returns drunk and phoneless, claiming he lost his phone.
The fights got worse. He paid less and less attention to me. Two years I tried my hardest to make him happy. I found texts and Facebook messages and he always flipped the fight onto me. Everything in his life was my fault.
He broke up with me via social media to start dating someone else, then a month later she dumped him and he came running back, saying he missed me and couldn't be without me.
But nothing added up, nothing made sense. I kept having this uncomfortable feeling and decided to hack his email. Everything came to light.
He had a lover for 10 years who been with him from relationship to relationship. He bought blow jobs on Craigslist and escorts. He had a fling with his ex before me for a month after he broke up with me — his ex that he used to badmouth.
When I confronted him and sent him the screenshots he denied it all. He never left. He would text me every day while on the hunt for someone, new constantly playing with my emotions and mind. I was a wreck. I felt mind f*cked.
He continued to have sex with me, claiming he loved me and didn't want anyone else, but it didn't feel right. Something didn't feel right.
I go to check his Facebook and it says in a relationship with Abby. Who's Abby? Where did she come from? While dating Abby, he continued to text me and come by for sex. I felt emptier and emptier each time. He kept lying and saying he loves me and needs me.
3 months into his relationship with her they got an apartment together, a new dog and he gave her my dog 🙁
Fast forward 7 months into their relationship. I get a call that he can't see me anymore because he is engaged to her. My heart shattered.
3 years I gave this man. 3 years I tried my hardest and some girl who's been around for 7 months gets what I wanted. I feel not good enough ….