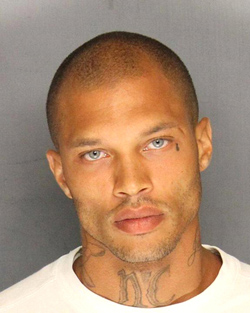 Meet Jeremy Meeks. His photo was posted on Facebook in mid-June. With his high cheekbones, steel-blue eyes and tough-guy tattoos, the image quickly went viral.
Where was the picture posted? On the Facebook page of the Stockton, California Police Department. Jeremy Meeks is a criminal, charged with 11 felony counts of weapons possession and gang activity. This is his mug shot.
No matter. Women were apparently lusting after him, and sending him their phone numbers.
Women lusting after sexy felon Jeremy Meeks are pissing off his wife, on Gawker.com.
I saw the picture on TV last week. Multiple media outlets—including Time.com— reported that because of the photo's more than 100,000 Facebook likes, Meeks had been offered a modeling contract. This turned out to be nothing more than a rumor there was no modeling deal, at least not yet.
Woman marries confessed killer Joran van der Sloot
Also last week news broke that Joran van der Sloot, the Dutchman suspected in the 2005 disappearance of Natalee Holloway, married his girlfriend in a Peruvian prison.
Van der Sloot is serving 28 years for the murder of Stephany Flores in Peru in 2010. He confessed to beating, choking and suffocating her.
Apparently Van der Sloot's past meant nothing to Leidy Figueroa, his new bride. She met Van der Sloot while visiting a relative in prison, and is pregnant his child.
SEE IT: Joran Van der Sloot's pregnant new bride arrives at Peruvian jailhouse for wedding service, on NYDailyNews.com.
Woman will leave children to marry prisoner
Here's another story, sent in by a Lovefraud reader.
Jennifer Butler, of Suffolk, England started writing to Christopher Mosier in a Minnesota prison in July 2011. Mosier is due to be paroled in September, and Butler plans to leave her three young children in England to move to the U.S. to marry him.
Butler met Mosier on writeaprisoner.com. According to his profile, he was sentenced to 15 years for a violent burglary and drug charges.
British mom of 3 young kids will leave family for U.S. prisoner she met online, on NYDailyNews.com.
Butler saved up enough money to travel 5,000 miles to visit Mosier. When she got to Minnesota, he had been in a fight with another prisoner and lost his visiting privileges. They had to talk through a glass window.
Still, Butler keeps the faith.
"Chris is a wonderful man," Butler says, according to the New York Daily News. "Sure, he made a few mistakes in the past, but everybody deserves a second chance."
Overlooking the criminality
All of these guys are convicted criminals, and we're not talking frat boy pranks or drug court. These guys were arrested for gang activity, burglary and murder.
Why are the women willing to overlook such obvious criminality and fall in love with them?
For most of the women who think Meeks is hot, it may just be a goof. After all, clicking the Facebook like button is not really getting involved with him. Some women, however, sent money for his legal defense.
And the women marrying Van der Sloot and Mosier I'm sure they are catching a lot of flack. But Van der Sloot and Mosier are probably telling them something like: "I know I messed up. But with you at my side, babe, I can be a new man. Your love will keep me strong. Your love will save me."
The women are likely falling for those sweet words. However, I want to be cautious about criticizing, because they are exhibiting behavior that probably all of us involved with sociopaths know too well:
They are believing what they want to believe.
Our mind in love
I'm always amazed by the degree to which the love we feel is in our own minds.
When we fall in love, we don't just fall in love with a person. We also fall in love with an idea, a promise, and a dream of the future. Someone comes along who appears to match our vision, and we believe we've found the person we've been looking for.
Another key component of our love is our concept of ourselves. We may believe that we're compassionate, nonjudgmental, supportive and forgiving. This is central to our being, and the way we want to live. We turn our beliefs into reality through the individual that we choose as a romantic partner.
Beliefs and dreams
Sociopaths know this about human nature, either overtly or instinctively. They use our desire to believe what we want to believe in order to exploit us.
That's why they ask us questions and listen carefully to our answers. That's why they study us.
Sociopaths work to discover our beliefs, so they can mirror them.
Sociopaths convince us to reveal our dreams, so they can promise to make them come true.
Staying safe
So what's the answer? How can we stay safe? How can we make ourselves not believe what we want to believe, and accept reality instead?
Perhaps the answer is to first believe in ourselves. If we believe that we deserve true, authentic love, we may be more willing to recognize that our partner isn't really supplying that love.
And if we believed in listening to ourselves, we may be more willing to pay attention when our intuition is warning us to get away from someone.
Belief and love are totally intertwined. To stay safe, we need to be sure that what we believe in, and who we love, are real.