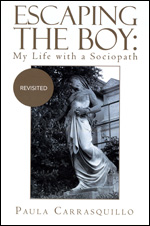 Many, many people tell me that they should write a book about their experiences with a sociopath. Paula Carrasquillo is one of those who have done it.
Her novella, Escaping the boy: My life with a sociopath, is not long. The actual story is only about 50 pages, with plenty of white space. But in those few pages, Paula tells a powerful narrative of her disordered ex and the insanity she endured living with him.
The way she does it is through carefully selected vignettes. She refers to her ex as "the boy," and to herself as "the woman." Some of the anecdotes portray the boy's life before the woman entered the picture. But most of them provide glimpses of his unreasonable demands, her confusion and his rage.
For example, Paula describes how nothing she did made the boy happy. She writes:
"Why can't he see that I am trying? Why can't he see that I do care and love him? Why is what I do never good enough?" But these worries are fleeting, because the boy quickly distracts her by surprising her with a gift: "It's a journal I found at your favorite store. You should start writing that book you always talk about writing." How sweet, she thinks. He does know I love and care for him and he loves and cares for me.

A few days later, the woman is writing in her new journal. She sees the boy pacing through the hall and asks, "Why are you pacing?" He explains, "Why aren't you out here hanging out with me or talking to me about my day?" Quizzically, she responds, "Well we just had dinner together and talked about our days, and now I'm relaxing and writing for a bit. What in the world is wrong with you?!?" (Oh shit! The woman has vocalized her internal worries that have been driving her crazy. NOT. WHAT. THE. BOY. CAN. HANDLE.)

The rage ensues. The boy screams, "You treat me like shit! You don't appreciate anything I do for you. You push me away. You don't love me. I NEED you to NEED me!"
Does this sound familiar?
Escaping the Boy is an easy read that conveys the essence of the crazy-making that is a relationship with a sociopath. The author doesn't spend a lot of time explaining the technical aspects of the personality disorder, so you'll need to get that information elsewhere. Rather, she tells a cautionary tale for anyone who has not been involved with a sociopath. And for all of us who have also lived this dreadful experience, she tells a tale that offers us validation.
Escaping the Boy: My Life with a Sociopath is available on Amazon.com.