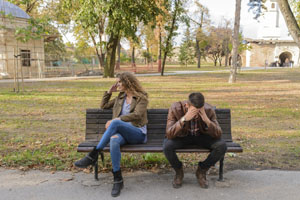 You've met someone who is charming, charismatic, fun, attentive and, oh yeah, sexy. Your relationship is the most exciting you've ever experienced — at first.
Then you see some red flags, and your relationship isn't as pleasant as it once was. After a few nasty incidents, you Google words like "pathological lying," and see descriptions that sound like your partner. You suspect your partner may be a sociopath.
The good times are, or were, really good. You don't want to throw it all away. So you wonder — can a relationship with a sociopath work?
The answer depends on what you mean by "work."
You cannot have a supportive, sharing relationship with a sociopath
If by "work" you mean a full romantic partnership, where the two of you support and care for each other, the answer is no. It will never happen.
Why? Because supportive, caring romantic relationships are built on love, and sociopaths do not have the ability to love like the rest of us do.
Lovefraud uses the word "sociopath" as an umbrella term for people with antisocial, narcissistic, borderline, histrionic or psychopathic personality disorders. People with all of these disorders are impaired in their ability to love.
Antisocials and psychopaths can't love at all. Narcissists are so focused on themselves that they don't care about anyone else. Borderlines are so afraid of abandonment that they often engage in behavior that makes people abandon them. And histrionics always want to be the center of attention.
In short, anyone with an exploitative personality disorder makes a terrible romantic partner.
These people may be interesting and fun. They may be really, really exciting in bed. But an involvement with them is always all about them — their desires, their wants, their priorities. There is no give and take. It's you give, and they take.
Furthermore, you cannot expect your relationship to be monogamous. Most sociopaths cheat. If you have a problem with that, you will be unhappy with a sociopathic partner.
You might be able to coexist with a sociopath, but it will be hard
I've heard from people who have been in long-term marriages and relationships, and after many years, finally realized with their partners were disordered. They have children, homes, businesses and financial involvements with the sociopaths that would be very difficult to untangle. So they stay.
It might be workable, depending on the type of sociopath.
Some sociopaths are parasites. They latch on to you, draw you into a relationship, and once you're committed, just sponge off of you. They don't really bother you, because they don't want to kill off their host.
Other sociopaths want you to create the image they want to project. Or, they may want you provide cover for them while they live a double life of sex, drugs or crime. These sociopaths may never take anything from you. In fact, they may support you, perhaps lavishly. They are content to keep you around — as long as you are useful.
If your partner isn't violent or abusive, it may be possible to coexist with a sociopath. You could be together, but live your own separate life. You may get good at ignoring your partner.
Your relationship won't be fulfilling, but it might be manageable.
Should you stay with a sociopath or should you leave?
So if you realize your partner is disordered, and you're asking yourself, "Can a relationship with a sociopath work?," here is my advice:
If you have no children together, definitely leave.
If you have children together, seriously consider leaving. You'll have to evaluate your situation carefully — is it safer for you and your kids to leave or stay?
If you choose to stay with a disordered partner, secretly stash money away in case you need to leave in the future.
Keep this in mind: Once a sociopath is an adult, there is no rehabilitation. He or she will never develop a heart or conscience.
Many people — even mental health professionals — believe that sociopaths mellow out with age, but this is not true. According to the Lovefraud Senior Sociopath survey, 91% of respondents said that after the sociopaths they knew turned 50, their deceit and manipulation stayed the same or became worse.
Ask yourself: Do you want your sociopathic partner in charge of your finances or healthcare when you get old?
To learn more about relationships with sociopaths, check out the Lovefraud Understanding and Recovery 5-part Masterclass.