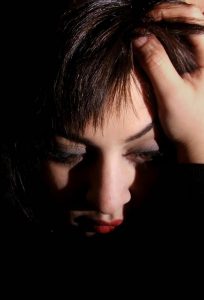 You're pretty sure that you're involved with a sociopath, but you feel helpless to do anything about it. You're afraid of conflict and you feel a sense of paralyzing shame and loneliness.
You berate yourself for not being able to make a decision and get out. But your issue may not be a character flaw — indecision, helplessness and shame are all symptoms of complex PTSD (C-PTSD).
According to Dr. Karin Huffer, Post Traumatic Stress Disorder (PTSD) is a psychiatric injury caused by feeling helpless while in jeopardy. It is generally associated with a single traumatic episode, such a car crash, earthquake or sexual assault, or with combat and the atrocities of war.
Complex PTSD, however, doesn't come from one major incident. It is the result of chronic trauma that takes place over months or years. According to Dr. Judith Herman, who identified the symptoms, it can be caused by situations such as concentration camps, prostitution brothels, long-term child abuse and child exploitation rings.
Although adult relationships with sociopaths (including people with antisocial, narcissistic, borderline, histrionic or psychopathic personality disorders) are not generally mentioned as leading to C-PTSD, plenty of Lovefraud readers know that they do.
Lovefraud readers' experiences with PTSD
Lovefraud has conducted multiple online surveys of people who were involved with individuals whom they now believe are sociopaths. In three different surveys, respondents were asked what harm they suffered because of the individual. Here's how many people said they suffered PTSD:
Lovefraud Romantic Partner Survey: 65% (691 of 1,352 responses)
Senior Sociopath Survey: 66% (802 of 2,120 responses)
Female Sociopath Survey: 52% (696 of 1,996 responses)
Another survey, Lovefraud's Therapy Satisfaction Survey, asked what issues brought the respondents to therapy. The choices were stress, anxiety, PTSD, depression, or "all of these." Eleven percent of respondents specified PTSD, and 55% selected "all of these."
The Lovefraud surveys did not specifically ask about complex PTSD. But, since the relationships extended over time, C-PTSD probably described the respondents' conditions.
No official diagnosis for C-PTSD in the U.S.
The International Classification of Diseases (ICD) does identify complex PTSD as a separate condition. But in the United States, the American Psychiatric Association's Diagnostic and Statistical Manual of Mental Disorders (DSM-5), does not include complex PTSD as an official diagnosis. The DSM-5 committee decided that C-PTSD wasn't different enough from regular PTSD to warrant a separate diagnosis.
But clinicians have noted that people suffering from C-PTSD have all the symptoms of PTSD, plus additional ones. According to the National Center for PTSD, these include difficulties with:
Emotional Regulation.May include persistent sadness, suicidal thoughts, explosive anger, or inhibited anger.
Consciousness. Includes forgetting traumatic events, reliving traumatic events, or having episodes in which one feels detached from one's mental processes or body (dissociation).
Self-Perception.May include helplessness, shame, guilt, stigma, and a sense of being completely different from other human beings.
Distorted Perceptions of the Perpetrator.Examples include attributing total power to the perpetrator, becoming preoccupied with the relationship to the perpetrator, or preoccupied with revenge.
Relations with Others.Examples include isolation, distrust, or a repeated search for a rescuer.
One's System of Meanings.May include a loss of sustaining faith or a sense of hopelessness and despair.
C-PTSD and Borderline Personality Disorder
The medical field has noted a fair amount of overlap among the symptoms of C-PTSD, PTSD and borderline personality disorder (BPD). Because of this, medical or mental health professionals may diagnose BPD, when the client is actually suffering from C-PTSD.
According to Medical News Today:
"Complex PTSD is a relatively recent concept. Because of its variable nature, healthcare professionals may instead diagnose another condition. They may be especially likely to diagnose borderline personality disorder."
A key difference between the two disorders is that C-PTSD is the result of traumatic stress, which is not inherent in the definition of BPD.
People suffering from BPD often, as children, endured physical abuse, sexual abuse or witnessed domestic violence. Their caregivers were often neglectful or impaired. They experience terror about abandonment or rejection, and alternating idealization and devaluation of others. People suffering from C-PTSD, on the other hand, feel hypervigilance about being harmed.
If you think you may be suffering from C-PTSD due to your involvement with a sociopath, it's a good idea to educate yourself about the disorder. If you go for therapy, there's a chance that the clinician may misdiagnose you. When you're working on your recovery, it's critical for the diagnosis to be correct.
To learn more about Complex PTSD, sign up for Lovefraud's upcoming webinar, Self-Care for Complex PTSD, presented by Mandy Friedman, LPCC, CCDVC.