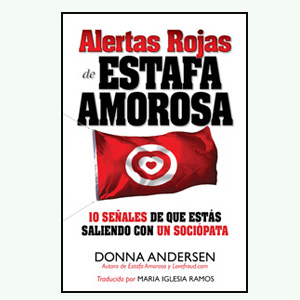 Editor's note To Lovefraud's Spanish-speaking readers We are giving away five copies of the new Spanish translation of 'Red Flags of Love Fraud 10 signs you're dating a sociopath.' All you have to do is promise to post a review of it on Amazon!
Regalamos cinco copias de la nueva versión en español de Red Flags of Love Fraud — 10 signs you're dating a sociopath a los lectores hispanohablantes de Lovefraud. ¡Tan solo tienes que cumplir la promesa de publicar una reseña del libro en Amazon.com!
Ponte en contacto con donna@lovefraud.com.
Más información:
Lo que deben saber todos los que anhelan una relación sobre los depredadores sociales:
Carisma, encanto, tanto en común y también seductor: ¿es tu pareja tu alma gemela o un sociópata? Millones de estos depredadores sociales viven entre nosotros, y no parecen ni actúan como asesinos en serie. Más bien, se presentan como el amor que has estado esperando durante toda tu vida. Alertas rojas de estafa amorosa identifica los indicios y patrones de comportamiento que pueden indicar que tu pareja es realmente un explotador. Este libro explica por qué puedes ser vulnerable, cómo te seducen los depredadores, cómo te vuelven psicológicamente dependiente, y cómo librarte de la trampa.