by Quinn Pierce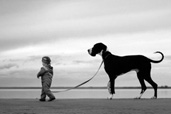 A Stifling Silence
One of my ex-husband's favorite tools of manipulation was the silent treatment.
On the surface, it seemed like a childish ploy to get what he wanted, but in reality, the silent treatment is a behavior abusers use to attack their partner's vulnerability and self-esteem in order to exert control.
I can clearly see now that my ex-husband took plenty of time in the beginning of our relationship to assess how I would react to the silent treatment. It is a skill he practiced and perfected along the way, until the greatest impact was achieved. A sociopath won't risk losing the relationship, so it was a complicated game he played to keep me off-balance, but not to the point of walking away.
Like every other game, this was all about control, and there were several situations in which my ex-husband felt as though he was not in control. Usually, they were situations when he was being called out on a behavior such as lying or cheating. That was something he just couldn't tolerate, which always seemed ironic, considering he expected his victim to tolerate everything.
In other words, in situations when a normal person would stand and face the music for his mis-behavior and wrong doings, the sociopathic spouse turns into the perpetual child, responding with the equivalent of: You can't be mad at me, because I'm mad at you.
Harmful Intent
Why is the silent treatment so harmful?
First of all, it's only intent is to cause harm. This isn't the normal time-out from an argument that couples may agree upon; it's one person isolating the other, withholding emotion, approval, and acceptance. It is a means of punishing another person.
Since it is very likely that the sociopathic spouse has already isolated his or her partner from family, friends, and other emotional support systems, victims of abuse usually rely heavily on their only remaining relationship. And that is exactly how the abuser wants it; in fact, that is exactly the situation he or she has worked so hard to create.
With this act of manipulation, several things are happening to the victim:
Self-doubt: the victim begins to question the situation and wonder if he or she did something wrong or actually is the one at fault (even though instinctively, we know this is not true).
Feeling abandoned: if the victim has prior abandonment issues, this isolation can feel very much the same as being physically and emotionally abandoned
Loneliness, shame, guilt, and all the emotions that come from being "˜punished' or scolded by another person.
Increased anxiety: what if he or she leaves me or stays mad at me, what will happen? What if he or she hurts me or the children. This is especially true if the silent treatment is accompanied by the tell-tale angry outbursts, tantrums, and other forms of non-verbal communication expressing anger.
The Victim's Mind Does All The Work
The result of anxiety is the brain creating a plethora of worst case scenarios. The abuser can spend very little energy while the victim's brain does all the work. We can, essentially, talk ourselves into believing that reconciliation is better than any of the alternatives; thus, we may give in, take responsibility for things we didn't actually do, apologize instead of demanding an apology, and validating the abusers belief that we are dependent upon the relationship, and therefore, on him or her.
When a partner isn't speaking to you, it is a clear sign that he or she is angry or upset, even if no words are said to that effect. I think this is a key element to why my ex preferred this form of punishment. The silent treatment plays well into the gas lighting technique. It was very easy for him to insist that I misinterpreted his actions, over-reacted to the situation, remembered the event wrong, or my favorite- that I created the drama by starting a fight and accusing him of saying and doing things he never said or did.
Well, of course it would seem as though I started the fight, since he wasn't speaking to me, but that discounts the fact that his non-communication was instigating an argument. And let's not underestimate the effect of non-verbal communication- another of my ex-husband's favorite forms of communication. It's difficult for someone to blame you for something you implied, but never said.
Alternating Forms of Abuse
Ironically, when it came to arguments that involved taking to one another, my ex-husband would not allow any silence or hesitation in my responses. He pushed for immediate answers in a confrontational and invasive way, accusing that I must be lying if I am not able to answer immediately. Since most of his statements and questions were meant to be confrontation and accusatory, there really was no way to answer, and he knew that. This was just another method of control: the bully tactic.
When someone is in your personal space, it feels like an attack and immediately creates panic. My response was usually to shut down and not engage back in the argument, especially since everything I said would be used against me later, twisted in meaning, or dismissed entirely. His verbal attacks would, of course, be denied entirely when referred to at a later date.
Both methods, the silent treatment and bullying, were effective ways of asserting control. Neither method was used with the intention of reconciliation or compromise. To me, it is an especially insidious and cowardly form of abuse in which the abusers deny what they do and leave no viable evidence, only the victims' manipulated memory.
Lessons Learned (and Un-Learned)
As a survivor, one of the most difficult stumbling blocks to overcome on my path to healing, was undoing the behaviors I learned as a result of living in this relationship for so long.
When my boyfriend asked if he could come to one of my counseling sessions about a year into our relationship, I was all for it. We had been arguing without much resolution, and I knew my counselor would not hold back in telling him the truth about what she thought. After listening to us and asking questions for nearly an hour, she did just as I knew she would and laid it all out as plain as could be.
To my surprise, shock, and dismay, however, she explained that my experience in arguing with my ex-husband had left me little in the way of skills needed to argue or disagree in a healthy relationship.
Whenever I argued, I anticipated that my words would be used against me, or I was being set-up by the questions. I was responding as if my boyfriend was abusive, regardless of what the new reality was, and in turn, I was now the one creating the abusive environment.
This was not an easy pill to swallow.
Recovery After Abuse
I can't say it was anything I ever expected to hear, but it clearly made sense once I understood what I was doing and why. I am fortunate that I have a healthy partner and a very intuitive counselor, both of whom want me to be healthy and strong. Once the initial reaction to this situation wore off, I realized it was no different from other patterns I had to unlearn and relearn in order to be healthy.
Recovering from a relationship with a sociopath is not an easy process. Every day, I learn about myself, conquer new fears, and continue to heal. It can be frustrating and exhausting at times, but even when I have felt at my lowest point during this recovery, it has always been worth it. There is a sense of freedom that comes with healing after abuse; it may be hidden for a while under the guilt, or shame, or uncertainty, but once I began to experience joy without fear, I knew it was not something I would ever give up again.