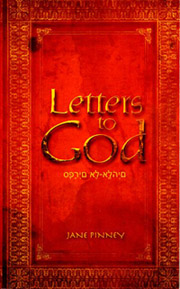 Jane Pinney was married to a sociopath and adopted two children. Her husband attempted to poison her, and then accused her (of what, I'm not sure, but it was serious). The experience inspired Pinney to write a book called Letters to God.
This book does not relay the chronology of events. Instead, it tells the story of Pinney's state of mind, in real time, as she tries to pull herself out of the abyss created by her disordered ex-husband.
She starts the book by writing,
I realized that in all my life, especially this past year, I have written thousands of letters to hundreds of people. Everyone under the sun, who I thought could help me in my quest to protect those I love and bring to justice those behind the crime, those crimes.

Everyone. Except You. I don't really know where I'm going with this, but You do.
Reading Letters to God is like reading a mixture of a diary, poetry and prayer.
I found myself drawn in by Pinney's matter-of-fact statements to God. God, after all, knows all the details, so in her letters, the author can just vent. Which she does with a style that's clever, sometimes caustic, and often acknowledging divine inspiration.
This book is incredibly intimate. Pinney shares her raw thoughts and feelings and Lovefraud readers will recognize where they come from and what they mean.
Letters to God is a short, easy read. It is a recognition of the journey, and that there is meaning to the journey although, as we are on the road, we may not know what that meaning is. All we can do is push on, and trust that in time, the meaning will be revealed.
Pinney doesn't provide the answers. But she does provide a sense that she understands what we are experiencing, because she is experiencing the same thing.
 Letters to God is available on Amazon.com.