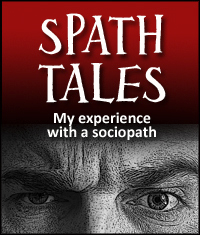 Editor's note: Lovefraud received the following email from a reader whom we'll call, "drsusan."
I am a 60 year old retired OB/Gyn MD. I was married for 20 years to a man who turned out to be a narcissist. Despite my education I knew nothing about these types of people or the co-dependency phenomenon in which I was enmeshed.
We share 3 sons. I became aware that he was a narcissist in 2000, when one of my patients who knew him casually mentioned it to me.
He had recently shocked me by telling me he wanted a divorce, and once I began researching things, saw that his controlling and bullying behavior were signs of narcissism.

As the divorce progressed I became aware of all the projections, triangulation and gaslighting that were taking place, but no matter what I did, legal proceedings did not go in my favor and I was railroaded into decisions regarding finances and children that I did not want.
During this time I met my 2nd husband, who has the same last name as the 1st. We married in 2002 (on my insistence) and I now know that he is either a sociopath or borderline. He was a crack addict when we met and has since quit. He is easily influenced by people who cause harm to others.
On two occasions when he'd been drinking he told me that he had been involved in committing crimes with other people. I believe he and an employee, also a sociopath, were instrumental in arranging a burglary at my office in 2010, which led to the loss of my practice and reputation. I believe it was an attempt at insurance fraud and have not been able to work since then. Ever since that time he has been much different and I believe he fears I am going to find out exactly what happened.
Although he is not violent, I feel his fear has led him to hire someone to harm me. He refuses divorce. I recently saw the movie "Wonderland," and feel that my husband may be similar to John Holmes as depicted in the film, in that he could commit that type of crime if he found himself in similar circumstances.
We have been separated since 2015 when I carried out my escape plan and moved 3000 miles away. My husband has started over in a new job in a new city where nobody knows him, and he avoids places and people who knew us as a couple. I keep up friendly communication with him to keep myself and others in his life safe.
He is a good employee and likeable guy; no one in his life now has any idea about his past. He uses multiple social security numbers.
I have spent the last 5 years educating myself and recovering from the effects of being under the influence of these people. I am writing a book and hope to make it into a screenplay, which details the story more completely as well as the family of origin issues that predisposed me to being attracted to these men.
I am working to open a retreat center for those who have struggled similarly. Although there are many stories much worse than mine, I feel that I've had these experiences so that I can completely understand the various dynamics of codependency and emotional abuse. I am extremely fortunate to have substantially recovered and now feel an urgency to help others.