by Quinn Pierce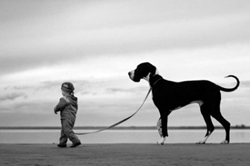 What's Yours Is Mine…
When teaching preschoolers, it can be very entertaining to watch the children interact according to the inherent set of rules set forth by this age group.
This list of rules may be long, but the rules themselves are very simple:
If it's mine, it's mine
If it's yours, it's mine
If I like it, it's mine
If I think it's mine, it's mine
If I can take it from you, it's mine
If it's broken, it's your fault"¦and so on.
 Everything Is His Possession
Interestingly, this is the same set of rules that my ex-husband applied to our divorce.  It became very clear that he considered every object in his life a possession, including people, and he was entitled to each and every one.  It was as if he believed I was trying to steal everything that belonged to him, and I was not deserving of any of it.
All of a sudden, the business I helped create and run for over ten years was his, and I was out to ruin him.  The house that was bought in my name was something I didn't deserve to live in.  He claimed all the furniture, including every bed, couch, and all artwork, unless it wasn't up to his standard.  He actually took our bed- which I was happy to get rid of, and our children's beds- not caring if they had to sleep on the floor.  According to him, I could "˜keep' the boys and the other things he left behind, as long as his lifestyle didn't change.
As Long as Nothing Changes
That was his concession.  He didn't want anything in his life to change.  I'm not sure, exactly, how he intended to keep everything status-quo, but it was just one of many incomprehensible statements he made during our divorce.  All I wanted was my boys, and the guarantee that they could remain in their independent school.
The other items on the divorce decree that my lawyer suggested included my ex-husband maintaining his life insurance with the boys as beneficiaries, continuing to pay all three of our health insurance, since I was fired from the business, and thus had no access to health care, putting any shares that were mine into trust for the boys, and to keep the family home if I gave up the rental properties and took his name off the debt.
 If He Thinks It's His…
My ex was enraged by the offer.  He insisted that I was trying to destroy him, and he threatened to close the business before giving in to such demands.  He seemed to forget that I, personally, invested more in the business than he did and I was walking away from all of it, including future earnings.  His response was: He owned 50% and his partner owned 50%, I owned nothing.
I was stunned by that at first.  Not only did I start this business with him, but I ran the entire office and did every scrap of paperwork, taxes, and banking for twelve years.  I even designed the logo.  But, it follows the predictable toddler mentality of "˜If I think it's mine, it's mine."
This carried through every aspect of the divorce.  He was constantly referring to things in the house as "˜his', even though I had been granted all things remaining in the home.  He even began arguments about certain things I was "˜holding hostage' or had manipulated the courts to give me that should have gone to him. I didn't even know what items he was referring to half the time, they were so trivial.
Bully Tactics
In keeping with his sense of entitlement, he followed a very predictable path after an agreement was made for the final divorce decree.  The first thing he did was find a replacement family complete with children the same ages and gender as ours.  The second was to claim financial hardship so that he could eliminate the school payment proclaiming the children could go to public school and I could explain that it was my fault.  (Ok, should I also explain his Caribbean vacation, new car, and his step-children's private school?)
And the last thing he did was not follow through on any of the other items on the list, forcing me to either take him back to court or cut my losses.  This is a recurring theme, and something I am faced with regularly.  I have learned that there is little use in trying to hold him accountable, but sometimes, it's a matter of principle and standing strong against a bully who will continue to harass me, the one who betrayed him, at any cost.
The Blame Game
The last rule on the toddler list that I mentioned, If it's broken, it's your fault, is his favorite all-encompassing explanation these days.  Anything that goes wrong with my children, his business, or his life in general, for that matter, is my fault.  He is incapable of taking responsibility for his own actions, they are always the result of someone else who wronged him in some way.
It's almost comforting, I have to admit, that he remains so despicably unchanged.  It reinforces that my decision to end the destructive marriage was the right one.  It also makes his behavior very predictable.
Unfortunately, just like raising a toddler, or teaching a class full of preschoolers, it is exhausting.  Maybe that's why I prefer teaching the upper elementary school grades, I've been dealing with an adult size toddler for twenty years.  I think it's time to retire.