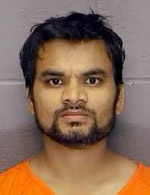 Hiten Patel, of Egg Harbor Township, New Jersey, led a double life. He worked at the Federal Aviation Administration Technical Center, which required a security clearance. He had a wife, the result of an arranged marriage in his native India.
But for the past three weeks, Patel has been on trial, charged with sexually assaulting, or attempting to sexually assault, seven women in Atlantic City during the summer of 2012.
Some of the women were working as prostitutes. During the trial, Patel admitted that he was addicted to prostitutes, but he denied assaulting the women. Here's some of the news coverage:
Accused rapist tells jury he's paid 200 prostitutes for sex, not rape, on pressofatlanticcity.com.
This story in the Press included a sidebar a summary of what each of the seven women alleged, and what Patel said happened. Granted, with some of the women being prostitutes and some hooked on drugs, their stories may be less than accurate. Still, the versions weren't even close
THE ALLEGATIONS

The following are the allegations made by seven women against sexual assault defendant Hiten Patel, of Egg Harbor Township, and his account of what occurred during the events during the summer of 2012.

M.D.

Allegation: The woman said Patel pulled a gun on her and tried to rape her June 27, 2012, but she ran. Her dress was torn off as she escaped and she ran to a nearby home, telling the man there she had been attacked. She reported the incident, and again called police about a month later, when she saw the same man again.

Patel: The woman had been paid $150 for sex, but got mad when Patel couldn't get aroused, he testified. He said he showed her his fake gun after finding her in the front his minivan going through his wallet, still naked. She fled the car without the wallet or her clothes.

J.R.

Allegation: She testified that she was trying to get money to buy heroin because she was sick from withdrawal. After agreeing to have sex with Patel sometime in either June or July 2012, she said she was getting ready to undress when he pulled a gun and ordered her get naked and have sex with him.

Patel: Said he would see her walking down Pacific Avenue, but never solicited her because "she looked like a homeless person."

K.G.

Allegation: A teenager visiting from Delaware with her older boyfriend, she was walking to the train station July 17, 2012, when Patel offered her a ride. But later, he pulled a gun and she jumped from the moving vehicle, hiding under cars in a nearby dealership.

Patel: The girl solicited him, and demanded money before they parked. He gave her the cash but she wouldn't agree on a place to stop for sex, so he asked for his money back. She pulled a box cutter, he testified. That's when Patel showed her the gun. She then opened the car door, "took a step and fell."

I.S.

Allegation: During the attack sometime in the summer of 2012, Patel allegedly ripped her clothes off her and attacked her at gunpoint. I.S. didn't report it because she was on probation. Later, she saw him at the jail after his arrest and recognized him.

Patel: He claims the first time he saw the woman was at the Atlantic County Justice Facility following his arrest. Due to the charges, many women said things to him at the jail, Patel testified.

L.C.

Allegation: Patel solicited her for sex sometime in July 2012, but then pulled a gun and his nice demeanor changed. As she tried to escape, he violently forced her back. She made eye contact with someone nearby, which allegedly ended the attack, and she was able to escape.

Patel: Testified only that L.C. "was very pretty" and he tried to kiss her because he was attracted. She didn't like that, he said.

G.H.

Allegation: Said she accepted the solicitation in mid-July 2012, because she needed money for drugs. He said he was a detective and later pulled out the gun. He ripped her clothes and raped her. G.H. got a partial license plate when she got out of the car.

Patel: The plan was to pay her for sex, but she was coughing so much he felt she was sick and just wanted her out of his car. She kept asking for money and wouldn't leave, so he pulled out the fake gun.

T.D.

Allegation: Said she approached Patel's van when he tried to get her attention Aug. 2, 2012, and then ordered her into the car claiming to be a detective. Later, pulled out a gun and raped and choked her. Patel was under surveillance as a suspect in previous attacks, and was arrested shortly after dropping T.D. off.

Patel: T.D. saw the gun in the car, but Patel said he told her it was a toy and even had her hold it. He said the two didn't have sex, but she did touch him.

Press of Atlantic City Staff Writer Lynda Cohen
The jury believed the women. Last week, Hiten Patel was found guilty in five of the cases.
Patel guilty in attacks on five of seven women in Atlantic City, on pressofatlanticcity.com.
The lies sociopaths tell
Patel's motivation for lying is obvious he wanted to stay out of prison. Most sociopaths assume that they can talk themselves out of trouble. Unfortunately, they're often right.
But lying is more than a tactic for sociopaths. Lying is central to their personalities. It's who they are.
All sociopaths lie. They tell big lies. They tell little lies. They tell stupid lies. They lie when they'd be better off telling the truth. Here are some observations about sociopaths and their lies:
1. Lying for the fun of it
Sociopaths get a thrill out of lying. Some have admitted getting an adrenalin rush out of deceiving people. Dr. Paul Eckman, who studies lying and teaches people how to detect it, calls this "duping delight."
2. Mixing truth and lies
Some sociopaths mix just enough truth with their lies to make their stories seem plausible. When you know that some of what they're telling you is true, you tend to believe the rest of what they're saying as well. Or, you may know that some of what they're saying is false, but the truth and lies are so intertwined that you can't pull them apart.
3. Sociopaths know they're lying
Sociopaths are not delusional. Just because they sound so convincing when they lie, it doesn't mean they believe their own stories.
Take my sociopathic ex-husband, James Montgomery. He claimed to have served in the Australian military for 35 years. He claimed to have won the Victoria Cross for his bravery in Vietnam. He'd been telling those stories since the 1980s, and I met him in 1996.
He was still telling the stories in 2005, when I exposed him. Then, when confronted by a journalist, he admitted that he was never in the military, but that his stories were part of a secret government program to prove how easy it was to impersonate a war hero.
4. Outrageous lies
Some sociopaths tell lies so outrageous, and so massive, that the rest of us can't imagine anyone saying the words if they aren't true.
That's why it never occurred to me that Montgomery might be lying about his military service. Montgomery was a member of the Vietnam Veterans Organization. He was the keynote speaker at a Veteran's Day ceremony. I accompanied him twice when he spoke to schoolchildren about what it was like to serve in the military.
Who has the nerve to do that when none of it is true? Sociopaths.
5. Eye contact
Most people think that if someone can look you in the eye as they're talking to you, then they're telling you the truth. Common wisdom is that when someone is lying, as the words come out of their mouths, they look away.
These guidelines may work with normal people. But sociopaths are perfectly capable of looking deep into your eyes and lying to your face.
Dr. Liane Leedom once wrote on the Lovefraud Blog, "If you are astounded by another person's capacity to lie and misrepresent reality, you can be sure you have encountered a sociopath."
I know that the extent of my ex-husband's lies was simply staggering.
How about you? What outrageous lies have you heard from sociopaths?